Amilcare Ponchielli – I Lituani (1979)
Amilcare Ponchielli – I Lituani (1979)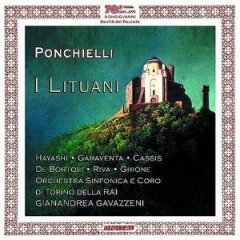 CD1
1. I Lituani, opera: Prologo. Sinfonia 
2. I Lituani, opera: Prologo. Introduzione. Orrenda vista!... 
3. I Lituani, opera: Prologo. Preghiera. Preghiam pei vegliardi scorati 
4. I Lituani, opera: Prologo. Scena. Walter... fratel... 
5. I Lituani, opera: Prologo. Concertato. Fratelli: all'are vi prosternate 
6. I Lituani, opera: Prologo. Scena e duetto. Mio vecchio Alban... 
7. I Lituani, opera: Prologo. Scena e duetto. Mia sposa... angelo mio... 
8. I Lituani, opera: Act 1. Coro d'introduzione. Nel gaudio salutiam         play
9. I Lituani, opera: Act 1. Scena. I lituani... i dieci prigionier 
10. I Lituani, opera: Act 1. Concertato. Sul brando la mano 
11. I Lituani, opera: Act 1. Recitativo e romanza. Ciò che udii... O rimembranze 
12. I Lituani, opera: Act 1. Scena. Affranta son 
13. I Lituani, opera: Act 1. Duetto. Là... delle suore ancella 
14. I Lituani, opera: Act 1. Coro di menestrelli. Sull'arpe volate 
15. I Lituani, opera: Act 1. Finale primo-terzetto. Straniero...

CD2
1. I Lituani, opera: Act 2. Scena e brindisi. Esultiamo nel nome del Signor! 
2. I Lituani, opera: Act 2. Scena e strofe. Il bardo è presto... Sui lituani fiumi 
3. I Lituani, opera: Act 2. Scena e finale secondo. Io lo riveggo 
4. I Lituani, opera: Act 2. Seguito. Qui prigionier rimangano costoro 
5. I Lituani, opera: Act 3. Preludio e battaglia. Pietà die soffrenti 
6. I Lituani, opera: Act 3. Scena. Come lugubre e tetro 
7. I Lituani, opera: Act 3. Romanza. E da tre mesi io soffro 
8. I Lituani, opera: Act 3. Scena. Aldona è là 
9. I Lituani, opera: Act 3. Duetto. Mai più disgiunti 
10. I Lituani, opera: Act 3. Scena e coro. Pietà dei soffrenti 
11. I Lituani, opera: Act 3. Scena. Sciagura, anatema 
12. I Lituani, opera: Act 3. Scena. Albano!... Alban!...? 
13. I Lituani, opera: Act 3. Romanza. Alla tua morte bevo, o crociato      play
14. I Lituani, opera: Act 3. Morte. Come potrei morir

Walter - Ottavio Garaventa
Aldona - Yasuko Hayashi
Arnoldo - Alessandro Cassis
Albano - Carlo de Bortoli
Vitoldo - Ambrogio Riva
Un Menestrello - Susanna Ghione

Orchestra Sinfonica e Coro di Torino della Rai
Gianandrea Gavazzeni, 1979

I Lituani (in English, The Lithuanians) is an opera consisting of a prologue and three acts by Amilcare Ponchielli to an Italian libretto by Antonio Ghislanzoni, based on the historical poem Konrad Wallenrod written by Polish poet Adam Mickiewicz. It premiered at La Scala in Milan on March 7, 1874.
Casa Ricordi commissioned Ponchielli to write the opera, and the idea to use Konrad Wallenrod came from Salvatore Farina, a novelist and playwright working for Ricordi. The opera was extremely well-received when it opened, and a second, final version with additional material was performed again a year later also to good reviews. It continued to be performed in the last decades of the 19th century in Cremona, Trieste, Brescia, Rome, Turin, Buenos Aires, Montevideo, Chicago, and a single noteworthy Russian performance in 1884 at the Imperial Bolshoi Kamenny Theatre in Saint Petersburg with the title Aldona.
After a three-night run in 1903 at La Scala, where the casting was particularly poorly reviewed, I Lituani was not performed again until 1979 when RAI recovered the score. Since then, it has been revived in Chicago (1981, 1983 and 1991), Toronto (1981), Cremona (1984), Vilnius (1991) and Trakai (2009).
download: uploaded yandex 4shared mediafire solidfiles mega filecloudio nornar
Zmieniony (Poniedziałek, 17 Marzec 2014 23:46)