Francesco Cavalli – La Calisto (2008)
Francesco Cavalli – La Calisto (2008)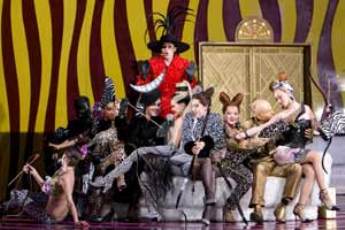 1. Introductions
2. Act I
3. Interval
4. Act II
5. Curtain Calls

Cast:
Nature/Satirino/Second Fury - Dominique Visse
Eternity/Giunone - Véronique Gens
Destiny/Diana/First Fury - Monica Bacelli
Giove - Joäd Fernandes
Mercurio - Markus Werba
Calisto - Sally Matthews
Endimione - Lawrence Zazzo
Linfea - Guy de Mey
Pane - Ed Lyon
Silvano	 - Clive Bayley

The Monteverdi Continuo Ensemble
Members of the Orchestra of the Age of Enlightenment
Ivor Bolton – conductor

ROYAL OPERA HOUSE, COVENT GARDEN, 3 October 2008

La Calisto is, I think, the first 17th century Italian opera to be performed at the Royal Opera House. So far, not even Monteverdi's masterpieces have made it here. La Calisto was the last of Cavalli's collaborations with librettist Giovanni Faustini; Faustini died shortly after the work's première. Between them Cavalli and Faustini effectively created the genre of Venetian commercial opera, as opposed to the operas presented in the courtly opera houses elsewhere in Europe. It was to be an influential genre: Handel's Serse is based on a libretto written for Cavalli.
Essentially the works were comedies mixed with an element of pathos and tragedy; serious plots were interwoven with comic sub plots and the main element was entertainment. For its new production the Royal Opera House borrowed a production created for the Bavarian State Opera in 2005 by David Alden. Alden was on hand to rehearse the revival and many of the cast appeared in the original production. The accompanying band was based on the group The Monteverdi Continuo Ensemble, founded by conductor Ivor Bolton for Monteverdi performances in Munich. The ensemble consisted of some twenty players, including three harpsichords, which is a little small for a theatre the size of the opera house but quite large for a work originating in the Venetian commercial theatres of the 17th century. Under Bolton's lively direction, however, the group easily filled the opera house without ever sounding overblown.
David Alden's production opened with the prologue, where three crazily dressed characters (Nature, Eternity and Destiny) discuss Calisto's proposed immortality as a new star. In support of this Nature (Dominque Visse in grotesque drag but with a beard), starts to play a film which we must believe is what we are seeing for the rest of the opera. Alden and his designers (sets: Paul Steinberg, costumes: Buki Shiff) set the opera in a glitzy modern hotel with a stunning interior complete with a lift, which goes up to Olympus. Shiff's costumes were truly striking and the element of amazing spectacle was strong throughout the production.
The first act was relatively long as there were rather a large number of characters to introduce. Essentially there are three different strands to the plot. Giove (Umberto Chiummo), aided and abetted by Mercurio (Markus Werba) attempts (successfully) to seduce Calisto (Sally Matthews). Calisto is a nymph of Diana (Monica Bacelli) and Giove turns himself into Diana to seduce Calisto.
Diana herself is loved by the shepherd Endimione (Lawrence Zazzo), much to the disapproval of her nymph Linfea (Guy de Mey in drag). But Linfea herself is in love with Endimione and does not want to die an old maid. Satirino (Dominique Visse as half man half goat complete with prosthetic penis) offers to help Linfea but is rejected. Satirino sees Diana and Endimione meeting and tells Pane (Ed Lyon) who is also in love with Diana. He captures Endimione and threatens to do away with him.
What you will have noticed is that the opera introduces two opportunities of some sort of same sex action. Linfea is wooed by Satirino, but Linfea is a comic figure so is obviously a man in drag. And 'Giove in Diana' woos Calisto. The original singer playing Giove could sing in both baritone and soprano ranges and probably played Giove and 'Giove in Diana'. Here Umberto Chiummo had a wonderful time wearing a copy of Diana's stylish costume whilst sometimes singing the role, sometimes miming to Monica Bacelli's singing; quite a successful solution.
The costumes almost stole the show, with Diana in stylish black with a head-dress of lights in the shape of a moon. Giunone (Veronique Gens), who found out about Giove's antics and was furious, was in smart modern designer dress with an extraordinary hat with a fountain of feathers coming out of it. She was accompanied by two dancers dressed as peacocks. The fauns and satyrs surrounding Pane were in a mixture of animal and human dress. Pane was on stilts rendering Ed Lyon towering over everyone else.
With so many characters it is difficult for any one person to stand out; instead we heard a wonderfully integrated cast. By the end of Act 1, things seemed to drag a little, perhaps due to the amount of plot to get through, but I also felt that Alden had tended to throw too much at the production.
But with Acts 2 and 3, things started to come together. Alden seemed to be supporting Cavalli and Faustino's plot; details of the drama became more touching and the comedy seemed a little less laboured. In fact, what was so impressive about this was the way the cast managed to combine a feeling for Cavalli's music with the bigness of scale needed in this sort of opera house. The last time I saw La Calisto was at the Royal Court Theatre in Sloane Square, a far smaller venue and one much closer to the small venue Cavalli used in Venice. It is pointless complaining that Alden's production coarsened detail and made the comedy simpler and cruder; Alden was simply finding a way to make the piece work in a much larger theatre on a large stage. Alden has described the piece as a sex comedy and this is what we got.
But there were touching moments. Lawrence Zazzo was profoundly moving as the shepherd in love with a Goddess, even though Monica Bacelli's Diana tended to mug a little too much. And Sally Matthews was a revelation as La Calisto, the innocent, put upon human. By turns touching and sexy, she managed to combine a lovely warmth of tone with the pin-point accuracy needed in this music. Veronique Gens was impressive as Giunone. The part is not excessively large, but is quite meaty as Giunone spends most of her stage time being bad tempered. I would love to see this fine singer back at Covent Garden in a bigger role.
For the ending Calisto is shown what heaven will be like and then sent back to expiate her punishment from Juno by being a bear for a period. (Fifteen years in Ovid.) I suspect that Alden could have made much more of Calisto's suffering. Similarly in Act 2 when Calisto is bewailing her plight, describing Diana's hot and cold behaviour, Alden has Calisto being a cabaret singer so that her distress is portrayed to us at one remove. But then the cause of her distress is pure Whitehall farce, as Diana is in fact two people: the real Diana and Giove in Diana. It must be obvious by now that the opera contains a delicate balance of pathos, comedy and pure farce. Alden rather skewed the production in favour of comedy; and the spectacular setting and costumes meant that we could not quite take the characters to our hearts. But Alden's avowed intent was to entertain and this he did in a spectacular fashion. --- Robert Hugill
download:  uploaded anonfiles mega 4shared mixturecloud yandex solidfiles