Torelli – Complete Trumpet Concertos (2005)
Torelli – Complete Trumpet Concertos (2005)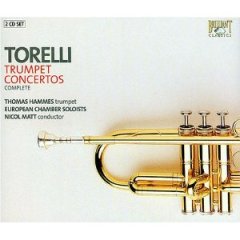 CD1
1. Concerto, for trumpet & strings in D major (Etienne Roger 188): Allegro 
2. Concerto, for trumpet & strings in D major (Etienne Roger 188): Adagio 
3. Concerto, for trumpet & strings in D major (Etienne Roger 188): Presto 
4. Sonata for trumpet, strings & continuo, G. 1: Andante 
5. Sonata for trumpet, strings & continuo, G. 1: Allegro 
6. Sonata for trumpet, strings & continuo, G. 1: Grave 
7. Sonata for trumpet, strings & continuo, G. 1: Allegro 
8. Sinfonia for trumpet, strings & continuo in D major ('Trumpet Concerto'), G. 2: Allegro 
9. Sinfonia for trumpet, strings & continuo in D major ('Trumpet Concerto'), G. 2: Grave 
10. Sinfonia for trumpet, strings & continuo in D major ('Trumpet Concerto'), G. 2: Allegro 
11. Sinfonia for trumpet, strings & continuo, G. 3: Adagio 	
12. Sinfonia for trumpet, strings & continuo, G. 3: Grave/Allegro 	
13. Sinfonia for trumpet, strings & continuo, G. 3: Allegro 
14. Sinfonia a 4, for trumpets, violins & continuo, G. 4: Presto 
15. Sinfonia a 4, for trumpets, violins & continuo, G. 4: Adagio e spiccato/Presto 
16. Sinfonia a 4, for trumpets, violins & continuo, G. 4: Allegro 
17. Sonata a 5, for trumpet, strings & continuo, G. 5: Adagio 
18. Sonata a 5, for trumpet, strings & continuo, G. 5: Allegro e staccato 
19. Sonata a 5, for trumpet, strings & continuo, G. 5: Adagio 	
20. Sonata a 5, for trumpet, strings & continuo, G. 5: Allegro 
21. Sonata a 5, for trumpet, strings & continuo, G. 6: Vivace 
22. Sonata a 5, for trumpet, strings & continuo, G. 6: Adagio/Largo 
23. Sonata a 5, for trumpet, strings & continuo, G. 6: Allegro come stà 
24. Sonata a 5, for trumpet, strings & continuo in D major, G. 7: Grave/Allegro 	
25. Sonata a 5, for trumpet, strings & continuo in D major, G. 7: Grave 
26. Sonata a 5, for trumpet, strings & continuo in D major, G. 7: Allegro 
27. Sonata a 5, for trumpet, strings & continuo in D major, G. 7: Grave 	
28. Sonata a 5, for trumpet, strings & continuo in D major, G. 7: Allegro 	
29. Sinfonia for trumpet, strings & continuo, G. 8: Allegro 
30. Sinfonia for trumpet, strings & continuo, G. 8: Adagio 
31. Sinfonia for trumpet, strings & continuo, G. 8: Allegro 
32. Sinfonia for trumpet, strings & continuo, G. 8: Allegro 
33. Sinfonia for trumpet, strings & continuo in D major, G. 9: Allegro           play
34. Sinfonia for trumpet, strings & continuo in D major, G. 9: Prestissimo/Adagio 
35. Sinfonia for trumpet, strings & continuo in D major, G. 9: Allegro 
36. Sinfonia for trumpet, strings & continuo in D major, G. 10: Allegro 
37. Sinfonia for trumpet, strings & continuo in D major, G. 10: Presto/Adagio 
38. Sinfonia for trumpet, strings & continuo in D major, G. 10: Allegro
39. Sinfonia for trumpet, strings & continuo in D major, G. 10: Adagio/Allegro   play

CD2
1. Sonata a 5 for trumpet, strings & continuo, G. 11: Allegro 
2. Sonata a 5 for trumpet, strings & continuo, G. 11: Presto/Adagio 
3. Sonata a 5 for trumpet, strings & continuo, G. 11: Allegro 
4. Sonata a 5 for trumpet, strings & continuo in D major, G. 13: Allegro 
5. Sonata a 5 for trumpet, strings & continuo in D major, G. 13: Largo/Allegro/Largo 
6. Sonata a 5 for trumpet, strings & continuo in D major, G. 13: Allegro 
7. Sinfonia before an opera, for trumpet, strings & continuo, G. 14: Allegro 
8. Sinfonia before an opera, for trumpet, strings & continuo, G. 14: Largo e spicco 
9. Sinfonia before an opera, for trumpet, strings & continuo, G. 14: Allegro 
10. Sonata a 5, for 2 trumpets, violins & continuo, G. 15: Presto 
11. Sonata a 5, for 2 trumpets, violins & continuo, G. 15: Adagio/Presto 
12. Sonata a 5, for 2 trumpets, violins & continuo, G. 15: Allegro 	
13. Sinfonia for trumpets, violins & continuo, G. 16: Allegro 
14. Sinfonia for trumpets, violins & continuo, G. 16: Grave/Allegro 
15. Sinfonia for trumpets, violins & continuo, G. 16: Allegro 
16. Concerto for 2 trumpets, strings & continuo in D major, G. 18: Largo assai 
17. Concerto for 2 trumpets, strings & continuo in D major, G. 18: Allegro            play
18. Concerto for 2 trumpets, strings & continuo in D major, G. 18: Adagio e staccato 
19. Concerto for 2 trumpets, strings & continuo in D major, G. 18: Allegro 
20. Sinfonia for 2 trumpets, strings & continuo, G. 20: Allegro 
21. Sinfonia for 2 trumpets, strings & continuo, G. 20: Adagio/Largo e staccato 
22. Sinfonia for 2 trumpets, strings & continuo, G. 20: Allegro 
23. Sinfonia for 2 trumpets, strings & continuo, G. 20: Allegro 
24. Sinfonia for 2 trumpets, strings & continuo, G. 21: Presto 
25. Sinfonia for 2 trumpets, strings & continuo, G. 21: Adagio e staccato/Allegro staccato e piano 
26. Sinfonia for 2 trumpets, strings & continuo, G. 21: Allegro 
27. Sinfonia for 2 trumpets, strings & continuo, G. 22: Vivace e staccato 
28. Sinfonia for 2 trumpets, strings & continuo, G. 22: Largo e staccato/Vivace/Grave 
29. Sinfonia for 2 trumpets, strings & continuo, G. 22: Allegro 
30. Sinfonia for 2 trumpets, strings & continuo in D major, G. 23: Allegro          play
31. Sinfonia for 2 trumpets, strings & continuo in D major, G. 23: Largo/Allegro 
32. Sinfonia for 2 trumpets, strings & continuo in D major, G. 23: Vivace 
33. Concerto for 2 trumpets, strings & continuo in D major, G. 24: Allegro 
34. Concerto for 2 trumpets, strings & continuo in D major, G. 24: Largo e staccato/Presto 
35. Concerto for 2 trumpets, strings & continuo in D major, G. 24: Allegro

Thomas Hammes (trumpet)
Peter Leiner (trumpet 2)
European Chamber Soloists
Nicol Matt (conductor)

Torelli was born in Verona but studied composition in Bologna under Perti whilst becoming an orchestral string player. He composed concertos fairly extensively in various forms using titles such as 'sinfonia', 'concerto' and 'sonata' rather arbitrarily. The above listing may look confusing but essentially here we have nineteen trumpet concerti and three for two trumpets, generally with strings and harpsichord accompaniment.
The format is quite varied and these works have three, four or five movements. Notably, the Sinfonia G.11 has a middle (of three) movements lasting thirty seconds marked "presto/adagio" and there is precisely fifteen seconds at each tempo. The Sinfonia in D G.23 is perhaps the most striking work and also one of the more substantial at over six minutes! The two discs of just under 100 minutes have no less than 74 tracks, the longest of which fails to break the two and half minute barrier. Whilst such "minimalism" precludes major substance, these are attractive works which are full of invention and which are grateful for the solo instruments.
Apart from the prevailing importance of the trumpet in Bologna in the late 17th century, it is unclear to me why (or for whom) Torelli composed so much for the trumpet. Nevertheless there is no doubting his importance in this respect and these works seems to have done more than his other compositions to assure him a place in musical history.
In performance terms these are appropriately small-scale (there are about ten orchestral players in total) and based on modern instruments. Thomas Hammes is a young orchestral trumpeter currently with the SWR Radio Symphony Orchestra in Stuttgart and he plays with relish and fine control. Torelli's demands are variably onerous and presumably reflect some instrumental limitations of the time. The orchestral playing is refined and spirited under another young artist, Nicol Matt, who chooses not to direct from the harpsichord. The recorded sound is bright and admirably balanced.
The documentation consists of a rather woolly essay by Matthieu Kuttler which suffers from an unidiomatic English translation. The soloists and conductor are given brief biographies in English (only) while the orchestra is described in German (only); presumably this was not intentional. Also, the composer Giacomo Antonio Perti is incorrectly given as "Petri" in the booklet.
Despite the vagaries of the documentation, at "Brilliant" (i.e. superbargain) price this set is excellent value. A highly recommendable way of exploring some worthwhile late 17th century music. It deserves the attention of anyone interested in the development of the trumpet. ---Patrick C Waller, musicweb-international.com
download (mp3 @192 kbs):
yandex mediafire ulozto cloudmailru gett 4shared
Zmieniony (Piątek, 13 Lipiec 2018 19:03)