Abel - Chamber Music (1994)
Abel - Chamber Music (1994)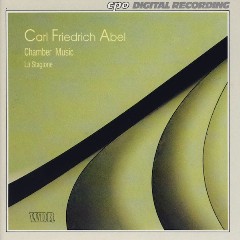 Sonata V In F Major For Transverse Flute And Harpsichord 	8:20
1 	Adagio 	2:52
2 	Allegro 	2:40
3 	Vivace 	2:48
Sonata VI In G Major For Transverse Flute And Harpsichord 	9:47
4 	Adagio 	2:30
5 	Un Poco Allegro 	3:42
6 	Minuet (Con Variazioni) 	3:35
	Pieces For Viola Da Gamba 	15:21
7 	Adagio 	1:46
8 	Tempo Di Minuet 	1:45
9 	Allegro 	1:01
10 	(Adagio) 	2:35
11 	Adagio 	3:35
12 	Arpeggio 	1:52
13 	Andante 	2:47
Trio In F Major For 2 Transverse Flutes And Basso Continuo 	8:43
14 	Adagio 	2:07
15 	Allegro Ma Non Presto 	3:58
16 	Vivace 	2:38
Trio In G Major For 2 Transverse Flutes And Basso Continuo 	9:27
17 	Moderato 	4:20
18 	Allegro Ma Non Presto 	2:39
19 	Allegretto 	2:28
Sonata In A Major For Violoncello And Basso Continuo 	7:56
20 	Allegro Moderato 	2:37
21 	Adagio 	3:15
22 	Tempo Di Minuetto 	2:04

La Stagione - Ensemble
Cello [Basso Continuo] – Nicholas Selo (tracks: 20 to 22)
Flute [Transverse] – Karl Kaiser, Michael Schneider (tracks: 14 to 19)
Harpsichord – Harald Hoeren, Susanne Kaiser (tracks: 1 to 6)
Viol [Viola Da Gamba], Cello – Rainer Zipperling

This is a good disc of music from the mid-18th century. Abel was a friend and colleague of JC Bach in London, and one of the last great masters of the viola da gamba (until the modern revival, of course). I find his music for solo viola da gamba wonderful, but his compositions for orchestra and for chamber ensemble a little less so.
The works here are very pleasant sonatas and trios for various combinations of flute, gamba and continuo. They are generally amiable compositions with some nice melodies and harmonic developments, and one or two at a time are very enjoyable. However, Abel was a good but slightly limited composer and I do find that a whole CD of these pieces can get a little samey. The exceptions are the pieces for solo gamba, which have a wonderful, intimate, slightly improvisatory feel and I never tire of them. (I have given details of two great recordings of them at the end of this review.)
La Stagione play excellently. They are a fine chamber ensemble: they make this music flow and glow with life and there is a lovely empathy between them. The recorded sound is very good and I cannot imagine a better recording of these sonatas and trios, so if you like music of this period, don't hesitate. For me it's a disc I play occasionally and in smallish doses rather than a loved cornerstone of my collection, but I'm glad to have it and I can recommend it.
(There are two fantastic recordings of Abel's pieces for solo viola da gamba by Susanne Heinrich Abel: Mr Abel's Fine Airs - Sonatas for viola da gamba /Heinrich and Paolo Pandolfo Abel: The Drexel Manuscript (Paolo Pandolfo, viola da gamba) . Heinrich is rather more intimate and controlled, Pandolfo freer and more extrovert; which you prefer will be a matter of personal taste. For me, it's the Heinrich disc I that keep going back to but both are superb and I strongly recommend both.) ---Sid Nuncius, amazon.co.uk
Aufgrund der historischen Stellung Abels als, wie man immer so sagt, letztem Gambenvirtuosen (als gäbe es nicht noch Franz Hammer) mag man sich natürlich für diese Aufnahme interessieren, aber meiner Meinung nach wird man nicht sehr belohnt. Die Flötensonaten sind doch sehr, sehr konventionell komponiert, es scheint sich um typische Hausmusik für Liebhaber zu handeln, gefällig gemacht und ohne jeden Geistesblitz. Die Cellosonate am Schluss verwöhnt immerhin durch den Wohlklang des Soloinstruments und war das einzige Stück auf dieser CD das ich wirklich lohnend zu hören fand. Ausgesprochen enttäuscht war ich von den Aufnahmen der Stücke für Viola da Gamba solo, obwohl diese, siehe den historischen Punkt oben, die Hauptsache sein sollten. Zipperling gilt schon als Fachmann, ich weiß, aber wie er hier spielt, klingt ausgesprochen dünn, mit wenig Modulationen des Klanges -- alles was die Gambe doch eigentlich so unnachahmlich ermöglicht, wird hier bescheiden ausgespart. Die Gambe als Soloinstrument senza basso ist so faszinierend wegen ihrer durchdringenden Präsenz und Sonorität. Wenn man die Aufnahmen von Abels Adagio und Allegro-Sätzen auf Paolo Pandolfos empfehlenswerter Einspielung in "A Solo" vergleicht, dann wird einem der Unterschied massiv klar. Klar, man muss auf diesem Instrument nicht unbedingt so exzentrisch herumkratzen und -sägen wie Pandolfo es gerne tut; aber dort hört man plötzlich, dass diese Stücke auch einen tiefdramatischen Gehalt haben könnten, die hier bei Zipperling so komplett unauffällig dahinplätschern. Was für ein himmelweiter Unterschied! Immer noch deutlich lebendiger finde ich auch die Einspielung desselben Adagios von Abel durch Simone Eckert auf der CD "Der letzte Gambist" (Track 10) zusammen mit Werken von Franz Xaver Hammer. Tja, die hier vorliegende CD erweist sich da leider als nett, aber belanglos. ---barockfreund, amazon.de
download (mp3 @320 kbs):