Ólafur Arnalds ‎– Living Room Songs (2011)
Ólafur Arnalds ‎– Living Room Songs (2011)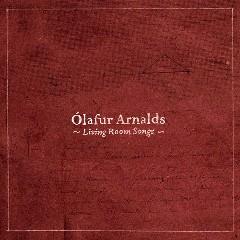 1.Day I 	Fyrsta 	4:16
2.Day II 	Near Light 	3:28
3.Day III 	Film Credits 	3:31
4.Day IV 	Tomorrow's Song 	2:57
5.Day V 	Ágúst 	3:05
6.Day VI 	Lag Fyrir Ömmu 	3:32
7.Day VII 	This Place Is A Shelter 	2:12

Cello – Karl Jóhann Bjarnason, Sólveig Birna, Unnur Jónsdóttir 
Erased Tapes Records - Fríða Ósk Arnalds 
Piano – Ólafur Arnalds
Synthesizer – Guðrún Pálmadóttir 
Viola - Arndís Hulda Auðunsdóttir, Eyjólfur Alfreðsson, Herdís Anna Jónsdóttir, Roland Hartwell
Violin -  Edda Hreinsdóttir, Ester Petra Gunnarsdóttir, Greta Salóme Stefánsdóttir,
 Hólmfríður Guðmundsdóttir, Karl Petska, Lilja Kjartansdóttir, Margrét Soffía Einarsdóttir,
  Roland Hartwell, Ólöf Júlía 

All music written, arranged, recorded, mixed, and mastered by Ólafur Arnalds in his living room.
One song per day for 7 days.

In 2009, Icelandic multi-instrumentalist, composer and producer Ólafur Arnalds released Found Songs, a collection formed by the writing and recording of one song per day for a week. The songs were released digitally, for free, ahead of compilation on the album proper. Two years' later, Living Room Songs repeats this creative process: each of these seven pieces was available for free from his website, where videos of their recording can still be viewed. As the title conveys, these tracks were performed and recorded in the living room of his Reykjavik apartment.
As befits material captured in close quarters, the atmosphere of Living Room songs is suitably intimate and warmly affecting – strings slow-dance around the central piano motifs of Near Light, the sole offering here that adds glitches of electronica to proceedings; the elegiac Ágúst sighs its magnificence like the greatest closing credits arrangement to have never accompanied the post-climax comedown of a tear-spilling cinema hit. As the record progresses, the pieces become fuller. Lag fyrir Ömmu turns from a solo Arnalds affair – just him, hunched at the piano, lost in the moment – into something texturally triumphant as cellos and an armada of violins come into play. The video gently pans right from the pianist to reveal the presence of the assembled horde, as if it's no big deal whatsoever to have half an orchestra over for tea and biscuits.
Those familiar with Arnalds' previous work – his second LP proper of 2010, …and They Have Escaped the Weight of Darkness, was a real calling card moment for the man, a collection which raised him to a position amongst today's premier contemporary neo-classical composers/soundtrackers (see also: Max Richter, Yann Tiersen, Nils Frahm) – will come to Living Room Songs with an idea of what to expect. And it certainly meets every expectation, albeit without stretching far beyond anticipated designs. Given the speed of this set's genesis, though, a relative lack of adventurousness compared to its maker's grander statements can be overlooked in favour of its simple beauty. Even at his most reserved, Arnalds is an artist who can exert immense power with the lightest of touches. ---Mike Diver, BBC Review
download (mp3 @320 kbs):
yandex mediafire uloz.to cloudmailru gett