Il Giardino Armonico - Monteverdi, Merula, Castello, Rossi, Scarlatti, Durante etc (2010)
Il Giardino Armonico - Monteverdi, Merula, Castello, Rossi, Scarlatti, Durante etc (2010)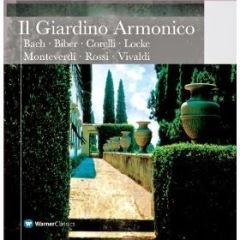 Disc 1

01. Claudio Monteverdi - Sinfonia de Il ritorno d'Ulisse in Patria
02. Tarquinio Merula - Ciaccona
03. Improvisation
04. Dario Castello - Sonata IV
05. Giovanni Battista Spadi - Anchor che co'l partire after a madrigal by Cipriano de Rore
06. Improvisation
07. Dario Castello - Sonata X
08. Giovanni Battista Riccio - Sonata a 4
09. Improvisation
10. Biagio Marini - Sonata sopra "la Monica"
11. Marco Uccellini - Aria sopra "la Bergamasca"
12. Salomone Rossi - Sinfonia a 3
13. Giovanni Battista Fontana - Sonata XV
14. Alessandro Piccinini - Toccata
15. Marco Uccellini - Sonata XVIII
16. Salomone Rossi - Sinfonia in eco a 3
17. Francesco Rognoni - Vestiva i colli after a madrigal by Palestrina
18. Salomone Rossi - Gagliarda "Zambalina" a 4
19. Salomone Rossi - Sinfonia grave a 5
20. Tarquinio Merula - Canzon "la Cattarina"
21. Marco Uccellini - Aria sopra "La scatola degli aghi"
22. Giovanni Paolo Cima - Sonata
23. Tarquinio Merula – "Ruggiero"
24. Salomone Rossi - Gagliarda 'Norsina" a 5

Disc 2

Domenico Sarri - Concerto for Recorder, 2 Violins & Viola in A minor
1. I Largo
2. II Allegro
3. III Larghetto
4. IV Spiritoso
Domenico Scarlatti - Mandolin Sonata in D minor K90
5. I Grave
6. II Allegro
7.  III Allegro
Francesco Durante - Concerto for 2 Violins & Viola in G minor
8. I Affettuoso
9. II Presto
10. III Largo affettuoso
11. IV Allegro
Alessandro Scarlatti - Sonata for Recorder & 2 Violins in A minor
12. I Allegro
13. II Largo
14. III Fuga
15. IV Piano
16. V Allegro
Francesco Mancini - Sonata in D minor
17. I Amoroso
18. II Allegro
19. III Largo
20. IV Allegro

Il Giardino Armonico
Giovanni Antonini – director

Il Giardino Armonico, founded in 1985 and conducted by Giovanni Antonini have long been established as one of the world's leading period instrument ensembles, bringing together musicians from some of Europe's leading music institutions.
The ensemble's repertory is mainly focused on the 17th and 18th centuries. Depending on the demands of each programme, the group will consist of anywhere from 3 to 35 musicians.
After many years as exclusive group of Teldec Classics, achieving several major awards for their recordings of works by Vivaldi and other 18th century composers, the group has signed in 2008 an exclusive recording agreement with DECCA/L'Oiseau-Lyre.
With this record label the ensemble has released Haendel's Concerti Grossi Op VI and the cantata Il Pianto di Maria, with mezzo-soprano Bernarda Fink.
In 2009 a new cooperation with Cecilia Bartoli lead to the project Sacrificium, including il Giardino Armonico's last Decca recording (awarded the Platinum Disc in France and Belgium within the first three months) and a long European tour.
Their CD of Vivaldi's opera Ottone in Villa, released by Naive, was awarded with the Diapason d'Or in January 2011.
Il Giardino Armonico's last recording, the CD Alleluja, with young soprano Julia Lezhneva, released by Decca in march 2013, has been unanimously acclaimed by public and critics.
Il Giardino Armonico is regularly invited to festivals all over the world, performing in the most important concert halls, and has received the highest acclaim both for their concerts and for their staged opera productions, like Monteverdi's Orfeo, Handel's Agrippina, Il Trionfo del Tempo del Disinganno and La Resurrezione, Vivaldi's Ottone in Villa and, most recently, Handel's opera Giulio Cesare, during last editions of Salzburg Whitsun and Summer Festival.
The ensemble can regularly be heard performing with such acclaimed soloists as Giuliano Carmignola, Christophe Coin, Katia and Marielle Labèque, Bernarda Fink, Viktoria Mullova, Giovanni Sollima and Cecilia Bartoli.
Their future projects include a second recording, followed by an European tour, with Julia Lezhneva, a tour in Far East with the chamber music ensemble, collaboration swith cellist Sol Gabetta, the soprano Anna Prohaska and the violinist Isabelle Faust, and performances of Bach and Vivaldi's Magnificat in collaboration with the Bayerische Rundfunk Chor.
In autumn 2014 the first CD of the complete symphonies of F.J. Haydn will be released, a twenty-year project for which the "Haydn Foundation" has been created in Basel, to support both the recording project and a series of concerts in various european capitals, with thematic programs focused on this fascinating repertoire. --- ilgiardinoarmonico.com
download (mp3 @320 kbs):
yandex 4shared mega mediafire cloudmailru uplea