Alexander Arutunian – Concerto for Trumpet and Orchestra (2011)
Alexander Arutunian – Concerto for Trumpet and Orchestra (2011)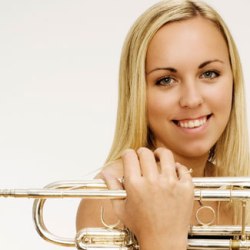 While not divided into formal movements, Arutiunian's Trumpet Concerto consists of five major sections which are all performed attacca (without pause or interruption of the music):

    Andante—Allegro energico
    Meno mosso
    Tempo I
    Meno mosso
    Tempo I - (Cadenza) Coda

Tine Thing Helseth – trumpet
Haydn Orchester
Roberto Molinelli – conductor

Live, August 12th 2011

Alexander Arutunian's Trumpet Concerto in A-flat major (1950), also known as the Arutunian Trumpet Concerto, is the Armenian composer's sixth major composition, a "virtuoso showpiece" composed in 1949-1950. It was written for the trumpet player Timofei Dokschitzer (just before the 29-year-old Arutunian was awarded the State Prize of the USSR for his "Motherland" cantata). The concerto's introduction to the USA is solely due to Dokschitzer, a Soviet trumpeter, who immigrated to the States and premiered the concerto there. According to J. Sundram, "it is an energetic powerhouse of Eastern European lyricism and harmonic textures". The concerto was "quickly assimilated into the standard trumpet repertoire worldwide, earning highest international praise from audiences, critics and performers". It was described as flashy by the New York Times.
According to Philip Smith, the principal trumpet of the New York Philharmonic, Arutunian's Trumpet Concerto is now so entrenched in the instrument's repertory that students use it frequently "as an audition piece at Juilliard". "One of the reasons this piece has become so popular among trumpet players is just that it's a flashy piece. It has a very Gypsyish, Russian, Armenian kind of sound, with very soulful, beautiful melodies and plenty of exciting rapid-tonguing kind of things."
download:   uploaded anonfiles mega gett mixturecloud yandex mediafire ziddu
Zmieniony (Piątek, 02 Sierpień 2013 21:53)