Elena Obraztsova - Arias
Elena Obraztsova - Arias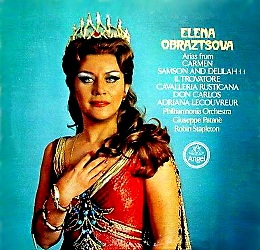 01. Acerba Volutta (Adriana Lecouvreur, Cilea)
02. Voi Lo Sapete, O Mamma (Cavalleria Rusticana, Mascagni)
03. Stride La Vampa (Il Trovatore, Verdi)					play
04. Condotta Ell'era In Ceppi (Il Trovatore, Verdi)
05. O Don Fatale (Don Carlo, Verdi)
06. Printemps Qui Commence (Samson Et Dalila, Saint-Saens)
07. Mon Coeur S'ouvre A Ta Voix (Samson Et Dalila, Saint-Saens)
08. Samson, Recherchant Ma Presence (Samson Et Dalila, Saint-Saens)	play
09. L'amour Est Un Oiseau Rebelle (Carmen, Bizet)
10. Pres Des Remparts De Seville (Carmen, Bizet)

Elena Obraztsova is the first Russian singer since Fyodor Chaliapin to become one of opera's greatest stars. Ms. Obraztsova has performed on the most celebrated opera stages of the world: the Bolshoi and Mariinsky Theatres, La Scala, El Gran Teatre del Liceu in Barcelona, the Grand Opera, Covent Garden, the Metropolitan Opera, and the San Francisco Opera; she has performed and collaborated with many of the worlds most famous singers like Placido Domingo, Luciano Pavarotti, Jose Carreras, Nicolai Ghiaurov, Mirella Freni, Renata Scotto, Carlo Bergonzi, Fedora Barbieri, Nikolai Giuselev, Montserrat Caballe... She has performed under the most prominent opera and symphony orchestra conductors, including Herbert von Karajan, Ricardo Mutti, Lorin Maazel, and Claudio Abbado.
Elena Obraztsova graduated from the Rimsky-Korsakov State Conservatory in Leningrad (now St. Petersburg) in 1964. While still a student she debuted on December 17, 1963 at the Bolshoi Theatre in the role of Marina Mnishek in Mussorgsky's opera Boris Godunov. In 1962, Ms. Obraztsova was awarded Gold Medals at competitions in Helsinki and Moscow. In 1970 she won two major international competitions in Moscow (Tchaikovsky Competition) and Barcelona (Francisco Viñas Competition). Maria Callas was the Chairwoman of the Jury at the Tchaikovsky Competition in Moscow.
Elena Obraztsova has performed the leading mezzo-sopranos roles on the world's most famous opera stages: Marina Mnishek in Boris Godunov, Polina and the Countess in the Queen of Spades, Princess Mary and Helene Bezrukova in War and Peace, Amneris in Aida, Marfa in Khovanshchina, the Princess in Adriana Lecouvreur, Carmen in Carmen, Azucena in Il Travodore, Dalila in Samson and Dalila, Lyubov in Sadko, and many, many more.
Elena Obraztsova has performed in Tokyo, Osaka, Budapest, Vienna, Milan, New York, Washington, Wiesbaden, Marseille, Barcelona, San Francisco, London, Los Angeles, Lisbon, Paris, Rome and many other cities of the world. She has received all of the highest awards of the USSR and Russia, as well as, many prestigious awards from other countries.
Zmieniony (Poniedziałek, 19 Marzec 2012 15:46)