Joseph Martin Kraus – Aeneas in Karthago (2006)
Joseph Martin Kraus – Aeneas in Karthago (2006)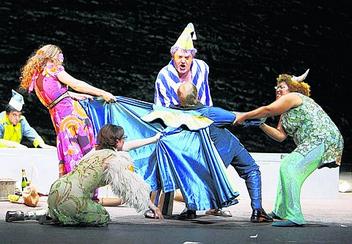 1. Prologue
2. I
3. II
4. III
5. IV
6. V

Dominik Wortig, Tenor (Aeneas)
Simone Schneider, Sopran (Dido)
Daniel Ohlmann, Tenor (Jarbas)
Cornelia Horak, Sopran (Juno)
Catriona Smith, Sopran (Venus)
Klara Ek, Sopran (Clélie)
Daniel Kirch, Tenor (Jupiter/Neptun)
Joachim Goltz, Bariton (Eol/Siché/Narbal)
Olivia Vermeulen, Mezzosopran (Bercé/Iris)
RIAS Kammerchor
Lothar Zagrosek - director

Aeneus I Cartago is a lyric tragedy in five acts and a prologue by Joseph Martin Kraus. Joseph Kraus was a German composer and conductor who settled in Sweden, conducting the Stockholm Opera and earning the position of court Kapellmeister to the Swedish court. His compositional outlet is highly varied, and includes several theatrical works, among them Aeneas I Cartago. The libretto was written by Johan Kellgren. The outline of the plot was created by King Gustavus of Sweden, and based on a play by de Pompignan. Gustavus III was known for his interest and involvement in the operas produced in Sweden, especially as it concerned the promotion and production of a Swedish national theater. The story includes fantastic elements, such as the winds chained to a rock, and the ghost of Dido's dead husband appearing to warn her of her fate. Spectacular elements include a battle scene, an earthquake, a tempest, and Dido's self-immolation at the end.
The original opera was almost six hours long, and meant to commemorate the opening of the new Royal Opera house in Stockholm in 1782. The premier never took place because the prima donna precipitously left town. Over ten years later a highly abbreviated version of the opera was finally produced in Sweden, and several partial revivals of the original work took place in the twentieth century. Aeneas is representative of the type of opera esteemed and promoted in the reign of Gustavus III. Although the plot is derived from Virgil, both composer and librettist spend much greater emphasis on character motivation, situation, and psychology. Kraus' compositional techniques include leitmotif of the kind developed by Beethoven and Wagner. His sense of theater was heavily influenced by the German sturm und drang movement. --- Rita Laurance, Rovi
Der RIAS Kammerchor und das Konzerthausorchester waren - neben einer Schar sich gut anhörender Gesangssolisten - die vorzüglich aufgespielt und prächtigst intoniert habenden Ausführenden dieser denkwürdigen Darbietung, die gleichsam dann den Schlussstrich von Zagroseks langjähriger Reihe "Oper konzertant", in der er uns mit Werken Mozarts, Glucks (3 Opern!!!), Braunfels', Kreneks und - jetzt eben - Krausens konfrontierte, bildete.
Das kostspielige Unterfangen, was dann jeweils nur unter Zuhilfenahme von diversen Stützgeldern und Mäzenatengroschen möglich wurde, war ganz unterschiedlich sinn- oder ertragreich; noch am ehesten vertretbar bei dem Großprojekt mit den drei Gluck-Opern (2007), wo der Regisseur Joachim Schlömer für paar sehenswerte szenische Ideen sorgte - - seine damalige Co-Mitstreiterin Susanne Øglænd hat das jetzt beim alten Kraus allein versucht und ist - nach meinem unmaßstäblch harschen Urteil - hochgrandios hiermit gescheitert: Auf 'nem schwarzen Segeltuch werden dann pausenlos Klein-Kinder-Filmchen, Schriftzitate und die Übertitelung des Operntextes mitgeliefert; unter diesem Lappen dann paar Klötzer, die wie Fantasiehäuser (Karthago's) aussehen, und wo und wie dann die Gesangsdarstellerinnen und Gesangsdarsteller ab und an ein Notenpult und einen Stuhl dann hin und her bewegen mussten usw. usf. --- .kultura-extra.de
download: uploaded yandex anonfiles 4shared solidfiles mediafire mega filecloudio nornar
Zmieniony (Piątek, 24 Styczeń 2014 17:58)