The Tradition of Gregorian Chant CD 1 (2007)
The Tradition of Gregorian Chant CD 1 (2007)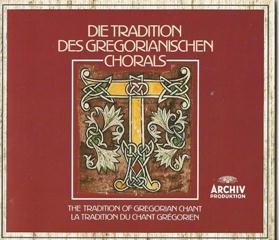 Responsoria ad Matutium in Nativitate Domini iuxta ritum monastaticum
1 I: Hodie nobis caelorum rex	6:32 	
2 II: Hodie nobis de caelo pax	2:35 	
3 Responsorium III: Quem vidistis, pastores	2:48 	
4 Responsorium IV: Descendit de caelis		4:16 	
5 Responsorium V: O magnum misterium	3:34 	
6 Responsorium VI: Beata Dei Genitrix	2:26 	
7 Responsorium VII: Sancta et immaculata virginitas	2:30 	
8 Responsorium VIII: Angelus AD Pastores Ait	4:03 	
9 Responsorium IX: Ecce Agnus Dei	3:59 	
10 Responsorium X: Beata viscera	3:52 	
11 Responsorium XI: In principio erat verbum	3:03 	
12 Responsorium XII: Verbum caro factum est	5:04 	

Proprium Primae Missae in Nativitate - Introitus: Dominus dixit
13 Introitus: Dominus dixit		2:01 	
14 Graduale: Tecum principium		4:27 	
15 Alleluia: Dominus dixit	2:50 	
16 Offertorium: Laetentur caeli		1:18 	
17 Communio: In splendoribus		0:42 	

Proprium Missae in Epiphania Domini
18 Introitus: Ecce advenit	2:36 	
19 Graduale: Omnes de Saba	2:54 	
20 Alleluia: Vidimus stellam	2:29 	
21 Offertorium: Reges Tharsis	2:21 	
22 Communio: Vidimus stellam		0:53 	

Proprium Missae in Ascensione Domini
23 Introitus: Viri Galilaei	3:10 	
24 Alleluia I: Ascendit Deus	1:56 	
25 Alleluia II: Dominus in Sina	2:44 	
26 Offertorium: Ascendit Deus		1:47 	
27 Communio: Psallite Domino		1:06

Coro de Monjes de la Abadía de Montserrat and Pater Gregori Estrada (1-12)
Choralschola des Klosters Maria Einsiedeln and Pater Roman Bannwart  (13-27)

Information from CD; originally from Peter Wilton; also from Todd McComb and J.F. Weber.
This set surveys various monastic styles and makes a popular introduction, although it is available only intermittently (McComb). Although described as a "hodge-podge" in another section of this website (A Selection of Chant Recordings – Western Chant), J.F. Weber expressed a strong disagreement about the use of this term.
He states in a personnal communication:
« This is extremely misleading. The box of four CDs originated as six LPs with the same series title. It was a carefully planned exemplification of the various traditions of Western Plainchant, as follows:
1) Mozarabic chant, recorded at Silos where the editions of Rojo and Prado were prepared.
2) Mass Propers from the earliest St. Gall MSS, recorded at Einsiedeln, where one of the most important and earliest (Ein 121) of these is kept.
3) Office responsories in the monastic use recorded at Montserrat and still the only set of 12 responsories for Matins of Christmas on record.
4) Ambrosian chant, recorded at the Milan cathedral (not a "monastic ensemble"); the importance of this moderate interpretation can best be judged by comparing it with the very fast Schola Hungarica record and the very slow Ensemble Organum record, which cancel each other.
5) Semiotic interpretation of chant, recorded at Muensterschwarzach by Godehard Joppich.
6) The traditional Mocquereau interpretation of chant, recorded at Fontgombault, which maintains a traditional approach to liturgy and chant.
You can see that this series was carefully conceived and comprehensively executed. The pejorative "hodge-podge" is extremely inaccurate. Perhaps the layout on four CDs (with the Einsiedeln Mass Propers divided between two discs) somewhat obscured the perfect organization for the sake of economy (four CDs at budget price). »
download (mp3 @320 kbs):
yandex 4shared mega mediafire zalivalka cloudmailru uplea ge.tt