Stefano Landi - Il Sant'Alessio (1996)
Stefano Landi - Il Sant'Alessio (1996)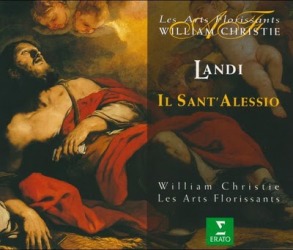 Il Sant'Alessio - Disque : 01

Primeiro Ato
01. Sinfonia
02. Chiaro Giorno Lieta Sorte
03. Ne Fur Solo I Miei Figli
04. Gia Fastosa Guerriera
05. Dopo Tant'anni Al Fine
06. Era La Notte
07. Sopra Salde Colonne
08. Se L'hore Volano						play
09. Poca Voglia Di Far Bene
10. Ma Cola Mesto
11. Si Disserrino
12. Dalla Notte Profonda
13. Deh Raffrenate
14. Amara, Invida Notte
15. Hoime Quel Sospirar
16. Dovunque Stassi
17. Con Miserabil Sorte
18. La Piu Bella Che Sia
Segundo Ato
19. Sinfonia
20. O Te Felice
21. Propitia Arride
22. A Dio Tebro
23. Ma Che Piu Tardo
24. Hor Non Mi Manchi Il Ciel

Il Sant'Alessio - Disque : 02

01. Alessio Che Farai?
02. Humil Servo
03. Alessio, Alessio, A Me Rivolgi Il Guardo
04. O Morte Gradita
05. Gia Con Desir Costante
06. Io Di Vera Pieta Madre
07. Quel, Che Sospirano
08. Tal, Hor Che Men S'attende
09. Rassereniamo Il Cor Con Lieti Auspici
10. Il Ciel Pietoso
Terceiro Ato
11. Sinfonia
12. Mal Si Resiste A Fermo Core
13. Dovunque Io Volgo Il Ciglio
14. Eccomi Pronto, Ascolta
15. Ohime Ch'un' Hora Dola'
16. O Mia Cieca Follia
17. O Luci Voi										play
18. Foglio, Ch'in Te Racchiudi
19. O Pianti, O Dogli Estreme
20. Lasciate Il Pianto
21. O Mia Consorte
22. Vive Alessio
23. Il Ciel Vagheggia
24. Godi Pur Alma Gradita

Sant'Alessio - Patricia Petibon - Soprano
Sposa - Sophie Marin-Degor - Soprano
Madre - Cécile Eloir - Mezzo Soprano
Eufemiano - Nicolas Rivenq - Barítono
Demonio - Clive Bayley - Baixo
Curtio - Mhairi Lawson - Soprano
Martio - Steve Dugardin - Contratenor
Nutrice - Katalin Károlyi - Mezzo Soprano
Adrasto - Christopher Josey - Tenor
Roma, Religione - Maryseult Wieczorek - Soprano
Nuntio - Armand Gavriilidès - Contratenor
Angelo - Stéphanie Révidat - Soprano
Uno del Choro - Bertrand Bontoux – Baixo

William Christie – conductor, 1996

Il Sant'Alessio was written in 1631, and thus falls into the same category as Luigi Rossi or Monteverdi. It subject is religious and it was produced as part of the current anti-reformation movement, meant to inspire Catholic pride and unity. It tells the story of St. Alexis, son of a Roman nobleman, who in embracing Christianity forsook his pagan family and lived underneath the front stairs of his own home, unknown to his relatives. The Saint's harassment by scornful Romans, his temptation by the devil, and the anguish of his loving family, who do not know what has happened to him, make this an interesting departure from early opera's normal mythological subject matter. Musically, the style is austere, dominated by recitative, with sparse accompaniment, though it is relieved by lovely ritornelli, choruses, and simple, heartfelt arias (Alessio's "O morte gradita" is particularly moving). Christie's conducting and singers are as flawless as always (Patricia Petibon has proven herself in Handel, Mozart, Delibes, and she is as beautiful as always here). The opera's sparseness and intensity may well be difficult for listeners unused to this style, and something like Christie's single-disc recordings of L. Rossi oratorios would be a better introduction to early 17th century vocal music; but for those who know they have an interest in the period, this recording is highly recommended. --- andrew j frishman (Magdalena, New Mexico)
Sant'Alessio is an opera in three acts composed by Stefano Landi in 1631 with a libretto by Giulio Rospigliosi. Sant'Alessio was the first opera to be written on a historical subject. It describes the inner life of fifth-century Saint Alexis. The work broke new ground with a psychological characterization of a type that was new to opera. It also contains interspersed comic scenes that are anachronistically drawn from the contemporary life of Rome in the 17th century.
The first performance of the opera is believed to have taken place at the Palazzo Barberini ai Giubbonari, Rome, on 2 March 1631. A further performance was given at the inauguration of the theatre at the Palazzo Barberini alle Quattro Fontane on 21 February 1632.
The story of the opera begins with Saint Alexis, who has embraced a life of holy poverty, returning from the Holy Land as a beggar to his father's house in Rome. He keeps his identity a secret, even when his wife and mother decide to travel in search of him. He resists the temptations offered by the Devil, with the help of an angel. He dies in the poverty he has chosen, under the steps of his father's house, his identity revealed in a letter he holds as he dies.
download: uploaded anonfiles yandex 4shared solidfiles mega filecloudio nornar
Zmieniony (Poniedziałek, 27 Styczeń 2014 16:12)