Ignacy Feliks Dobrzyński - String Quintets (2001)
Ignacy Feliks Dobrzyński - String Quintets (2001)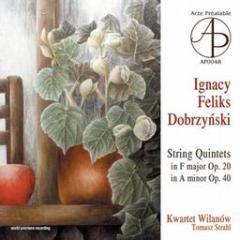 01. Dobrzyński - String Quartet N.1 - I. Allegro moderato    [0:10:10.44]
02. Dobrzyński - String Quartet N.1 - II. Menuetto. Allegro moderato    [0:08:56.42]
03. Dobrzyński - String Quartet N.1 - III. Andante. Doloroso ma non troppo lento    [0:06:45.67]
04. Dobrzyński - String Quartet N.1 - IV. Finale. Vivace assai    [0:07:46.26]
05. Dobrzyński - String Quartet N.2 - I. Andante    [0:13:47.64]
06. Dobrzyński - String Quartet N.2 - II. Tempo di menuetto    [0:06:45.34]
07. Dobrzyński - String Quartet N.2 - III. Presto    [0:07:40.59]
08. Dobrzyński - String Quartet N.2 - IV. Allegro moderato    [0:07:40.51]

Performer: 
Kwartet Wilanow:
Tadeusz Gadzina – I violin
Paweł Łosakiewicz – II violin
Ryszard Duź – viola
Marian Wasiółka – cello
+
Tomasz Strahl – 2nd cello

Ignacy Feliks Dobrzyński (15 February 1807 – 9 October 1867) was a Polish pianist and composer. Dobrzyński was born in Romanów, in Volhynia, now (Romaniv? ukr. Романів, between the 1933-2003 it was known as Дзержинськ – Dzerżynśk)Dserschynsk, Zhytomyr Oblast, Ukraine.
He attended a Jesuit school in Romanów, then continued his education at Vinnitsa, where he graduated from the Gimnazjum Podolskie (Podole Gymnasium). He first studied music with his father Ignacy, a violinist, composer and music director. Beginning in 1825 he studied in Warsaw with Józef Elsner, at first privately, then in 1826–28 at the Warsaw Conservatory, where he was a classmate of Frédéric Chopin's.
Dobrzyński toured Germany as a soloist and also conducted operas and concerts. In 1857 he organized "Ignacy Feliks Dobrzyński's Polish Orchestra" (Orkiestra Polska Ignacego Feliksa Dobrzyńskiego), which comprised leading members of the orchestra of Warsaw's Great Theater. In 1858–60 he participated in a committee established to found a Music Institute. He also became a member of the Lwów Music Society. He died in Warsaw.
Here is one of several Polish romantic composers whom Acte Préalable will be introducing to the world (many are not in English-language music encyclopedias) as they continue their program of unearthing worthy compatriots from both the 19th and 20th centuries. Dobrzynski's quintets (no dates are given but the use of the Polish national anthem in the slow movement of the first suggests 1848 or thereabouts) are mainly concerned with melody, lyricism and lightly dancing minuet movements. Even that national anthem movement, marked "Doloroso ma non troppo lento", is, at the most, wistful as a Mendelssohnian sunniness spreads warmth throughout these two engaging 35-minute pieces. --- acteprealable.com
download:  uploaded anonfiles yandex 4shared solidfiles mediafire mega filecloudio
Zmieniony (Wtorek, 29 Październik 2013 20:17)