Kalevi Aho - Quintet for Clarinet & Strings (2012)
Kalevi Aho - Quintet for Clarinet & Strings (2012)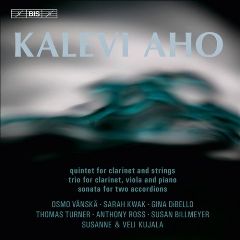 1. Quintet for Clarinet & String Quartet: 1. Quarter note = 72 - Presto e leggierissimo
2. Quintet for Clarinet & String Quartet: 2. Quarter note = 116 - Andante
3. Quintet for Clarinet & String Quartet: 3. Quarter note = 80 - Cadenza
4. Quintet for Clarinet & String Quartet: 4. Furioso, prestissimo
5. Quintet for Clarinet & String Quartet: 5. Epilogue. Andante
6. Trio for Clarinet, Viola & Piano
7. Sonata for 2 Accordions: 1. Prelude (Molto rubato) and Passacaglia
8. Sonata for 2 Accordions: 2. Prelude (Leggiero) and Fugue (Andante - Più mosso - Leggiero)

Osmo Vänskä (clarinet), 
Sarah Kwak & Gina DiBello (violins), 
Thomas Turner (viola), 
Anthony Ross (cello), 
Susan Billmeyer (piano) 
Veli Kujala & Susanne Kujala (accordions)

Renowned for his rich production in the field of orchestral music, Kalevi Aho is also a prolific composer for chamber forces. On this disc, three works spanning two decades have been combined.
Opening the disc is the large-scale Clarinet Quintet, composed in 1998. Osmo Vänskä, better known as a conductor, began his career as principal clarinet in the Helsinki Philharmonic and appeared in the premiere performance of the quintet.
The Sonata for two accordions was written in 1984 as a Sonata for solo accordion described by the composer as 'comparable in aspiration with Liszt's most virtuosic piano works'. It was premièred as late as 2002 by Veli and Susanne Kujala, who also perform it on this recording.
The Trio for clarinet, viola and piano was commissioned to be the set chamber music work of the 2006 Tampere Viola Competition. --- prestoclassical.co.uk
download:  uploaded ziddu 4shared divshare mediafire
Zmieniony (Piątek, 26 Lipiec 2013 20:43)