Feliks Nowowiejski - Symphonic Works (2018)
Feliks Nowowiejski - Symphonic Works (2018)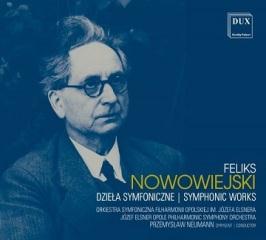 1.Overture to the oratorio The Return of the Prodigal Son Op.3 (1902) [13.38]
2.Beatrix: Symphonic poem, Op.17 No.1 (1903) [20:11]
3.Nina and Pergolesi: Symphonic fantasy, Op.17 No.2 (1903) [18:19]
4.Overture to the opera The Legend of the Baltic Sea, Op.28 (1924) [12.37]
5.Overture to the opera-ballet The King of the Winds, Op.37 (1927) [13.06]

Andrzej Krawiec - violin solo
Andrzej Szajda - double bass
Józef Elsner Opole Philharmonic Symphony Orchestra
Przemysław Neumann - conductor

A significant part of Feliks Nowowiejski's works, particularly major pieces, remained in manuscripts and it went into oblivion soon after the composer's death (1946), as if it were encoded in oblivion. This state of affairs remained until the recent years when a part of Polish music community began to recognise severe gaps in the knowledge about the works of our composers. It is also the ensemble of the Opole Philharmonic under the direction of Przemysław Neumann that makes a significant contribution to decoding Feliks Nowowiejski's music. The present album, including symphonic pieces of the author of Oath, which have been rarely performed and are almost absent in the recording industry, is a testimony of it. These are extremely interesting, selected symphonic works, composed with uncommon panache, plenty of melodic invention, pompous climaxes and profound Romantic aesthetics. ---en.dux.pl
One of the joys of the CD age has been the opportunity to discover the works of composers rarely if ever programmed in the concert hall, sometimes with the hope that an audience for concert performances might be created through recordings. Many composers are interesting, sometimes by way of contrast with the recognised genius of justly famous contemporaries, but even among the interesting ones, there is often nothing sufficiently original to justify a sustained cult.
For most outside Poland, and, I suspect for many within, Nowowiejski is today relatively little known, and when he is known, then it is principally as a composer of oratorios and church music. But, on the evidence of this CD, there is very much more to him than that – he rises above the merely interesting to reveal himself as someone with an original and distinctive voice. I was glad to make acquaintance with his work and look forward to exploring very much further.
Notes for the recording – in English and Polish – are exemplary, outlining not only the composer's life and works, but contextualising them against the turbulent history of Poland in the 19th and 20th Centuries. In a partitioned land, Polish nationalism was a difficult choice. By background, Nowowiejski was Prussian-born, and German was his natural language, not Polish. Yet, partly influenced by his parents, both keenly interested in Polish culture, he consciously chose the path of Polish patriotism – his song Rota, from 1910, was fiercely anti-German. His pro-Polish views made life difficult for him in the German academies (including Berlin and Regensburg, though principally the former, where he worked with Max Bruch). After the First World War, he settled in Poznań in the newly independent Poland. He spent the years of the Second World War mainly in Krakow.
Nowowiejski's cause has not been helped by a dearth of published scores. Most of his works remain in manuscript – the Opole Philharmonic Foundation is responsible for providing the scores recorded here. The results more than justify the effort.
The earliest work, the Overture to The Return of the Prodigal Son, is very striking, demonstrating command of a large orchestra which includes celesta, organ and a large percussion section. An early work it may be, but the writing is both confident and impressive. Repeated listening reveals the strength of the underlying structure, and pacing in this performance is well-handled as the piece fades gently away.
The tone-poems, Beatrix and Nina and Pergolesi, similarly involve a large orchestra. Of the two, I marginally preferred Nina and Pergolesi, with its strong contrasts, often within the space of a few bars. The method is characteristic of the composer, with thematic growth through transformations rather than formal development. In technique rather than sound-world there are parallels with Mahler – perhaps a little of the world of the first movement of the Third Symphony.
The Legend of the Baltic Sea was very popular but went through much editing before achieving its final form. In the overture there are techniques reminiscent of the earlier works on the CD. As in Mahler, loud passages give way to chamber-like moments. There are some lovely moments for harp and solo violin.
The King of the Winds started life as an intended opera, but eventually became a ballet in nine tableaux. It is very impressive, with monumental passages contrasted with quieter moments.
Performances are committed and impressive. Nowowiejski is a composer I want to explore much further. There is a recording of Symphonies 2 and 3 (Dux 1446 - review) and The King of the Winds is available on a recent Warner Classics set, with Sinfonia Varsovia. The latter is recent and one of several new recordings If a Nowowiejski revival is happening, on the evidence of this CD, it is cause for excitement. ---Michael Wilkinson, musicweb-international.com
Wydana przez DUX płyta z dziełami symfonicznymi Feliksa Nowowiejskiego to kolejny wydany przez tę firmę album dedykowany temu kompozytorowi. Nie tak dawno temu ukazały się płyty z oratorium Quo vadis i z II i III Symfonią. Tym razem ponownie mamy do dyspozycji dzieła szerzej nieznane, grywane sporadycznie.
Krążek otwiera uwertura do oratorium Powrót syna marnotrawnego op. 3 z 1902 roku, studencka kompozycja Nowowiejskiego. Dzieło budzi mieszane uczucia – z jednej strony nie sposób oprzeć się barwnej i ciekawej orkiestracji, z drugiej – całość wydaje się nazbyt rozciągnięta i pozbawiona dramaturgicznego punktu kulminacyjnego.
Taki sam problem występuje w dwóch wczesnych poematach symfonicznych op. 17 z 1903 roku – Beatrycze i Nina i Pergolesi. Ponownie zwraca uwagę barwność orkiestracji z użyciem migotliwych dźwięków czelesty, harf i sekcji perkusji, ale ewidentnie daje się we znaki brak wyczucia dramaturgicznego. Całość jest ładna, eufoniczna, utrzymana w przystępnej, romantycznej stylistyce. Wiele tu pięknych, śpiewnych melodii, ale zawiedzie się ten kto szukać będzie w tej muzyce większej głębi. O wiele ciekawsza jest zwięzła i również ciekawie orkiestrowana uwertura do opery Legenda Bałtyku op. 28, pochodząca już z lat 20.
Jednak bez wątpienia najbardziej interesującym dziełem z tych zebranych na płycie jest uwertura do Króla wichrów. Wstęp ten nosi tytuł Wśród turni. Ciekawie brzmi początek, z głównym tematem prowadzonym w kwintach i oktawach. Oddawanie surowości tatrzańskiej przyrody udało się kompozytorowi i dało rezultaty ciekawe, charakterne i intrygujące, niepozbawione też pewnej głębi.
Mamy więc album z kompozycjami, które określić należy jako przejściowe. Jest to Nowowiejski z jednej strony osadzony jeszcze w tradycji romantycznej, a z drugiej łypiący już w stronę osiągnięć kolorystycznych impresjonizmu i harmoniki modernizmu. Nie są to kompozycje aż tak inspirujące jak II i III Symfonia, ale i tutaj odnaleźć można wiele ciekawych pomysłów.
Od strony wykonawczej i edytorskiej album prezentuje się przyzwoicie. Nie jest to może propozycja wstrząsająca, ale na pewno wartościowa i warta poznania. ---klasycznaplytoteka.pl
download (mp3 @320 kbs):
yandex mediafire ulozto cloudmail.ru bayfiles