Muffat & Biber - Music from The Court of Salzburg (1985)
Muffat & Biber - Music from The Court of Salzburg (1985)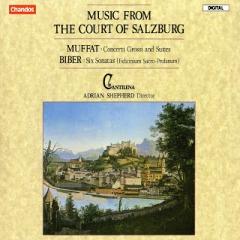 Georg Muffat (1653-1704)
Propitia Sydera - Concerto Grosso in G major 	18:32
1 		Sonata 	1:42
2 		Aria 	2:35
3 		Gavotta 	2:10
4 		Ciacona 	10:38
5 		Borea 	1:14

Richard Chester solo flute 	
Angus Anderson violin 	
Adrian Shepherd 	
  	  	  		
Delerium Amoris - Concerto Grosso in E minor 	7:26
6 		Sonata 	0:54
7 		Balo 	4:02
8 		Minuet 	1:10
9 		Giga 	0:32
10 		Minuet 	0:42

Susan Tyte, David Evans oboes 	
Allan Geddes bassoon 	
  	  	  		
Cor Vigilans - Concerto Grosso in A major 	9:06
11 		Sonata 	2:53
12 		Corrente 	3:31
13 		Gavotta 	1:11
14 		Rondeau 	1:24

Angus Anderson, Andrew Morris violins 	
Adrian Shepherd cello 	
  	  	  		
Impatientia - Suite in B flat major 	12:18
 (Florilegium I, No. 4) 	
15 		Symphonie 	2:47
16 		Balet 	2:20
17 		Canaries 	0:34
18 		Gigue 	0:45
19 		Sarabande 	2:17
20 		Bourrée 	0:57
21 		Chaconne 	2:18

Constantia - Suite in G major 	9:47
 (Florilegium I, No. 7) 	
22 		Air 	2:40
23 		Entrée des fraudes 	0:36
24 		Entrée des insultes 	1:29
25 		Gavotte 	0:42
26 		Bourrée 	0:51
27 		Minuet I 	1:05
28 		Minuet II 	1:04
29 		Minuet I 	0:36
30 		Gigue 	0:27

Gratitudo - Suite in D minor 	9:45
 (Florilegium I, No. 3) 	
31 		Ouverture 	3:17
32 		Balet 	1:29
33 		Air 	1:16
34 		Bourrée 	1:01
35 		Gigue 	0:43
36 		Gavotte 	0:31
37 		Minuet 	1:08

Heinrich Ignaz Franz von Biber (1644-1704)
Fidicinium Sacro-Profanum: Twelve Sonatas, Nos 1-6 	52:10
38 		Sonata No. 1 in B minor 	11:10
39 		Sonata No. 2 in F major 	8:00
40 		Sonata No. 3 in A minor 	6:27
41 		Sonata No. 4 in G minor 	8:35
42 		Sonata No. 5 in C major 	9:37
43 		Sonata No. 6 in A minor 	8:02

Cantilena (Ensemble)
Adrian Shepherd, violoncello and director

Georg Muffat, (baptized June 1, 1653, Megève, Savoy [now in France]—died Feb. 23, 1704, Passau, Bishopric of Passau [now in Germany]), composer whose concerti grossi and instrumental suites were among the earliest German examples of those genres.
Muffat held positions as organist at Molsheim and Strasbourg cathedrals and in 1678 became organist to the archbishop of Salzburg. In 1681 he went to Italy and in Rome studied with Arcangelo Corelli and Bernardo Pasquini. He spent about six years in Paris, where he acquainted himself thoroughly with the music of Jean-Baptiste Lully. He became organist to the bishop of Passau in 1687 and chapelmaster there in 1690.
Muffat's most famous work, 12 orchestral suites, Florelegia (two sets, 1695 and 1698), was one of the earliest German collections of suites in the French manner, using dance movements influenced by those of Lully's stage works. The Florelegia also contains valuable information about French performance practices in the late 17th century. His Ausserlesene . . . Instrumental-Music (1701) was an early collection of concerti grossi in the style developed by Corelli. Among his other works are the Armonico tributo, a set of five-part trio sonatas, and the Apparatus musico-organisticus, toccatas for organ.
His son Gottlieb Muffat (1690–1770) became organist to the Holy Roman emperor. His most important works were Versetten oder Fugen for organ (1726) and Componimenti musicali (c. 1739), from which George Frideric Handel borrowed heavily. --- britannica.com
Heinrich Ignaz Franz von Biber (August 12, 1644 - May 3, 1704) was a Bohemian-Austrian virtuoso, and one of the first great composers for the violin.
His music was published extensively, though it was often idiosyncratic. Today he is best known for composing violin pieces requiring the performer to extract unusual chordal effects and sonorities made possible through scordatura, or non-standard tuning of the violin. His works show a tendency towards harmonic diapason and canonic use that pre-dates the works of Johann Pachelbel and Johann Sebastian Bach.
The two most famous works that are heavily reliant on scordatura for special tone colors are the Mystery Sonatas (15 sonatas on the Rosary) and Harmonia artificiosa-ariosa, a set of seven partitas for string ensemble. Especially in his later years, Biber also composed extensive choral music, operas, and sacred music such as the Missa Salisburgensis, an intense polyphonic setting of the mass for 53 voices. --- classical.net
download:   uploaded anonfiles mega 4shared mixturecloud yandex
Zmieniony (Sobota, 03 Sierpień 2013 16:26)