Gaspare Spontini - Li Puntigli delle Donne (1999)
Gaspare Spontini - Li Puntigli delle Donne (1999)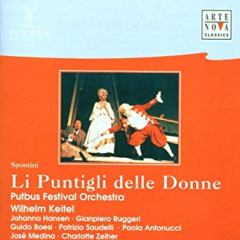 Disc 1
1.Parte Prima: Sinfonia — Wilhelm Keitel, Putbus Festival Orchestra	3:22
2.Parte Prima: Introduzione — Wilhelm Keitel, Putbus Festival Orchestra	6:28
3.Parte Prima: Recitativo — Wilhelm Keitel, Putbus Festival Orchestra 3:11
4.Parte Prima: Cavatina a tre (Conte, Giannina, Lisetta)	3:09
— Gianpiero Ruggeri, Johanna Hansen, Charlotte Zeiher, Wilhelm Keitel, Putbus Festival Orchestra
5.Parte Prima: Recitativo — Wilhelm Keitel, Putbus Festival Orchestra  2:51
6.Parte Prima: Aria (Giannina)	5:24
— Johanna Hansen, Wilhelm Keitel, Putbus Festival Orchestra
7.Parte Prima: Recitativo — Wilhelm Keitel, Putbus Festival Orchestra  2:18
8.Parte Prima: Rondo (Valerio) 6:40
— Patrizio Saudelli, Wilhelm Keitel, Putbus Festival Orchestra
9.Parte Prima: Recitativo — Wilhelm Keitel, Putbus Festival Orchestra 1:27
10.Parte Prima: Aria (Dottore) — Guido Boesi, Wilhelm Keitel, Putbus Festival Orchestra 3:37
11.Parte Prima: Recitativo — Wilhelm Keitel, Putbus Festival Orchestra 1:53
12.Parte Prima: Quintetto (Rosimene, Valerio, Giannina, Dottore, Conte)  8:31
— Paola Antonucci, Patrizio Saudelli, Johanna Hansen, Guido Boesi, Gianpiero Ruggeri, Wilhelm Keitel
13.Parte Prima: Recitativo — Wilhelm Keitel, Putbus Festival Orchestra 1:52
14.Parte Prima: Aria (Conte) — Gianpiero Ruggeri, Wilhelm Keitel, Putbus Festival Orchestra 3:29
15.Parte Prima: Recitativo — Wilhelm Keitel, Putbus Festival Orchestra 1:50
16.Parte Prima: Finale I — Wilhelm Keitel, Putbus Festival Orchestra 11:49

Disc 2
1.Parte Seconda: Recitativo — Wilhelm Keitel, Putbus Festival Orchestra 1:48
2.Parte Seconda: Duetto (Conte, Dottore) 3:54
— Gianpiero Ruggeri, Guido Boesi, Wilhelm Keitel, Putbus Festival Orchestra
3.Parte Seconda: Recitativo — Wilhelm Keitel, Putbus Festival Orchestra 1:49
4.Parte Seconda: Aria (Lisetta)  3:06
— Charlotte Zeiher, Wilhelm Keitel, Putbus Festival Orchestra
5.Parte Seconda: Recitativo — Wilhelm Keitel, Putbus Festival Orchestra 1:02
6. Parte Seconda: Duetto (Rosimene, Giannina)  5:03
— Paola Antonucci, Johanna Hansen, Wilhelm Keitel, Putbus Festival Orchestra
7.Parte Seconda: Recitativo — Wilhelm Keitel, Putbus Festival Orchestra 3:11
8.Parte Seconda: Aria (Cavaliere)  3:16
— Jose Medina, Wilhelm Keitel, Putbus Festival Orchestra
9.Parte Seconda: Recitativo — Wilhelm Keitel, Putbus Festival Orchestra 1:13
10.Parte Seconda: Aria (Rosimene) 2:32
— Paola Antonucci, Wilhelm Keitel, Putbus Festival Orchestra
11.Parte Seconda: Recitativo — Wilhelm Keitel, Putbus Festival Orchestra 4:36
12.Parte Seconda: Sestetto (Rosimene, Valerio, Giannina, Dottore, Conte, Cavaliere) 7:35
— Paola Antonucci, Patrizio Saudelli, Johanna Hansen, Guido Boesi, Gianpiero Ruggeri, Jose Medina
13.Parte Seconda: Recitativo — Wilhelm Keitel, Putbus Festival Orchestra  1:54
14.Parte Seconda: Aria (Giannina) — Johanna Hansen, Wilhelm Keitel, Putbus Festival Orchestra 6:23
15.Parte Seconda: Recitativo — Wilhelm Keitel, Putbus Festival Orchestra 0:51
16.Parte Seconda: Finale II — Wilhelm Keitel, Putbus Festival Orchestra  10:50

Johanna Hansen (Giannina, soprano)
Giampiero Ruggeri (Conte Brontolone)
Guido Boesi (Dottore Mangiacarte, baritone)
Patrizio Saudelli (Valerio, tenor)
Paola Antonucci (Rosimene, soprano)
José Medina (Cavaliere del Ciufolo, tenor)
Charlotte Zeiher (Lisetta, soprano)
Putbus Festival Orchestra
Wilhelm Keitel (conductor)

Which is best? To see one opera a hundred times or a hundred operas once each? Or, to make a less extreme example, if you are a keen and experienced opera-goer with at least 100 visits to an opera house to your credit, how many different operas did you see in your last 100 visits? 10? 20? Would "not more than 30" be near the mark? And why not? The masterworks are inexhaustible and no other art form contains so many variables.
But now what about this. You are a keen and experienced cinema-goer with over a hundred visits to the cinema behind you. How many different films did you see in your last 100 visits? 100? I'd guess at least 90.
What's different about the two things? Why do opera-lovers mull and chew over different interpretations of their favourite roles while a cinema-lover, having seen a favourite actor in a new role, is already hankering after his next interpretation. OK, let's not generalise too much, there are some films that people see again and again, but not so many as there are operas. Still, I think it's fair to say that nobody feels cheated if they see a decently paced, decently directed, decently acted film, and at the end of it don't remember very much. They have been entertained, nobody intended anything more high-brow than that, and the next time they go to the cinema it will be to see another film like it.
Well, the point of this preamble is that in early 19th Century Italy people went to the opera the way people of the next century went to the cinema. When the Roman audience assembled in the Teatro Pallacorda in 1796 to hear the first opera – or, rather, "Farce with Seven Characters" – by the young Neapolitan composer Gaspare Spontini, they went, not to a holy temple but to an evening's entertainment, and as long as it was decently paced, decently melodious and decently sung, that was enough. They didn't necessarily expect to hear it again, the next time they would go to hear something else. In fact, the next year Spontini was invited back to Rome, not to repeat the same piece, but to bring out a new one. (Spontini, of course, later wrote one of opera's near misses, La Vestale, not so long ago brought back to life by Muti at La Scala).
So where does that leave us today? Is there any point in cluttering up the house with two CDs that you'll probably enjoy, but won't need to hear again? Well, since the Arte Nova price is about on a level with an evening out at the cinema, then I'd say yes, why not, and you can always flog it at a car boot sale when you've finished with it. And, as ephemera goes, the opera is a classy product. Spontini's handling of the orchestra was a cut above the average – hear the woodwind writing in the trio Gli augelli garruli or the flute obbligato to Giannina's aria Dolce auretta lusinghiera – and he was already a dab hand at keeping the characters well-differentiated in the ensembles. It does everything a comic opera is expected to do – but don't think you're going to get Mozart or even Rossini.
If you're not going to hear it again perhaps the performance does not matter too much, but be assured that it is well recorded and excellently conducted. Keitel really knows how to pace a comic opera, rattling the recitatives off like anything and keeping the ensembles on their toes. There are some excellent wind soloists in the orchestra. The singers? They're a bit of a mixed bunch. Johanna Hansen as Giannina is named as a soprano and I've dutifully called her that in the details above, but the range of the part is for mezzo and she certainly sounds like a mezzo, and a fairly jaded, chesty one at that. She rather struggles with her Italian, almost falling behind the rhythm in the faster moments, and unable to bite the words. The gentler aria Dolce auretta suggests that she may be worth hearing in different music.
There are two other sopranos and they get an aria each. Charlotte Zeiher is a light soprano, lively in recitatives, but her aria reveals problems with high notes, which take on a wide vibrato and sometimes come out sharp. Paola Antonucci is worth watching; a bright, forward voice with plenty of body. She is sometimes reckless with it but she has a lot of character and her aria is perhaps the one thing hear I'd hear again.
Both baritones are good, typical Italian comic singers. Of the tenors Patrizio Saudelli aspirates his runs very noticeably and has some fairly excruciating high notes, which go right up to a top C sharp. José Medina is much pleasanter on the ear and may be worth looking out for.
The booklet has a useful note on Spontini and a very sketchy summary of the plot in English, French and German. The libretto itself is in Italian only and if you can read it then it'll lead you quite a dance. Minor alterations of words and sentences are frequent, and whole chunks of recitative – even whole scenes – are printed but not performed. On the other hand Rosimene sings an aria that isn't printed here. Are performers and printers working from two different versions of the opera?
I'm not sure what sort of recommendation this all adds up to, since it depends who you are. I hope it will be clear from what I've said above whether this is for you or not. ---Christopher Howell, musicweb-international.com
download (mp3 @320 kbs):
Zmieniony (Wtorek, 30 Październik 2018 17:51)