Salvatore Sciarrino - Infinito Nero
Salvatore Sciarrino - Infinito Nero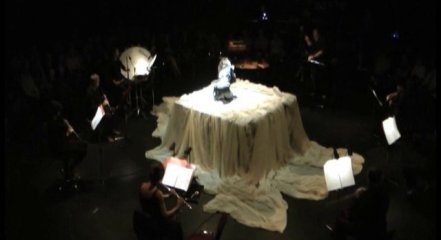 1.	Lo Spazio inverso, for flute, clarinet, string and celesta 
2.	Altre Schegge di canto, concerto for clarinet and orchestra
3.	Let me die before I wake, for clarinet in B solo
4.	Hermes, for flute solo (No.2 from Fabbrica degli incantesimi) 
5.	Trio No.2 , for flute, violin and piano 
6.      Infinito nero, for voice and 8 instruments 
7.	Omagio a burri, for bass clarinet, violin and flute 
8.	Responsorio delle tenebre a 6 voci 
9.	Introduzione all'oscuro, for 12 instruments 
10.	Lettera degli antipodi portata dal vento, for flute solo (2000) – Марио КАРОЛИ, флейта

Ensemble Recherche 
Sonia Turchetta -mezzo soprano (6)
Kwamé Ryan – director (1,6)

Alessandro Carbonare – flute 
Oslo Philharmonic  Orchestra 
Susanna Melkki – conductor (2)

Paolo Ravaglia – clarinet (3)
Roberto Fabricciani – flute (4)

Manuel Zurria – flute (5)
Marco Rogliano – violin (5)
Francesco Dillon – cello (5)

Ensemble Alter Ego (7)
The Hilliard Ensemble (8)

Contempoartensemble
Mauro Ceccanti – director (9)

Mario Caroli – flute (10)

Women and madness is a primal operatic theme. Women undone by trauma and giving extravagant voice to their dementia range from Monteverdi's Arianna to Donizetti's Lucia and Anna Bolena and on to Régine Saint Laurent, the overwrought title character in Rufus Wainwright's Prima Donna.
Women suffering from divine madness is an intriguing variation on the theme. Infinito nero ("Black infinity"), a 1998 "ecstasy in one act" by Salvatore Sciarrino, will have its US stage premiere on October 31 at the Bohemian National Hall in Manhattan as part of the S.E.M. Ensemble's "Beyond Cage: John Cage at 100 / Music at 2012" festival.
Born in Palermo in 1947, Sciarrino is a largely self-taught composer. If Cage, to quote Alex Ross, "annex[ed] the entire landscape of sound, from pure noise to pure silence," Sciarrino has often focused on liminal sound: tones and resonances at the limit of audibility, including instrumental harmonics and words that flutter in the void between sense and nonsense. (Sciarrino's website includes an extensive discography.)
Infinito nero is based on the writings of Maria Maddalena de' Pazzi, a saint of the Roman Catholic Church who lived from 1566 to 1607. Known as Caterina as a girl, she came from two storied Florentine families. No less a titan than Filippo Brunelleschi designed the austerely beautiful Pazzi Chapel in the Basilica of Santa Croce. Caterina's mother was a Buondelmonti, and Machiavelli dedicated his Discourses to one of her relatives. On a bleaker note, Dante consigned two of Caterina's Pazzi forebears to the ninth circle of hell in the Inferno, and a Pazzi was one of the assassins who stabbed Lorenzo de' Medici and murdered his brother Giuliano in 1478—during Mass at the Duomo, no less.
Dealt that genetic hand, Caterina was probably fated to be exceptional. She fell into rapture for the first time at age twelve and at sixteen became a Carmelite nun, taking the name Maria Maddalena. A year later, after falling gravely ill, she experienced ecstasies for 40 days—the sacred spell of time recalling Noah and the Ark, Moses on Mount Sinai, Jesus in the wilderness, and other instances of spiritual transformation. Her confessor ordered a team of novices to record the torrents of words that gushed forth from her; they also documented the temptations and ordeals that she suffered during five years of spiritual darkness. Maria Maddalena died at age forty-one, was beatified three years later, and was canonized in 1669. ---Marion Lignana Rosenberg, wqxr.org
download (mp3 @320 kbs):
uploaded yandex 4shared mega mediafire solidfiles zalivalka cloudmailru oboom
Zmieniony (Sobota, 30 Maj 2015 15:53)