Johann Georg Conradi – Ariadne (2005)
Johann Georg Conradi – Ariadne (2005)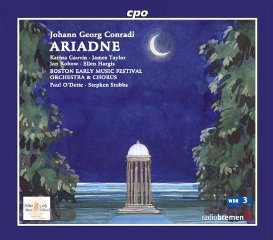 Disc: 1
1. Ariadne, opera: Overture
2. Ariadne, opera: Act 1. Wie so allein?
3. Ariadne, opera: Act 1. Bleibt noch der Schluß
4. Ariadne, opera: Act 1. Wann sehnliches Wünschen
5. Ariadne, opera: Act 1. Thu liebste Phaedra, meinen Willen
6. Ariadne, opera: Act 1. O freudenreicher Tag
7. Ariadne, opera: Act 1. Ich acht es nichts
8. Ariadne, opera: Act 1. Die Lieb allein
9. Ariadne, opera: Act 1. Soll deine Treu mir ewig sich verbinden
10. Ariadne, opera: Act 1. Hoffnung, Hoffnung
11. Ariadne, opera: Act 1. Wie leicht ist es den Krancken Raht zu geben
12. Ariadne, opera: Act 1. Wann auf Lieben folgt Geniessen
13. Ariadne, opera: Act 1. Scheeren und Messer und Pfriemen zu schleiffen
14. Ariadne, opera: Act 1. Ho, ho! Hollahe!
15. Ariadne, opera: Act 1. Messer und Scheeren zu schleiffen

Disc: 2
1. Ariadne, opera: Act 2. Verwegenster!
2. Ariadne, opera: Act 2. Die Freude wird nur schlechten Stand
3. Ariadne, opera: Act 2. Wie kann ein Herz
4. Ariadne, opera: Act 2. Eilet, ach eilet
5. Ariadne, opera: Act 2. Er lasse doch dergleichen Fratzen
6. Ariadne, opera: Act 2. Pamphilius, wer hat dich das gelehrt?
7. Ariadne, opera: Act 2. Es sollen Zeugen sein
8. Ariadne, opera: Act 2. Aber denkt, ihr guten Leute
9. Ariadne, opera: Act 2. Alles ist nur Eitelkeit
10. Ariadne, opera: Act 2. Ihr Augen die der Himmel zieret
11. Ariadne, opera: Act 2. Sie spare doch, Vortrefflichste! das Klagen
12. Ariadne, opera: Act 2. Doch ich will in Hoffnung bleiben
13. Ariadne, opera: Act 2. Ich bitt euch doch noch hunderttausendmahl
14. Ariadne, opera: Act 2. Gute Nacht, ihr Anverwandten

Disc: 3
1. Ariadne, opera: Act 3. Prelude
2. Ariadne, opera: Act 3. Ihr Sternen, stehet still
3. Ariadne, opera: Act 3. Weil durch des Minotaurus Hals des Theseus tapffres Schwert gedrungen
4. Ariadne, opera: Act 3. Nun Edle, Rache sol dein Gift, mein süsser Zucker werden
5. Ariadne, opera: Act 3. Hat Theseus gleich unendlich mich verbunden
6. Ariadne, opera: Act 3. Marche - Chor des Gefolges
7. Ariadne, opera: Act 3. Weg! alles Lob des Nectars süsser Reben
8. Ariadne, opera: Act 3. Wer sich vor Amor find zu schwach
9. Ariadne, opera: Act 3. Air
10. Ariadne, opera: Act 3. Bricht an, gewünschte Nacht!
11. Ariadne, opera: Act 3. Sie schläft
12. Ariadne, opera: Act 3. Symphonie - Oh Weh! Ach rette mich!
13. Ariadne, opera: Act 3. Ihr Furien! Auf, auf!
14. Ariadne, opera: Act 3. Wie aber! ist er meines Zorns auch wert?
15. Ariadne, opera: Act 3. Hat, Verhängnüß, meine Pein, irgend ihresgleichen
16. Ariadne, opera: Act 3. Marche
17. Ariadne, opera: Act 3. Wie so betrübt, mein allerschönstes Kind?
18. Ariadne, opera: Act 3. Erinnre dich, mein Licht
19. Ariadne, opera: Act 3. Passacaille
20. Ariadne, opera: Act 3. Es zeiget sich des ganzen Himmels Raht

Karina Gauvin, soprano
James Taylor, tenor
Jan Kobow, tenor
Ellen Hargis, soprano

Orchestra and Chorus of the Boston Early Music Festival
Paul O'Dette and Stephen Stubbs -  Directors

Amply underscoring the internationalism of the Festival, the opera for 2003, Johann Georg Conradi's Ariadne, was later recorded in Bremen in a collaboration between BEMF, Westdeutscher Rundfunk Köln, and Radio Bremen.
Conradi's Ariadne (1691) is the earliest surviving opera from the Theater am Gänsemarkt in Hamburg, and its own diversity of national influences suggests a symbolic precursor of the modern collaborative sponsorship. George Buelow brought the score of Ariadne to light in the 1970s, and describes it as a "highly expressive and cosmopolitan mixture of Venetian, German, and French styles." The Lullian echoes here are easily heard in the overture, the dance movements, and the divertissements—Act I concludes, for instance, with a scene for dancing and singing scissors grinders; Act III concludes with a lengthy Passacaille for Venus, the Graces, Bacchus, and a Satyr; both scenes recall the entertainments of tragedies en musique. (The dancing scissors grinders, as Terpsichorean tradesmen, seem "cousins," as well, to the dancing tailors of Lully's Le Bourgeois Gentilhomme.) The Lullian influence derives in part from Conradi's time as Kapellmeister at Ansbach in the 1680's, where French opera was frequently performed and the orchestra included Johann Fischer, Lully's one-time copyist.
Italian accents are clear in the airs and recitatives, but also in the comic character of Pamphilius, sung with imaginative flair here by Jan Kobow. Pamphilius has a philosophizing bent and a capacity for deflating the elevated feelings of his "betters" that one recognizes immediately in Monteverdi's Iro from Il Ritorno Ulisse or later in Handel's Elviro from Serse.
Conradi's Ariadne, though a long work at around three hours, gives the impression of being fast-paced, with its many arias moving ahead without tarrying in lengthy development. And Christian Heinrich Postel's libretto places the story of Ariadne in a rich weave of characters and circumstance that also helps propel things forward with interest. In the end, Ariadne's emotionally textured third-act lament underscores that it is indeed her story that is the central one, but the love of her sister Phaedra for Theseus, the shame of their mother Pasiphæ in having conceived the monstrous Minotaur, and the love of Evanthes (Bacchus) for Ariadne are all compelling story-lines in their own right, and are given due attention in the opera. Through the modern prominence of works like Monteverdi's "Lamento d'Arianna" we have come to see Arianna as something of a poster girl for abandonment. Significantly, in Conradi's opera, the abandonment is given appropriate weight in Ariadne's moving lament, but she in turn rather quickly abandons her lamentative state to unite happily with Bacchus. In the end, if she is to be a poster girl, it is in the cause of love's ultimate fulfillment.
The performance is an unflaggingly gratifying one, sung by a uniformly accomplished cast. And significantly, the singers, though cohesive in ensemble, maintain an interesting interplay of vocal individuality that itself underscores the number of story-lines in the libretto. For example, Karina Gauvin brings to her Ariadne a vibrant sound and rhetorical flair, but also, especially in Act II's "Ihr Augen die der Himmel zieret," a strikingly flexible lightness. Barbara Borden's lithe tone, contoured phrasing, and impressive articulation on rapid passage work are much to be savored in her Phaedra. And Ellen Hargis' Pasiphæ gives wonderful evidence of both the elegance and power of her singing and the rare beauty of her finely controlled sound. The individuality of voice brings the richness of character to the fore, and it is one of the most gratifying aspects of this sterling performance. Surely the BEMF Ariadne is one that no one will want to abandon. ---Steven Plank, operatoday.com
download (mp3 @224 kbs):
uploaded yandex 4shared mega mediafire solidfiles zalivalka cloudmailru oboom