Lalande - Majesté (Collection Château de Versailles) [2017]
Lalande - Majesté (Collection Château de Versailles) [2017]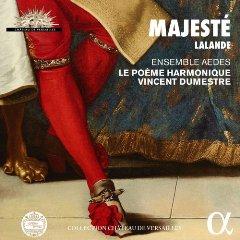 1. Deitatis Majestatem: Deitatis 	4:39
2. Deitatis Majestatem: Hic enim 	4:31
3. Deitatis Majestatem: Simphonie 	0:44
4. Deitatis Majestatem: O caro Ch 	2:23
5. Deitatis Majestatem: Te omnes 	3:14
6. Deitatis Majestatem: O mentis 	4:17
7. Deitatis Majestatem: Quam dulc 	3:03
8. Deitatis Majestatem: O bonitat 	3:53

9. Ecce Nunc Benedicite, S.8: Ecc 	4:58
10. Ecce Nunc Benedicite, S.8: In 	5:34
11. Ecce Nunc Benedicite, S.8: Ben 	3:07

12. Te Deum, S.32: Te Deum laudamu 	2:11
13. Te Deum, S.32: Te æternum Pat 	1:08
14. Te Deum, S.32: Tibi omnes ange 	1:46
15. Te Deum, S.32: Sanctus, Sanctu 	1:33
16. Te Deum, S.32: Te gloriosus Ap 	2:30
17. Te Deum, S.32: Te per orbem te 	1:23
18. Te Deum, S.32: Tu rex gloriæ 	2:18
19. Te Deum, S.32: Tu, ad liberand 	2:19
20. Te Deum, S.32: Tu, devicto mor 	2:47
21. Te Deum, S.32: Tu ad dexteram 	1:26
22. Te Deum, S.32: Te ergo quæsum 	1:40
23. Te Deum, S.32: Æterna fac cum 	1:50
24. Te Deum, S.32: Salvum fac popu 	1:17
25. Te Deum, S.32: Et rege eos 	1:44
26. Te Deum, S.32: Per singulos di 	2:15
27. Te Deum, S.32: Dignare, Domine 	1:15
28. Te Deum, S.32: Miserere nostri 	1:35
29. Te Deum, S.32: In te, Domine, 	2:57

Emmanuelle de Negri – soprano
Dagmar Šašková – soprano
Sean Clayton – counter-tenor
Cyril Auvity – tenor
André Morsch  - bass
Ensemble Aedes - choir
Le Poème Harmonique - orchestra
Vincent Dumestre - conductor

Opéra Royal de Versailles , Versailles 
A la Chapelle Royale, 30 + 31 may 2017 

+ Bonus

1. Deitatis majestatem		27:05
2. Ecce nunc benedicite (Psalm 133)		13:49
3. Magnificat		8:03	
4. Te Deum laudamus		34:04
5. Dignare Domine & In te Domine Speravi from Te Deum		5:38

Sophie Junker – soprano 
Dagmar Šašková – soprano 
Sean Clayton – counter-tenor
Mathias Vidal – tenor
Benoît Arnould – baritone
Capella Cracoviensis Chorus - choir
Le Poème Harmonique - orchestra
Vincent Dumestre - conductor

Misteria Paschalia, Cracov
Kongress-Centre ICE, 16.04.2017

In 1683, Michel-Richard de Lalande entered the Chapelle Royale as a sous-maître after receiving the support of Louis XIV in a formidable recruitment competition. Still only twenty-five years old, the young composer was swiftly to become established as the King's favourite and accede to the most coveted posts at court in a career spanning almost forty years. Above all, Louis included him in the consultations for the construction of the new Chapelle Royale, adjacent to Versailles Palace. As the arches gradually rose skywards, Lalande composed and revised his motets, which give expression to the then-peerless grandeur of the realm, while at the same time testifying to the chapel's incomparable acoustics. His works – settings of psalms, hymns, the Te Deum – record the atmosphere at court in the liturgy, in times of both trouble and rejoicing. Following their earlier recording of Te Deum settings by Lully and Charpentier at the Chapelle Royale, Vincent Dumestre and Le Poème Harmonique have now returned to Versailles to tackle the music Lalande composed for that extraordinary place. Alongside the grands motets Deitatis majestatem and Ecce nunc benedicite, with their synthesis of royal pomp and the language of opera, they offer the deeply moving Miserere and the most grandiose Te Deum performed in the reign of Louis XIV, the Te Deum of the King himself. ---prestoclassical.co.uk
Vincent Dumestre studied the theorbo under the direction of such illustrious teachers as Hopkinson Smith or Rolf Lieslevand. His talent brought him swiftly to the fore within important early music groups such as the Ricercar Consort, La Simphonie du Marais, Le Concert des Nations, A Sei Voci, La Grande Ecurie and the Chambre du Roy.
However it was not long before his urge to explore music in more depth and his passion for the early Baroque spurred him to found his own ensemble. From the outset two discs from Alpha, recorded in conjunction with the mezzo-soprano Guillemette Laurens, propelled Le Poème Harmonique to the forefront. ---prestoclassical.co.uk
Et si de Lalande était le Bach français ? Sa maîtrise exceptionnelle des constructions musicales de grande ampleur, à l'œuvre dans tous ses Grands Motets, rappelle la rigueur et l'inventivité du Cantor.
Comme lui, de Lalande passa toute sa vie au service des grandes cérémonies religieuses qui devaient glorifier Dieu - et le Roi, pour son cas. Comme lui, il donna à ses enfants des talents musicaux notables, et sut toujours trouver les mélodies qui allaient enchanter l'auditoire, et les chœurs les plus somptueux. Surtout, il partagea avec le Maître protestant une extraordinaire faculté rhétorique. Le moindre mot prend sens dans sa musique, qui vient autant l'illustrer que le magnifier : le texte sacré est ainsi plus que jamais exalté.
Né en 1657, de Lalande accède à la Chapelle Royale en 1683, à 26 ans à peine, au moment du départ de Dumont. Il prend rapidement toutes les charges de musique de la Cour, et devient indispensable à son souverain (puis à son successeur Louis XV) en ne quittant son poste qu'à sa mort en 1726, après 43 ans de service. Ses motets furent joués à Versailles et au Concert Spirituel sans discontinuer jusqu'à la Révolution, avec près de 600 exécutions. Surnommé le « Lully Latin » pour avoir essentiellement composé de la musique religieuse, de Lalande produisit aussi les fameuses Symphonies pour les Soupers du Roi.
Après avoir enregistré les Te Deum de Lully et Charpentier, Vincent Dumestre entreprend de donner tout son lustre à celui de de Lalande, peut-être le plus abouti, et à coup sûr celui qui fut le plus souvent joué pour le Roi. Avec plusieurs autres Grands Motets, il brosse ainsi le portrait musical de la plus célèbre Chapelle Royale à l'époque baroque : tambours, trompettes, solistes, grand chœur et symphonie résonnent à nouveau dans le lieu qu'ils ont tant glorifié. ---theatreonline.com
download (mp3 @320 kbs):