Simone Kermes - Love (2016)
Simone Kermes - Love (2016)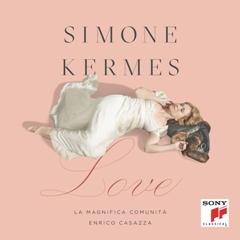 01 – Claudio Monteverdi: Lamento della ninfa: Amor, amor
02 – Tarquinio Merula: Folle è ben che si crede
03 – Antoine Boesset: Quelles beautés, ô mortels (Récit de Mnémosyne)
04 – Luis de Briceno: Ay amor loco
05 – Barbara Strozzi: Che si può fare?
06 – Michel Lambert: Sombres déserts
07 – Henry Purcell: If Love's a Sweet Passion
08 – Francesco Manelli: Grida l'alma a tutt' ore
09 – Antoine Boesset: Frescos ayres del prado
10 – Tarquinio Merula: Chi vuol ch'io m'innamori
11 – Tarquinio Merula: Chi mi tolse alle sfere! … Lumi potete piangere
12 – John Eccles: I Burn, I Burn
13 – Antonio Cesti: Disserratevi abissi
14 – John Eccles: Restless in Thoughts
15 – John Dowland: Now, O Now I Needs Must Part
16 – Antonio Cesti: Piu bella maestà … Dormi, dormi ben mio
17 – Henry Purcell: Thy Hand Belinda … When I Am Laid in Earth (Dido's Lament)

Simone Kermes – soprano
La Magnifica Comunita - ensemble
Enrico Casazza - conductor

After a flirtation with the 19th century, soprano Simone Kermes is back on familiar Baroque ground, with a new collection that is once again organized around a theme rather than a place or time or technique. Indeed, Kermes is resolutely not after an ideal of historical performance; she draws together material from four different national traditions (English, French, Spanish, and Italian), and she has one of the players in her small La Magnifica Comunità orchestra rearrange pieces at will to fit the sequence of events in the program. Kermes has the chops to carry off this kind of freedom. Her voice is utterly distinctive and may be a matter of taste, but there are some wonderful pieces here, each of them introduced in the booklet by a trio of adjectives ("Clandestine love -- bashfulness -- inexperience," for Michel Lambert's Sombres déserts, track six). There is a striking range of moods and of vocal qualities to go with them. The program ends with and in some ways builds to Purcell's "When I am laid in earth," which receives a performance of great gravity, but equally interesting if not more so are the obscure pieces that Kermes shapes into a tour of the dangerous emotion. Sample "Che si può fare? ("Yearning -- compassion -- despair," track five) by Barbara Strozzi, who is still more talked about than performed; it's a deliciously messy and modern piece. This is a very strong recital, as well executed as it is original. ---James Manheim, AllMusic Review
This bears a resemblance to Magdalena Kožená's 'Lettere Amorose', which I reviewed in these pages several months back. Both feature artist-driven choices of 17th-century songs and operatic excerpts, one common to both CDs, given with instrumental arrangements that are often none to fussy about appropriate style. Both are personality productions featuring a glamour cover, Simone Kermes' showing her lying arranged in an alluring pose wearing a long white satin (I think) dress.
If I express a marginal preference for the Kermes there are two reasons. Firstly, it seems rather more structured as a programme, creating the impression that it was intended to build to a climax on the final item, an unfussy if not entirely idiomatic version of 'Dido's Lament'. It is a feeling enhanced by an interesting reminder of just how many of love's complaints were voiced over an ostinato bass in the 17th century. More importantly, there is Kermes' never less than whole-hearted commitment and that richly lustrous soprano, here at its best when keeping things simple, as in the intimacy of Antoine Boësset's heartbroken 'Frescos ayres del prado' or Merula's 'Chi vuol ch'io m'innamori', where Kermes floats her voice to magical effect.
The downside is accompanying arrangements that range from the innocent to the horrible. One or two tracks sound as if a particularly manic Leonardo García Alarcón has been let loose on them and if you've ever felt a desire to hear Dowland's 'If love's a sweet passion' with a counter melody played on the cornett, well, this is your chance. There is also the air of pretension that hangs over the whole project, best exemplified by the superfluous additional verses quoted in the singer's introductions, many of them by Shakespeare or John Donne. Like Kožená's CD, this is one for fans of the singer rather than the general EMR reader. ---Brian Robins, earlymusicreview.com
Sony Classical ma zaszczyt zaprezentować "Love", kolejny album Simone Kermes, światowej gwiazdy muzyki wokalnej, zdobywczyni licznych nagród krytyki muzycznej. Tym razem diva porywa słuchaczy w muzyczną podróż po świecie miłości, pełną utworów epoki renesansu i baroku.
Na płycie usłyszymy dzieła m. in. Monteverdiego, Purcella, Cestiego, Maruli i Dowlanda. Jest to dotychczas najbardziej osobista płyta artystki. Wszystkie opracowania utworów, dobór instrumentarium, a także sposób nagrania - bliski muzyce pop powodują, że odkrywamy tę muzykę całkowicie na nowo w pełni rozkoszując się kunsztem wokalnym Simone Kermes. ---empik.com
download (mp3 @320 kbs):