Bach - Cantatas Vol.1 Advent und Weihnachten (Richter)
Bach – Cantatas Vol.1 Advent und Weihnachten (Richter)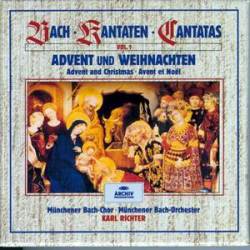 CD1
1. Nun komm, der Heiden Heiland, BWV 61 - 1. Ouverture "Nun komm, der Heiden Heiland" (Choir)	Münchener Bach-Orchester	3:58
2. Nun komm, der Heiden Heiland, BWV 61 - 2. Recitative "Der Heiland ist gekommen" (Tenor)	Peter Schreier	1:25
3. Nun komm, der Heiden Heiland, BWV 61 - 3. Aria "Komm, Jesu, komm zu deiner Kirche" (Tenor)	Peter Schreier	5:32
4. Nun komm, der Heiden Heiland, BWV 61 - 4. Recitative "Siehe, ich stehe vor der Tür" (Baritone)	Dietrich Fischer-Dieskau	1:17	
5. Nun komm, der Heiden Heiland, BWV 61 - 5. Aria "Öffne dich, mein ganzes Herz" (Soprano)	Edith Mathis	5:23
6. Nun komm, der Heiden Heiland, BWV 61 - 6. Chorale "Amen"	Münchener Bach-Orchester	0:49
7. Bereitet die Wege, bereitet die Bahn - Cantata, BWV 132 - 1. Arie: "Bereitet die Wege, bereitet die Bahn"	Edith Mathis	7:43
8. Bereitet die Wege, bereitet die Bahn - Cantata, BWV 132 - 2. Recit: "Willst du dich Gottes Kind"	Peter Schreier	2:56
9. Bereitet die Wege, bereitet die Bahn - Cantata, BWV 132 - 3. Aire: "Wer bist du? Frage dein Gewissen"	Theo Adam	3:25
10. Bereitet die Wege, bereitet die Bahn - Cantata, BWV 132 - 4. Recit: "Ich will, mein Gott, dir frei heraus"	Anna Reynolds	2:31 		play
11. Bereitet die Wege, bereitet die Bahn - Cantata, BWV 132 - 5. Arie: "Christi Glieder, ach bedenket"	Anna Reynolds	3:43
12. Bereitet die Wege, bereitet die Bahn - Cantata, BWV 132 - 6. Choral: "Ertöt uns durch dein Güte"	Münchener Bach-Orchester	1:07		play
13. Cantata "Christen, ätzet diesen Tag", BWV 63 - Chorus: Christen, ätzet diesen Tag	Münchener Bach-Orchester	   5:31
14. Cantata "Christen, ätzet diesen Tag", BWV 63 - Recitativo: o sel'ger Tag	Anna Reynolds	3:49
15. Cantata "Christen, ätzet diesen Tag", BWV 63 - Aria: Gott, Du hast es wohl gefüget	Edith Mathis	7:25
16. Cantata "Christen, ätzet diesen Tag", BWV 63 - Recitativo: So kehret sich nun heut das bange Leid	Peter Schreier	0:54
17. Cantata "Christen, ätzet diesen Tag", BWV 63 - Ruft und fleht den Himmel an	Anna Reynolds	4:13
18. Cantata "Christen, ätzet diesen Tag", BWV 63 - Recitativo: Verdoppelt euch demnach, ihr heissen	Dietrich Fischer-Dieskau	1:14	
19. Cantata "Christen, ätzet diesen Tag", BWV 63 - Chorus: Höchster, schau in Gnaden an	Münchener Bach-Orchester	6:35

CD2
1. Cantata "Christum wir sollen loben schon", BWV 121 - Chorus: Christum wir sollen loben schon	Münchener Bach-Orchester	2:30	
2. Cantata "Christum wir sollen loben schon", BWV 121 - Aria: O du von Gott erhöhte Kreatur (Tenor)	Peter Schreier	5:02
3. Cantata "Christum wir sollen loben schon", BWV 121 - Recitativo: Der Gnade unermesslich's Wesen (Alto)	Anna Reynolds	1:32
4. Cantata "Christum wir sollen loben schon", BWV 121 - Aria: Johannis freudenvolles Springen (Basso)	Dietrich Fischer-Dieskau	8:50
5. Cantata "Christum wir sollen loben schon", BWV 121 - Recitativo: Doch wie erblickt es Dich (Soprano)	Edith Mathis	1:23
6. Cantata "Christum wir sollen loben schon", BWV 121 - Chorale: Lob, Ehr' und Dank sei dir gesagt	Münchener Bach-Orchester	1:05
7. Cantata "Sehet, welch eine Liebe", BWV 64 - Chorus: Sehet, welch eine Liebe	Münchener Bach-Orchester	2:23		
8. Cantata "Sehet, welch eine Liebe", BWV 64 - Chorale: Das hat er alles uns getan	Münchener Bach-Orchester	  0:49
9. Cantata "Sehet, welch eine Liebe", BWV 64 - Recitativo: Geh' Welt! behalte nur das Deine (Alto)	Anna Reynolds	0:54
10. Cantata "Sehet, welch eine Liebe", BWV 64 - Chorale: Was frag' ich nach der Welt	Münchener Bach-Orchester	  1:01
11. Cantata "Sehet, welch eine Liebe", BWV 64 - Aria: Was die Welt in sich hält (Soprano)	Edith Mathis	5:23
12. Cantata "Sehet, welch eine Liebe", BWV 64 - Recitativo: Der Himmel bleibet mir gewiß (Basso)	Dietrich Fischer-Dieskau	1:33
13. Cantata "Sehet, welch eine Liebe", BWV 64 - Aria: Von der Welt verlang ich nichts (Alto)	Anna Reynolds	6:45		play
14. Cantata "Sehet, welch eine Liebe", BWV 64 - Chorale: Gute Nacht, o Wesen	Münchener Bach-Orchester	1:22
15. Cantata No.28 "Gottlob! Nun geht das Jahr zu Ende", BWV 28 - 1. Arie: "Gottlob! nun geht das Jahr zu Ende"	Edith Mathis	3:44	
16. Cantata No.28 "Gottlob! Nun geht das Jahr zu Ende", BWV 28 - 2. Chor: "Nun lob, mein Seel, den Herren"	Münchener Bach-Orchester	4:25	
17. Cantata No.28 "Gottlob! Nun geht das Jahr zu Ende", BWV 28 - 3. Recit und Arie: "So spricht der Herr: Es soll mir"	Dietrich Fischer-Dieskau	1:55
18. Cantata No.28 "Gottlob! Nun geht das Jahr zu Ende", BWV 28 - 4. Recit: "Gott ist ein Quell"	Peter Schreier	1:31
19. Cantata No.28 "Gottlob! Nun geht das Jahr zu Ende", BWV 28 - 5. Duett: "Gott hat uns im heurigen Jahr gesegnet"	Anna Reynolds	2:50		play
20. Cantata No.28 "Gottlob! Nun geht das Jahr zu Ende", BWV 28 - 6. Choral: "All solch dein Güt wir preisen"	Münchener Bach-Orchester	1:06
21. Cantata, BWV 171 "Gott, wie dein Name, so ist auch dein Ruhm" - Chorus "Gott, wie dein Name"	Münchener Bach-Orchester	2:06
22. Cantata, BWV 171 "Gott, wie dein Name, so ist auch dein Ruhm" - Aria "Herr, soweit die Wolken gehen" (Tenore)	Peter Schreier	4:30
23. Cantata, BWV 171 "Gott, wie dein Name, so ist auch dein Ruhm" - Recitativo "Du süsser Jesusname" (Alto)	Hertha Töpper	1:17
24. Cantata, BWV 171 "Gott, wie dein Name, so ist auch dein Ruhm" - Aria "Jesus soll mein erstes Wort" (Soprano)	Edith Mathis	6:16	
25. Cantata, BWV 171 "Gott, wie dein Name, so ist auch dein Ruhm" - Recitativo "Und da du, Herr, gesagt" (Basso)	Dietrich Fischer-Dieskau	2:22	
26. Cantata, BWV 171 "Gott, wie dein Name, so ist auch dein Ruhm" - Chorale "Dein ist allein die Ehre"	Münchener Bach-Orchester	2:22

CD3
1. Cantata, BWV 58 "Ach Gott, wie manches Herzeleid" - Duetto "Ach Gott, wie manches Herzeleid"/"Nur Geduld,"	Sheila Armstrong	5:01
2. Cantata, BWV 58 "Ach Gott, wie manches Herzeleid" - Recitativo "Verfolgt dich gleich" (Basso)	Dietrich Fischer-Dieskau	1:40
3. Cantata, BWV 58 "Ach Gott, wie manches Herzeleid" - Aria "Ich bin vergnügt in meinem Leiden" (Soprano)	Sheila Armstrong	3:51
4. Cantata, BWV 58 "Ach Gott, wie manches Herzeleid" - Recitativo "Kann es die Welt nicht lassen" (Soprano)	Sheila Armstrong	1:18
5. Cantata, BWV 58 "Ach Gott, wie manches Herzeleid" - Duetto "Ich hab' für mir ein schwere Reis'" (Soprano, Basso)	Sheila Armstrong	2:25
6. Sie werden aus Saba alle kommen Cantata, BWV 65 - 1. Coro: Sie werden aus Saba alle kommen	Münchener Bach-Orchester	3:34
7. Sie werden aus Saba alle kommen Cantata, BWV 65 - 2. Choral: Die Könige aus Saba kamen dar	Münchener Bach-Orchester	0:42	
8. Sie werden aus Saba alle kommen Cantata, BWV 65 - 3. Recitativo: Was dort Jesaias vorhergesehn	Theo Adam	2:13		play	
9. Sie werden aus Saba alle kommen Cantata, BWV 65 - 4. Aria: Gold und Ophir ist zu schlecht	Theo Adam	2:37
10. Sie werden aus Saba alle kommen Cantata, BWV 65 - 5. Recitativo: Verschmähe nicht, du, meiner Seelen Licht	Ernst Haefliger	1:31
11. Sie werden aus Saba alle kommen Cantata, BWV 65 - 6. Aria: Nimm mich dir zu eigen hin	Ernst Haefliger	3:21
12. Sie werden aus Saba alle kommen Cantata, BWV 65 - 7. Choral: Ei nun, mein Gott, so fall ich dir getrost	Münchener Bach-Orchester	1:28
13. Cantata, BWV 124 "Meinen Jesum laß ich nicht" - 1. Chorus: "Meinen Jesum laß ich nicht"	Münchener Bach-Orchester	4:23
14. Cantata, BWV 124 "Meinen Jesum laß ich nicht" - 2. Recitativ: "So lange sich ein Tropfen Blut"	Ernst Haefliger	0:45
15. Cantata, BWV 124 "Meinen Jesum laß ich nicht" - 3. Aria: "Und wenn der harte Todesschlag"	Ernst Haefliger	3:08
16. Cantata, BWV 124 "Meinen Jesum laß ich nicht" - 4. Recitativ: "Doch, ach, welch' schweres Ungemach"	Theo Adam	1:07
17. Cantata, BWV 124 "Meinen Jesum laß ich nicht" - 5. Aria (Duett): "Entziehe dich eilends"	Lotte Schädle	 4:11	
18. Cantata, BWV 124 "Meinen Jesum laß ich nicht" - 6. Choral: "Jesum laß ich nicht"	Münchener Bach-Orchester	 1:05
19. Cantata No.13 "Meine Seufzer, meine Tränen", BWV 13 - Aria: Meine Seufzer, meine Tränen	Peter Schreier	8:01	
20. Cantata No.13 "Meine Seufzer, meine Tränen", BWV 13 - Rec.: Mein liebster Gott	Anna Reynolds	1:15
21. Cantata No.13 "Meine Seufzer, meine Tränen", BWV 13 - Choral: Der Gott, der mir hat versprochen	Münchener Bach-Orchester	3:00		play
22. Cantata No.13 "Meine Seufzer, meine Tränen", BWV 13 - Rec.: Mein Kummer nimmet zu	Edith Mathis	1:34
23. Cantata No.13 "Meine Seufzer, meine Tränen", BWV 13 - Aria: Ächzen und erbärmlich weinen	Dietrich Fischer-Dieskau	7:55
24. Cantata No.13 "Meine Seufzer, meine Tränen", BWV 13 - Choral: So sei nun, Seele	Münchener Bach-Orchester	0:57

CD4
1. Cantata "Was mein Gott will, das g'scheh allzeit" BWV 111 - 1. Chorus: "Was mein Gott will, das g'scheh allzeit"	Münchener Bach-Orchester	5:06
2. Cantata "Was mein Gott will, das g'scheh allzeit" BWV 111 - 2. Aria: "Entsetze dich, mein Herze nicht"	Theo Adam	3:50
3. Cantata "Was mein Gott will, das g'scheh allzeit" BWV 111 - 3. Recitative: "O Törichter! der sich von Gott entzieht"	Anna Reynolds	1:18	
4. Cantata "Was mein Gott will, das g'scheh allzeit" BWV 111 - 4. Aria: "So geh ich mit beherzten Schritten"	Anna Reynolds	8:28
5. Cantata "Was mein Gott will, das g'scheh allzeit" BWV 111 - 5. Recitative: "Drum wenn der Tod zuletzt den Geist"	Edith Mathis	1:21
6. Cantata "Was mein Gott will, das g'scheh allzeit" BWV 111 - 6. Chorale: "Noch eins, Herr, will ich bitten dich"	Münchener Bach-Orchester	1:39
7. Cantata "Jesus schläft, was soll ich hoffen? BWV 81 - 1. Arie: "Jesus schläft, was soll ich hoffen?"	Anna Reynolds	5:34
8. Cantata "Jesus schläft, was soll ich hoffen? BWV 81 - 2. Recit: "Herr! warum bleibst du so ferne?"	Peter Schreier	1:25
9. Cantata "Jesus schläft, was soll ich hoffen? BWV 81 - 3. Arie: "Die schäumenden Wellen von Belials Bächen"	Peter Schreier	3:15		play
10. Cantata "Jesus schläft, was soll ich hoffen? BWV 81 - 4. Arioso: "Ihr Kleingläubigen"	Dietrich Fischer-Dieskau	  1:32		play
11. Cantata "Jesus schläft, was soll ich hoffen? BWV 81 - 5. Arie: "Schweig, aufgetürmtes Meer!"	Dietrich Fischer-Dieskau	5:38
12. Cantata "Jesus schläft, was soll ich hoffen? BWV 81 - 6. Recit: "Wohl mir, mein Jesus spricht ein Wort"	Anna Reynolds	0:38
13. Cantata "Jesus schläft, was soll ich hoffen? BWV 81 - 7. Choral: "Unter deinen Schirmen"	Münchener Bach-Orchester	1:21
14. Cantata "Ich habe genug" BWV 82 - 1. Aria: Ich habe genug, ich habe den Heiland	Dietrich Fischer-Dieskau	  8:10
15. Cantata "Ich habe genug" BWV 82 - 2. Recitativo: Ich habe genug! Mein Trost ist nur allein	Dietrich Fischer-Dieskau	1:42
16. Cantata "Ich habe genug" BWV 82 - 3. Aria: Schlummert ein, ihr matten Augen	Dietrich Fischer-Dieskau	  9:44	
17. Cantata "Ich habe genug" BWV 82 - 4. Recitativo: Mein Gott! wann kommt das schöne Nun!	Dietrich Fischer-Dieskau	1:11'
18. Cantata "Ich habe genug" BWV 82 - 5. Aria: Ich freue mich auf meinen Tod	Dietrich Fischer-Dieskau	3:46


Personnel:
Theo Adam  - Bass 
Sheila Armstrong - Soprano 
Werner Binder 	- Trumpet
Otto Büchner  - Violin
Manfred Clement - Oboe, Oboe d'amore
Dietrich Fischer-Dieskau - Bass 
Ernst Haefliger 	- Tenor
Konrad Hampe 	- Recorder
Kurt Hausmann  - Cor Anglais, Oboe, Oboe d'amore
Gerhart Hetzel 	- Violin
Gunther Holler - Recorder
Peter Jenne - Recorder
Manfred Klette 	- Trumpet
Paul Lachenmeier - Trumpet
Hans-Martin Linde - Recorder
Edith Mathis - Soprano, Soprano 
Anna Reynolds 	- Alto 
Lotte Schadle - Soprano 
Peter Schreier -	Tenor 
Andreas Schwinn - Cor Anglais
Pierre Thibaud - Trumpet
Hertha Topper - Alto 
Trompetenensemble Edward H. Tarr - Ensemble
Munich Bach Orchestra - Orchestra
Münchner Bach-Chor - Choir, Chorus
Karl Richter – Conductor, 1984

Time - 277:49

It was only to be expected that, with the burgeoning interest in period instrument performances which took place in Europe and the USA during the 1970s, the more traditional and conservative approach of Karl Richter would be cast aside, for the time being. Yet, in the 1950s, when Richter made his earliest recordings of Bach's music his disciplined and vital approach was hailed as revelatory. Now, as period instruments have firmly established their place in today's musical life, no longer having either to justify themselves or to fight for their share of the cake, the climate has thankfully once more become conducive to a fuller and fairer integration of other styles of interpretation.
Richter's involvement in Bach's Passions, oratorios and cantatas spanned a period of almost 30 years, from the early 1950s (when he took part in performances directed by his teacher and one-time Thomaskantor at Leipzig, Gunther Ramin) until his untimely death in 1981. His own earliest Bach cantata recordings were made for Telefunken, now Teldec, but in 1958 he transferred his allegiance to DG's Archiv Produktion label, becoming one of the company's major artists. Altogether Richter recorded 76 cantatas for Archiv of which, happily, 75 have been transferred to CD in this handsome Archiv reissue. Only the secular cantata for a wedding, No. 202, is missing but, though it clearly has no place here among its sacred relatives, its eventual reissue is no less merited.
Now, a cautionary word to readers confined to the UK for their record buying. Though available on the continent in a handsome five-box set in a slip case, it is the intention of the home marketeers to issue each volume piecemeal to coincide, I should imagine, with the major seasons of the Church year into which the package has been thoughtfully subdivided. So what I have in front of me now is Volume 1, containing cantatas for Advent, Christmas and Epiphany. This was the pattern adopted by Archiv's original Richter Bach Cantata cycle though that, regrettably, failed to accommodate many of Richter's earlier and, we may say with assurance, strongest performances. All now being, so to speak, safely gathered in, there are several Sundays of the Church year, later in the series, which have more than one cantata to celebrate them. Volume 1, however, remains the same as ever, containing pieces recorded during the late 1960s and early 1970s.
Taken as a whole, this first anthology is perhaps the strongest. That is not to say that it contains either the finest or the most memorable performances-these may well be considered among those contained in the two forthcoming Trinity collections-but that the level of executancy remains consistently high. Among the works that come off especially well are the Christmas cantata, Christen, eitzet diesen Tag (No. 63), the colourful Epiphany cantatas, Sic werden aus Saba alle kom men (No. 65)-still perhaps the most convincing version on disc-and Was mein Gott will, das g'scheh allzeit (No. 111). The tenor Ernst Haefliger is admirable in No. 65, Anna Reynolds and Peter Schreier superb in their surging, fervent G major duets, which steal the show in Nos. 63 and Ill. The soprano, Edith Mathis is never less than dependable throughout the series and is often very much more than that, while Dietrich Fischer-Dieskau, sometimes sensitive (Nos. 61 and 82), sometimes boisterous almost to the point of caricature (No. 121), is never dull.
Richter's Munich Bach Choir and Orchestra usually make a satisfying conjunction though the vocal forces are, to my ears, too large. Never mind, that is all part of his performance concept along with a style in organ continuo which is at times as strident in sound as it is inapposite in manner. The players are generally first rate and this is a feature of the recordings which remains absolutely constant. Readers who are satisfied that Nikolaus Harnoncourt and Gustav Leonhardt provide all the answers to the interpretation of these profoundly satisfying, infinitely varied pieces, perhaps need not bother themselves with discovering or rediscovering an approach which could hardly be further removed from theirs. Others of an enquiring disposition, and with a healthy scepticism of dogma or fashion, may well find much to admire in the concept of a Kantor and Kapellmeister whose firm grounding in Lutheran theology and intuitive feeling for the declamation and design of the many great choral movements result in a distinctive expressive intensity. An important reissue, effectively transferred to CD for the most part-I experienced some distortion in Cantatas Nos. 63 and 64-and thoroughly documented by Walter Blankenburg. --- gramophone.net
download:
Zmieniony (Środa, 14 Sierpień 2013 13:03)