Baptiste Boiron - Oeuvres pour piano (2014)
Baptiste Boiron - Oeuvres pour piano (2014)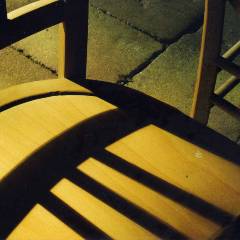 1. Niveaux de bleu 	19:27
2. Toutes sortes de crayons 1 	03:32
3. Toutes sortes de crayons 2 	02:24
4. Toutes sortes de crayons 3 	04:28
5. Toutes sortes de crayons 4 	03:42
6. Toutes sortes de crayons 5	 04:03
7. Toutes sortes de crayons 6	 04:20
8. Toutes sortes de crayons 7	 05:05 

Melaine Dalibert - piano

Born in 1980, Baptiste Boiron is a saxophonist and clarinetist. He studied classical performance at the Conservatoires of Boulogne-Billancourt and Bordeaux with Jean-Michel Goury and Marie-Bernadette Charrier, and he obtained a DEM in 2007 and a Diplôme d'Etat in 2013. He also had masterclasses with Dr William Street (2002) and Dr John Sampen (2016).
​He has collaborated on improvisation and jazz with Régis Huby, Médéric Collignon, Urs Leimgruber, Frédéric Gastard, Bruno Chevillon, Jacques Di Donato and Beñat Achiary.
He founded the jazz bands Ambroise and L'homme à la pioche, is a member of TRILUX, has performed and collaborated with Médéric Collignon and Manuel Adnot, and in Forêt Ivre with Louis Godart and Romain Ballarini.
His versatility made Baptiste Boiron found the Ensemble Chrysalide, a modular ensemble created to share and promote improvised and notated contemporary music. This objective led him to have meetings with living composers, and gave him the opportunity to premiere works from Yves Krier, Mauricio Meza, Mathieu Bonilla, Gérard Pesson, Jonathan Harvey, Giuliano D'Angiolini and to collaborate with Helmut Lachenmann to adapt his piece Dal Niente for the alto saxophone.
His studies (Baptiste Boiron graduated a Maîtrise of visual Arts at Rennes 2 University), made him keep in touch with many kinds of artistic expression : many of his performances, as a soloist or with the Ensemble Chrysalide, were in conjunction with works from Olivier Cazenove, Marcel Dupertuis, Nicolas Chatelain, Pierre Tal-Coat, Arnaud Vasseux, Jean-Jacques Dournon, Jean-Louis Gerbaud or Geneviève Asse.
He graduated a composition DEM in 2009 in the class of Jean-Yves Bosseur at the Conservatoire of Bordeaux, and had master classes from Yves Krier, Gérard Pesson, Alain Bioteau, Jonathan Harvey, Georges Aperghis, Bernard de Vienne and Roger Tessier, Baptiste Boiron composed for institutions like l'ADDM 35, les Semaines Musicales de Quimper, the Tal-Coat arts Center of Kerguéhennec, music school of Guichen, the Réseau des Saxophonistes Bretons, the FEPEM 35. His music has been frequently performed at the Festival Ebruitez-vous in Rennes.
​He recently moved to London Ontario in Canada, and is currently a Master's student in the saxophone studio directed by Bobbi Thompson.
After 15 years of experience of conducting in France, in educational and professional contexts, Baptiste Boiron is currently the conductor of the Ensemble Atlantica.---hbaptisteboiron.wixsite.com
download (mp3 @128 kbs):
yandex mediafire uloz.to mega 4shared cloudmailru gett