Beethoven – 7th Symphony in A minor, Op.92
Beethoven – 7th Symphony in A minor, Op.92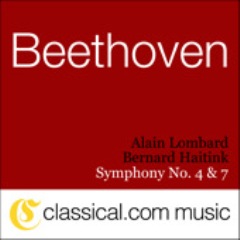 1.   I. Poco sostenuto – Vivace
2.   II. Allegretto
3.   III. Presto – Assai meno presto (trio)
4.   IV. Allegro con brio

Orchestre National Bordeaux Aquitaine
 Alain Lombard - conductor.

The Seventh Symphony was written shortly after Wellington's victory at Waterloo. Civil unrest in France and the Napoleonic Wars had lasted for an entire generation, and the symphony seems to capture the celebratory mood in Europe. Indeed, Beethoven called it "one of the happiest products of my poor talents."
During his lifetime, the second movement was often performed separately from the rest of the symphony.
download:  uploaded anonfiles gett mega 4shared mixturecloud yandex mediafire ziddu
Zmieniony (Czwartek, 22 Sierpień 2013 16:32)