Luigi Cherubini – Ali Baba (1963)
Luigi Cherubini – Ali Baba (1963)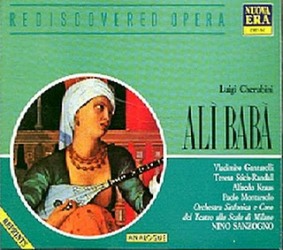 CD1
1. Sinfonia 
2. Act One: Speme Non V'è, Tutto È Perduto 
3. Act One: Sesamo! Sesamo!... Apriti! 
4. Act One: Sposa Sarà 	
5. Act One: Amico Fedele D'infanzia Mia 	
6. Act One: Dio, È Nadir! 
7. Act One: Ah, Fortuna Insperata				play 	
8. Act One: Il Kadì Qui M'invia 	
9. Act Two: Con Cura, Zela Ed in Silenzio 	
10. Act Two: L'irato Aboul-Hassan 	
11. Act Two: Danze

CD2
1. Act Two: Io Non Credo Ai Miei Occhi! 	
2. Act Two: Presto, Andiamo 
3. Act Three: Mille Ducati! 	
4. Act Three: Andiamo, Che Ognuno Si Svegli 
5. Act Three: O Cielo! Sola Io Sono 	
6. Act Three: Al Solo dire 
7. Act Three: La Speranza Per Noi Svanì 	
8. Act Four: Almen Ho Soddisfatto 	
9. Act Four: Qual Mistero È Mai Questo? 	
10. Act Four: È Questa L'ora?					play 
11. Act Four: Danze 	Listen
12. Act Four: La Gente Mia!

Alì Babà - Wladimiro Ganzarolli
Delia - Teresa Stich-Randall
Morgiane - Orianna Santunione
Nadir - Alfredo Kraus
Aboul-Hassan - Paolo Montarsolo
Calaf - Piero de Palma
Ours-Kan - Lorenzo Testi
Thamar - Agostino Ferrin
Phaor - Virgilio Carbonari

Orchestra e Coro dell Teatro alla Scala di Milano
Nino Sanzogno - conductor, 1963

Opera in four acts, preceded by a prologue. Libretto by Eugène Scribe and Mélesville.
World Premiere, 22/07/1833 Opéra, Salle de la rue Le Peletier, Paris Conductor: François Antoine Habeneck
Time and Place In Isphahan and surroundings, also near Erzurum, in legendary time
Synopsis
Nadir, who is completely penniless, has given up his hopes of marrying Délia whom he loves. Her father, the merchant Ali-Baba, has promised her to the rich customs supervisor Aboul-Hassan. One day, however, Nadir discovers the hideout of a robber band. Suddenly a rich man, he has become a potential son-in-law again. Before giving his final consent, however, Ali-Baba demands to be shown the secret entry to the treasure cave. Ignoring all warnings, he enters the cave, only to be caught by the robbers immediately. In the meantime, the robbers have seized one of Ali-Baba's caravans, including Délia, as well as forty bales of valuable coffee – all smuggled goods intended by the merchant to be saved from the vengeful Aboul-Hassan. Instead of killing Ali-Baba, the robber chief Ours-Kan agrees to release him for a large sum of money. Masked as peaceful tradespeople, he and his deputy, Thamar, introduce themselves to Ali-Baba's house and deliver the ransom letter to Nadir. Secretly, however, they are planning a nightly assault; forty further robbers are hidden within the coffee bales. Though they are overheard by a maidservant, who then warns Nadir, the situation appears hopeless since the guards have been sent away and replaced by Ours-Kan's people. Hope is in sight, though, when Aboul-Hassan turns up with a troop of soldiers, seizes the 'bales' and orders them to be burnt.
download:  uploaded anonfiles mega 4shared mixturecloud yandex mediafire solidfiles
Zmieniony (Wtorek, 01 Październik 2013 14:10)