Luigi Cherubini - Elisa (2015)
Luigi Cherubini - Elisa (2015)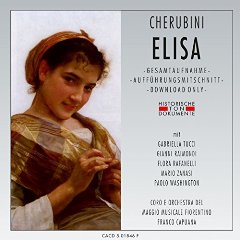 1.Elisa, erster Akt: Preludio	7:57 	
2.Elisa, erster Akt: O Ciel !	5:02 	
3.Elisa, erster Akt: Ah ! La belle Journee	6:54 	
4.Elisa, erster Akt: Promenons nous encore	1:53 	
5.Elisa, erster Akt: Lieux Sauvages	6:53 	
6.Elisa, erster Akt: Prenez enfin Courage	4:26 	
7.Elisa, erster Akt: D'zaneto Montant	5:13 	
8.Elisa, erster Akt: Partir !	8:44 	
9.Elisa, erster Akt: Que vois je ?	2:29 	
10.Elisa, erster Akt: Venez, non je ne puis	3:55
11.Elisa, erster Akt: V'la que j'somm'hors	6:10 	
12.Elisa, erster Akt: Venez dans ces Lieux	5:35 	
13.Elisa, zweiter Akt: Buvons depuis la Tarantaise	5:18 	
14.Elisa, zweiter Akt: Allons en Route	1:47 	
15.Elisa, zweiter Akt: Ces bonnes Gens gaiement	3:32 	
16.Elisa, zweiter Akt: Je vais revoir toutceque	8:27 	
17.Elisa, zweiter Akt: L'auriez-vous l'Apercu	1:12 	
18.Elisa, zweiter Akt: Il veut perir !	1:59 	
19.Elisa, zweiter Akt: Helas !	3:05 	
20.Elisa, zweiter Akt: Ciel !	7:50 	
21.Elisa, zweiter Akt: Plus de Douleur et plus	2:43 

Elisa - Gabriella Tucci, soprano
Florindo - Gianni Raimondi, tenor
Germain - Mario Zanasi, baritone
Laure - Flora Rafanelli, soprano
A steward - Paolo Washington, bass
Michel - Luigi Tavolari, tenor
A guide - Giorgio Giorgetti, baritone
A servant - Franco Paliazzi, bariyone
A Savoyard - Augusto Frati, tenor

Maggio Musicale Fiorentino Chorus & Orchestra, 
Franco Capuana - conductor

The Italian composer Luigi Cherubini (1760-1842) isnt much remembered today, though a not inconsiderable number of recordings are making known his instrumental, vocal and, most significantly, his operatic works that, historically, carry the most weight and are his most significant contribution to music. Long before re-discovery however, came this 1960 Elisa, a two-act opéra comique that had its premiere in Paris in 1794, a time of much turmoil in that city. An all-Italian cast, conductor, orchestra and locale feature here, with Gabriela Tucci and Gianni Raimondi assuming the lead roles. ---Editorial Review
ELIZA, ou Le voyage aux glaciers du Mont St Bernard (Eliza, or The Journey to the Glaciers of Mont St Bernard) is an opéra-comique in two acts by Luigi Cherubini with a French libretto by Jacques-Antoine de Reveroni de Saint-Cyr. It was first performed at the Théâtre Feydeau, Paris on 13 December 1794.
Cherubini made great use of local colour in his music for ELIZA. Its setting in the Swiss Alps was probably inspired by the contemporary popularity of Jean-Jacques Rousseau. The score includes a ranz des vaches, a traditional melody played by Swiss herdsmen. ELIZA marked an important stage in the development of French Romanticism and was also popular in Germany. Cherubini's musical evocation of nature (nightfall, the storm) influenced Carl Maria von Weber, who was particularly fond of the opera."
"Born in Rome, Italy, Tucci trained at the Accademia di Santa Cecilia with Leonardo Filoni, whom she later married, Tucci made her début at Spoleto, as Leonora in LA FORZA DEL DESTINO, opposite Beniamino Gigli, in 1951. She then took part in the famous Florence 1953 revival of Cherubini's MEDEA, as Glauce, opposite Maria Callas. She made her La Scala début in 1959, as Mimi in LA BOHČME. The following year saw her débuts at both the Royal Opera House in London, as Aďda, and at the Metropolitan Opera, as Cio-Cio-San in MADAMA BUTTERFLY. She sang at the Metropolitan Opera until 1972, other roles included Euridice, Marguerite, Leonora in both IL TROVATORE and LA FORZA DEL DESTINO, Maria Boccanegra/Amelia, Violetta, Aďda, Desdemona, Alice Ford, Mimi, etc. Tucci also appeared in Vienna, Berlin, and Buenos Aires. She traveled with the La Scala Opera to Moscow and Tokyo, performances that have been documented in live recordings. A versatile singer and an accomplished actress, Tucci was able to tackle a wide range of roles from bel canto to verismo, singing Donna Elvira in DON GIOVANNI, Elvira in I PURITANI, Gilda in RIGOLETTO, Violetta in LA TRAVIATA, and Marguerite in FAUST, as well as Maddalena in ANDREA CHÉNIER and the title role in TOSCA."
"The Italian tenor Gianni Raimondi had a prestigious career lasting three decades. From 1956 to 1976 he sang frequently at La Scala, where his partner a number of times during the early years was Maria Callas. His voice, smooth and warm in tone with a good coloratura facility and very strong top notes, was ideal for 19th-century Italian opera from Rossini and Donizetti to Verdi and Puccini and he rarely sang anything outside that repertory, apart from a few French rôles and a couple of modern operas." --- Lizbeth Forbes, THE INDEPENDENT
download (mp3 @320 kbs):
yandex mediafire ulozto gett bayfiles
Zmieniony (Niedziela, 13 Styczeń 2019 17:32)