Jessica Moss ‎– Under Plastic Island (2015)
Jessica Moss ‎– Under Plastic Island (2015)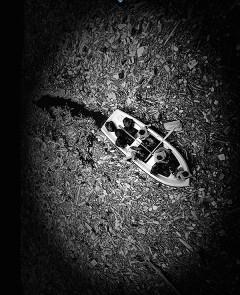 A 	Plastic Island 	23:47
B 	Under 	21:40

This is a wonderfully mesmerizing album: music that refuses to linger in the background and which picks you up and lays you down somewhere quite unexpected! Bravo Jessica Moss! Silver Mount Violinist extraordinaire! ---Paul Joyce, jessicamoss.bandcamp.com
Though she's been playing violin practically her entire life, Jessica has always felt most at home in a collaborative setting and has been steadfastly devoted to the practice of ensemble playing. This has generally meant creation 'in the service of': the other parts being played, the lyrics being sung, the structure of the song, and/or the recording and mixing at hand. The practices inherent in group creation and performance inform her very person in many ways and have given her a deep understanding and respect for both group dynamics and 'working communities' in general.
Moss' catalyst to create solo work was a 2014 virtual collaboration with Olympia, USA musician Kevin Doria, who creates intensely rich and layered minimalist drone music under the moniker Total Life and with his bands Growing and Hiss Tracts. Simultaneously she was commissioned by La Biennale de Montréal to create a site specific composition that reflected on the theme of the 2014 exhibition.
Alone in her practice space equipped with the tools, methods, and experiences gleaned from years in studios, rehearsal spaces, performing and touring, Jessica commenced building her unique style and structure. The music that came was longform and narrative, conjuring images with sounds and melodies and occasional lyrics, and telling exigent stories of troubled times. Written by ear and memory and never committed to paper, Moss conceives for live performance, where she makes use of violin, a myriad of pedals, a microphone, and three amplifiers.
Moss's first solo recordings came in the form of a self-released cassette entitled Under Plastic Island (2015), a beautiful, swirling meditation on the island of plastic trash floating in the ocean, the result of a trip to Brooklyn during which she spent time in the basement recording studio of friend and occasional collaborator Guy Picciotto (Fugazi). ---cstrecords.com
download (mp3 @128 kbs):
yandex mediafire ulozto gett bayfiles