Gluck - Le Feste d'Apollo (Aristeo - Bauci e Filemone) [2006]
Gluck - Le Feste d'Apollo (Aristeo - Bauci e Filemone) [2006]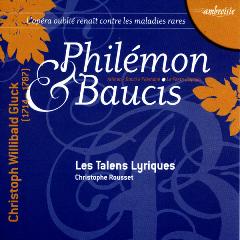 Atto d'Aristeo
1. Introduzione 2:05 
2. Rec. E Dovro Sempre 2:17 
3. Rec. Popoli A Lui Soggetti 0:28 
4. Aria Ati, Quell'alma Agitata 2:03 
5. Rec. Si Vezzosa Cidippe 1:57 
6. Rec. O Del Patria Peneo 2:22 
7. Aria Cidippe, Tu Sei Madre - Marie Lenormand 4:02 
8. Rec. Cosi Risponde 1:23 
9. Aria Cirene, Nocchier Che In Mezzo All'onde - Ditte Andersen 7:36 
10. Rec. Impaziente Attendo 0:39 
11. Cavatina Aristeo, Numi Offesi, Ombre Sdegnate - Ann Hallenberg 1:28 
12. Sinfonia 1:47 
13. Rec. Meco Venite, Amici 0:55 
14. Coro, Del Figlio d'Apollo 5:51 
15. Rec. Tuona Il Cielo A Sinistra 1:40 
16. Aria Aristeo, Cessate, Fuggite - Ann Hallenberg 8:14 
17. Coro, Eccheggiar S'odano 0:58 
18. Rec. D'Aristene I Presagi 1:34 
19. Rec. Fra Le Tue Braccia, O Madre 1:12 
20. Terzetto Cirene, Cidippe, Aristeo, Fosti Ognor L'amato Bene - Ditte Andersen, Ann Hallenberg, Marie Lenormand 3:18 
21. Coro, Accompagni La Coppia Felice 1:08

Aristeo - Ann Hallenberg
Ati - Magnus Staveland
Cirene - Ditte Andersen
Cidippe/Silvia - Marie Lenormand


Atto di Bauci e Filemone
22. Ouverture 2:13 
23. Duetto : Mio Tesoro, Che Bel Concerto - Ditte Andersen, Marie Lenormand 2:18 
24. Recitativo : E Cosi Dunque Obblia 2:13 
25. Aria : La Fiamma Del Mio Petto 4:39 
26. Recitativo : I Voti Del Mio Cuoro 0:21 
27. Recitativo : Prima Ch'io Sposi Il Suono 0:57 
28. Recitativo : Al Vecchio Genitor 0:35 
29. Aria : Il Mio Pastor Tu Sei - Ditte Andersen 7:38 
30. Coro : Di Due Bell'anime 3:54 
31. Recitativo : Ora Con Liti Auspizi 0:38 
32. Recitativo : Sbandite Ogni Timore 0:50 
33. Coro : Lodi Eterne 1:26 
34. Recitativo : Porgetevi 0:25 
35. Aria : Il Mio Nume 3:28 
36. Recitativo : Sogno, O Son Desto 0:41 
37. Duetto : Se Tuo Dono, O Fausto Nume - Ditte Andersen, Marie Lenormand 4:44 
38. Coro : Non Mai Stato Piu Beato 0:33 
39. Recitativo : Il Giusto Guiderdone 0:36 
40. Aria : Pe' Gravi Torti Miei 3:27 
41. Tempesta Con Fulmini 1:03 
42. Recitativo : S'altro Bramate Ancora 0:25 
43. Coro : Re Superno A Cui Si Grata 1:18

Bauci - Ditte Andersen
Filemone - Marie Lenormand
Giove - Magnus Staveland
Una pastorella - Ann Hallenberg

Choeur de chambre de Namur
Les Talens Lyriques
Christophe Rousset – conductor

Most music lovers are familiar with the music of Christoph Willibald Gluck (1714 -- 1787) through his two most famous reform operas, "Orpheo" and "Alceste". Listeners who love this composer may also know, "Armide", Paris ed Helene", "Iphigenia in Tauris" and "Iphigenea in Aulide". Each of these great operas have been well-served on recordings.
It is a joy to discover further music of this composer; and this CD which features Christophe Rousset conducting Les Talens Lyriques revives two short Gluck operas which have not been recorded before. Indeed, these operas probably have not been performed in over 200 years. Rousset is both a harpsichodist of reknown, with CDs of Bach's Goldberg Variations and much else to his credit and also a conductor of early music with a passion for unearthing forgotten works. He has done so with abandon here in this period performance of Gluck. This CD was initally released in France with financial backing from several large French corporations. Happily, it is now available in the United States.
In 1769, Gluck was asked to compose a set of short operas to celebrate the marriage of Ferdinand, the Duke of Parma, and Maria Amalia, Archduchess of Austria. At the time, Gluck was living in Vienna (he later enjoyed a second career in Paris), and he had already written the Viennese versions of both Orpheo and Alceste. The wedding was a grand affair for which Gluck wrote three one-act operas called, collectively, "Le Feste d'Apollo". The third of these operas was an edited version of "Orfeo" and is not included on this CD. The other two operas were likewise based upon Greek mythology, "Aristeo" and "Philemon and Baucis." For some reason, the CD includes only the latter opera in its title. The CD includes the Italian text and English translation of both operas.
Gluck's reform operas cut back on what he deemed the excess of baroque operas by reducing long virtuosic arias with little relationship to dramatic action and by writing to integrate the liberetto with the music. The two operas Gluck composed for Parma are not reformist in this sense. They are both filled with long arias, flamboyant singing, a great deal of vocal melisma, and the use of a wide, spectacular vocal range. These operas are still recognizably Gluck, and it is wonderful to get to know them.
The first opera, "Aristeo" is related to the Orpheus story. It tells how Aristeaus, who was partly divine, had become enamored of Euridyce and caused her death. He subsequently becomes enamored of a nymph named Cidippe. At the advice of his mother, Cirene, Aristeaus does penance for his crimes and misdeeds and ultimately weds Cidippe.
The second opera "Philemon and Baucis" tells the famous story of the aged couple who offer hospitality to Zeus, disguised as a weary traveller, and receive immortality as a reward. In the opera, the story is modified as the couple become a pair of young lovers with Zeus himself officiating at their wedding as part of the reward for their good deeds. This opera is lyrical and pastoral in tone.
Both operas include a small number of solo roles, extended parts for chorus, and short overtures, orchestral interludes, and dances. There is much to hear in this rare music, but I want to mention specially the performance of a young Danish soprano Ditte Andersen. Ms Andersen has a voice both fiery and lyric of great range. In the second opera she sings sings the part of Baucis and gives an astounding performance of a show-stopping aria "Il mio pastor tu sei" (you are my shepherd). The aria is a virtuoso piece with long passages at the highest reaches of the soprano voice, big drops of intervals, and sections of melisma that would not be out of place in Handel. Ms. Andersen brings this difficult, unfamiliar music to life with aplomb. Her singing is the highlight of an outstanding release of rare music.
This is not a CD for musical newcomers. But for those who love Gluck, baroque opera, and the lure of the unfamiliar it is a rare gift. Rousset and his cast and his financial sponsors are to be thanked for making this unknown Gluck available. ---Robin Friedman
download: uploaded anonfiles yandex 4shared solidfiles mediafire mega filecloudio divshare
Zmieniony (Czwartek, 28 Listopad 2013 12:17)