Christoph Willibald Gluck - Don Juan & Semiramis (1993)
Christoph Willibald Gluck - Don Juan & Semiramis (1993)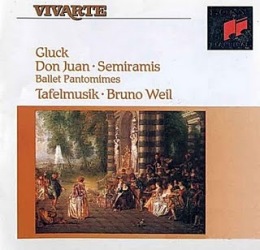 01. Don Juan, ballet - Sinfonia. Allegro
02. Don Juan, ballet - 1. Andante grazioso
03. Don Juan, ballet - 2. Andante
04. Don Juan, ballet - 3. Allegro maestoso
05. Don Juan, ballet - 4. Allegro furioso - Adagio
06. Don Juan, ballet - 5. Allegro forte risoluto - Andante - Allegretto
07. Don Juan, ballet - 6. Risoluto moderato
08. Don Juan, ballet - 7. Gavotte				play
09. Don Juan, ballet - 8. Brillante
10. Don Juan, ballet - 9. Allegretto
11. Don Juan, ballet - 10. Moderato
12. Don Juan, ballet - 11. Giusto
13. Don Juan, ballet - 12. Allegro - Presto
14. Don Juan, ballet - 13. Andante grazioso
15. Don Juan, ballet - 14. Andante
16. Don Juan, ballet - 15. Presto
17. Don Juan, ballet - 16. Allegretto - Presto - Andante - Tempo primo
18. Don Juan, ballet - 17. Andante
19. Don Juan, ballet - 18. Allegro giusto
20. Don Juan, ballet - 19. Moderato
21. Don Juan, ballet - 20. Andante
22. Don Juan, ballet - 21. Grazioso
23. Don Juan, ballet - 22. Allegretto
24. Don Juan, ballet - 23. Moderato - Presto - Moderato - Presto
25. Don Juan, ballet - 24. Risoluto e Moderato
26. Don Juan, ballet - 25. Allegro - Allegro giusto - Allegro
27. Don Juan, ballet - 26. Andante staccato
28. Don Juan, ballet - 27. Allegro
29. Don Juan, ballet - 28. Allegretto
30. Don Juan, ballet - 29. Andante staccato
31. Don Juan, ballet - 30. Larghetto
32. Don Juan, ballet - 31. Allegro non troppo
33. Semiramis, ballet in 1 act - Sinfonia. Maestoso
34. Semiramis, ballet in 1 act - 1. Andante
35. Semiramis, ballet in 1 act - 2. Allegro
36. Semiramis, ballet in 1 act - 3. Moderato			play		
37. Semiramis, ballet in 1 act - 4. Moderato, Grazioso
38. Semiramis, ballet in 1 act - 5. Moderato
39. Semiramis, ballet in 1 act - 6. Maestoso
40. Semiramis, ballet in 1 act - 7. Grazioso
41. Semiramis, ballet in 1 act - 8. Maestoso	
42. Semiramis, ballet in 1 act - 9a. Affettuoso - 9b. Affettuoso
43. Semiramis, ballet in 1 act - 10. Adagio - Più Adagio
44. Semiramis, ballet in 1 act - 11. Affettuoso
45. Semiramis, ballet in 1 act - 12. Adagio
46. Semiramis, ballet in 1 act - 13. Allegro maestoso
47. Semiramis, ballet in 1 act - 14. Adagio - Allegro
48. Semiramis, ballet in 1 act - 15. Allegro assai

Tafelmusik Baroque Orchestra
Bruno Weil - conductor

Gluck made his reputation as one of opera's great reformers. He was the 18th century's Wagner, an artist who fought against the tyranny of the singer in order to establish a more unified conception of opera in which each element was subservient to the composer's dramatic plan. But what made this radical concept work was a much more positive role for the orchestra, and it's a quality you can hear very clearly in these two ballets. The final scene of Don Juan, depicting his descent into hell, had a direct effect on Mozart when he wrote Don Giovanni. It's the first representation of real terror in music. This then is an important disc historically, but even better, it's highly entertaining musically. --David Hurwitz
This CD represents a considerable bargain. I recalled this very special music from a now out-of-print Decca recording with Marriner and the SMFO, and I remember the performance as being especially suave and polished, as usual with these artists. Weil's top-notch period band brings, instead of suavity, raw energy and eclat. Gluck is the winner, I think--and so are we. From the buoyant Sinfonia to the dark, hurtling Chaconne portraying the terrors of Hell, this is music of much resourcefulness.
The Chaconne finale, by the way, is lifted right out of Gluck's own Orfeo ed Euridice, but as H. C. Robbins Landon points out in his characteristically informative notes, it was the Don Juan finale that introduced German music to the Sturm und Drang movement in art. Chief among Gluck's imitators were Haydn and Mozart, no less. So Gluck's music is not only highly entertaining but of historical significance as well.
Among other highlights are the gracious Gavotte (No. 7) and the Moderato (No. 19), a fandango in which keening, scalewise passages in the second violins slice through the orchestral fabric like the proverbial tocsin in the night--great stuff!
Sermiramis is shorter and not quite so distinguished, but check out the grand Maestoso (No. 8) with its trumpets and drums or the very affecting pair of dances marked Affetuoso (No. 9a & b).
As I said, the performances are as exciting as the music, and the sound is big and bright. In fact, the piercing clarino trumpets may need to be tamed a bit in playback on your system. But you'll appreciate the chilling rasp the old trombones lend to the Don Juan Larghetto (No. 30) and finale (No. 31). Latch on to this one, lovers of the Classical era in music! ---amazon.com
download: uploaded anonfiles yandex 4shared solidfiles mediafire mega filecloudio
Zmieniony (Czwartek, 28 Listopad 2013 12:38)