The Maistores Of The Psaltic Art - Meteorasacra (1992)
The Maistores Of The Psaltic Art - Meteorasacra (1992)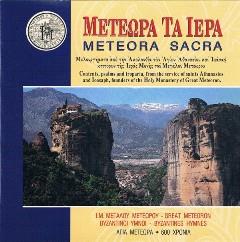 1 	Kecragaria called "Agioritika" 	
2 	Stichologia 	
3 	Stichera Prosomoia At Vespers 	
4 	Stichera Prosomoia 	
5 	Aposticha Prosomoia 	
6 	Canon 	
7 	Doxastikon At The Lauds 	
8 	Great Doxology

Choir – The Choir of Chanters "The Maistores of the Psaltic Art"

Contents, psalms and troparia, from the service of Saints Athanasios and Ioasaph,
 founders of the Holy Monastery of Great Meteoron.

"The Maestors of the Psaltic Art" is a Choir of Chanters well-known in the field of Byzantine Musicology. The ensemble was founded in 1983. The main aims of this Choir of Chanters are:
1 the study and presentation of the works of the most important Byzantine and post-Byzantine composers
2 the morphological study and analysis of the various "types" of composition
3 the general promotion of the Psaltic Art, with scholarly substantiation and skilled technique [d] the chanting of entire divine Services during times of worship.
"The Maestors of the Psaltic Art" have offered, up to now, over four hundred performances, both in Greece and abroad (Europe, Asia, America and Australia). They have performed in very famous Music Halls (such as: the Great Hall of the University of Athens, the Music Hall in Athens and Thessaloniki, the Opera House of Sydney, the "Music Hall" ofSeoul, etc.), as well as in a lot of Byzantine Churches ( the Metropolitan Cathedral of Athens, the Ekatontapylianis Church on the Island of Paros, the Church of Apocalypse on Patmos, the Basilica of St Mark in Venice, the main Monastery of the Meteora, the Church of St Lazarus in Larnaca-Cyprus, the Church of the Holy Sepulchre in Jerusalem, the Church of St Andrew in Patra, etc.) and also during various important Services and ceremonies (such as: in Nazareth for the 2000 years since the Annunciation, in Great Hellas-Kalabria and Sikelia for the official pilgrimage of the Ecumenical Patriarch Bartholomew, in the Island of Aegina for the engainia of the beautiful new church of Saint Nectarios, etc.]. ---ibmf.ro
download (mp3 @320 kbs):
yandex mediafire ulozto gett bayfiles
Zmieniony (Piątek, 26 Kwiecień 2019 16:35)