Emmerich Kalman – Die Csardasfurstin (2003)
Emmerich Kalman – Die Csardasfurstin (2003)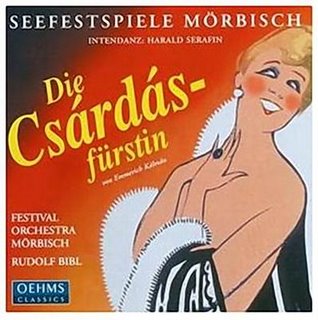 01. Act 1. No. 1. Lied. Heia, heia, in den Bergen ist mein Heimatland
02. Act 1. No. 2. Marsch-Ensemble. Alle sind wir Sünder
03. Act 1. No. 3. Duett. Sylva, ich will nur dich
04. Act 1. No. 4. Lied. Aus ist's mit der Liebe (Ganz ohne Weiber geht die Chose nicht...)
05. Act 1. No. 5. Lied (Ensemble). O jog dem Glück nicht nach (Ja so ein Teufelsweib)
06. Act 1. No. 6. Finale 1
07. Act 2. No. 7. Tanzwalzer. Erstrahlen die Lichter
08. Act 2. No. 8. Schwalbenduett. Ich warte auf das große Wunder (Machten wir's den Schwalben nach)
09. Act 2. No. 9. Duett. Heller Jubel
10. Act 2. No. 10. Quartett. Liebchen, mich reißt es
11. Act 2. No. 11. Duett. Mädel guck (Das ist die Liebe, die dumme Liebe)
12. Act 2. No. 12. Duett. Tanzen möcht ich (Tausend kleine Engel)
13. Act 2. No. 13. Finale 2
14. Act 3. No. 14. Terzett. Jay Mamám
15. Act 3. No. 16. Finale 3

Sylva Varescu: Martina Serafin
Edwin Ronald: Ferdinand von Bothmer
Komtesse Stasi: Kerstin Grotrian
Graf Boni Káncsiánu: Adrian Eröd
Leopold Fürst von und zu
Lippert-Weylersheim: Harald Serafin
Anhilte, seine Frau: Mirjana Irosch
Feri von Kerekes
(Feri Bácsi): Frigyes Harsányi
General Rohnsdorff: Michael Gampe
Notar Kiss: Gottfried Falkenstein

Festival Orchestra Morbisch
Morbisch Festival Choir
Dirigent Rudolf Bibl
This production of Emmerich Kálmán's Die Csárdásfürstin (The Gypsy Princess) is part of a series of recorded operettas presented by Seefestspiele Mörbisch, or in English, The Mörbisch Lake Festival, on the Oehms Classics label. Mörbisch Lake is a picaresque Austrian town near the Hungarian border that hosts an annual operetta festival in an open-air amphitheater capable of seating 6,000 operetta lovers. The festival, under the artistic direction of Harald Serafin, is swiftly becoming the Bayreuth of the operetta world, attracting some 200,000 visitors annually, but still can see the value of recording the productions for the benefit of attracting still more patrons. Judging from this 2002 recording of Die Csárdásfürstin, made in a studio environment, the standards of musical performance at Mörbisch Lake are high indeed and could hold pride of place, comparatively, with those at Bayreuth, if not exceed them altogether.
The singing is all around very good; there are no stand-alone performances among the cast, but as a whole, they work together well and don't get in each other's way. In order to get Die Csárdásfürstin onto a single disc, there is some subtle trimming of the score as recorded, yet it doesn't remove anything essential and keeps the work running at a good clip -- a few lines of dialogue are kept in order to maintain progression of the plot.
The Festival Orchestra Mörbisch under Rudolph Bibl is a bit scrappy in the fast music, yet some scrappiness does not at all hurt Die Csárdásfürstin and this may, at least in part, be intentional. Throughout Die Csárdásfürstin the band maintains a nice rhythmic energy and good sense of color. The recorded sound is clear, direct, and immediate. The booklet contains no more than a summary of the plot in English, although this is standard for most operetta recordings.
The fortunes of Die Csárdásfürstin seem to be looking up these days -- this is the second recording of the work to come up in a month's time. It's good to have choices, and for Die Csárdásfürstin this Oehms Classics disc is as good a choice as one could want. ---Uncle Dave Lewis, Rovi
download:  uploaded filecloudio anonfiles yandex 4shared solidfiles mediafire mega nornar
Zmieniony (Wtorek, 21 Styczeń 2014 15:15)