Lully – Atys (2011)
Lully – Atys (2011)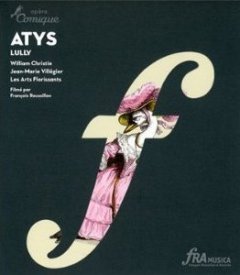 1. Prolog
2. Act I
3. Act II
4. Act III
5. Act IV
6. Act V

Emmanuelle de Negri (soprano)
Stephanie d´Oustrac (mezzo)
Nicolas Rivenq (baritone)
Bernard Richter (tenor)
Marc Mauillon (bass)

Les Arts Florissants
William Christie - director

How can there be a 'traditional' or 'authentic' staging when there is obviously no 'tradition'? French baroque opera was extinct for centuries, more extinct than the mastodon, until musicologist-performers like Bill Christie and Alan Curtis recovered its DNA from amber. This Atys is lavishly, expensively costumed - thanks to unique patronage of one very rich man - and gorgeously set, though not as extravagantly as the records imply for its 17th C premiere under the eyes of Louis XIV. The dance movements, as prominent in French Baroque as the singing, are impressively graceful and visually satisfying, but there would have been three or four times as many dancers "back then", and the singers might have exited to allow them scope. The dance steps executed in this production -- and "steps" is the key word, since upper bodies are largely immobilized in such costumes -- are historically informed; yes, there are verbal sources and there are scholars like Angene Feves who have explicated those sources. I'm somewhat surprised at how entertaining the dances are in this production; I've seen other efforts at dance-authenticity that have not been entertaining in the least. The blocking and other aspects of thespian behavior on stage are not historically informed; it's very doubtful that the 'naturalism' of the singing actors in this performance would have pleased 17th C taste. Besides, this is a film now, for us at home, with close-ups and camera angles and such, all very proficiently done, thank you. The most important authenticity is, of course, in the musical performance, by singers who have devoted their training to the recovery of plausible Baroque vocal technique, and by instrumentalists playing 'period' instruments, either actual 17th C survivors or minutely crafted reproductions. Yes, this staging is a visual feast. It makes a strong case for artistic 'cohesion' - for staging Baroque music in a Baroque-like visual context - but it concerns me to see the "I told you so" response from the usual conservatives, making the splendor of this production an excuse for snipping and sniping at other productions which choose a different artistic course. I'm thinking of the several "modernized" productions of operas by Rameau also conducted by William Christie. They're also beautiful. And entertaining. Powdered wigs and simulated candle-light are not the necessary accoutrements of superb music.
"Atys" is first and foremost superb music, probably the most imaginative and distinctive of all Lully's operas. The frequent duets from the secondary characters, for instance, are quite a bit more exceptional than most modern audiences will realize, and my ears find them entrancing. French Baroque opera eschewed the recitativo/aria pattern that dominated Italian baroque and classical opera well until the onset of the 19th C. In a sense, Lully and Rameau were closer to Verdi and Wagner than Mozart and Rossini were, in that the arioso singing is textually and musically integrated with the orchestral score. "Atys", however, gives us something of both French and Italian taste; there are no 'detachable' da capo arias but there are melodically memorable quasi-arias, especially those sung by the cruel goddess Cybele, that supply the affective intensity of the Italian da capo. Lully's instrumental writing is equally fluid in blending the 'ritornello' excitement of earlier Italian operas -- Monteverdi, Cavalli, etc. -- with the chaste rigor of French structuralism. Lully was Italian by birth and his Italian origins are more excitingly apparent in this opera than in most of his other works.
The plot of this opera is very loosely based on ancient Anatolian Greek mythology. Cybele was the none too beneficent 'Mother Earth' goddess of the Phrygians, later Romanized as an abstraction, and Atys was her self-castrating human consort. the cult of Cybele was in fact too orgiastic for Hellenic Greece. In the opera libretto, based on a poem by Philppe Quinault, Cybele is insufferably human in emotions, indifferent to the religious adoration of the masses but madly in love with the mortal Atys, a courtly prig who has incessantly denied the power of Love. Atys, however, is a deceiver; he too is madly in love, with Sangaride, the betrothed of his King Celenus. What's worse, Sangaride is secretly in love with Atys. Sticky business, no? But "Atys" is a 'tragédie en musique', although this production was staged by the Opéra Comique, and it's possible that the onstage death of Atys was a historical "first". Cybele, alas, had employed her godly powers by tricking Atys into slaying his true love Sangaride -- offstage -- but finds herself conscience-stricken, so that she immortalizes Atys by metamorphosis into a pine tree. [Modern science has revised her metamorphism by reclassifying "Atys" as a genus of gastropod, a pretty little sea snail.] The opera is not -- I repeat, NOT -- a melodramatic tragedy of the Romantic sort. The audience, including old Louis XIV, did not dissolve in tears except perhaps in affectation thereof. It's all about artifice and refinement. It was said to have been Louis XIV's favorite opera and it was therefore immediately enshrined, imitated, and parodied.
Cybel emerges as the driving dramatic persona in this modern performance, with her most intense musical passages contrasting brilliantly with the pastoral lyricism of the score at large. The role is sung and acted excellently by Stéphanie d"Oustrac. If "authenticity" is taken to mean complete theatrical coherence, visual as well as musical, then it matters a good deal that the actress look the part. D'Oustrac 'does look the part, a cruel selfish beauty, a divine narcissist like most deities, and she sings with a steely-blue virtuosity, with what Milton said of Satan, "darkness visible". Atys, in proper contrast, is a milksop, a bit of a fool; the role is acted convincingly and sung gorgeously by the sweet-faced Bernard Richter. Once again, in our world of cinematography, it matters that he looks the part. Indeed, every singer actor in this production succeeds both musically and photogenically. Don't overlook God of Sleep, sung by the omnipresent Paul Agnew, without whom no performance by William Christie would seem complete.
Bill Christie is a "living international treasure", arguably the finest conductor of Baroque Opera since Lully stomped hi big toe with his own staff and died of gangrene. Christie's orchestra "Les arts Florissants" is unsurpassed. For this production there was a substantially expanded crew in the pit, with 28 strings, gambas, traverso and recorder flutes, oboes, four sorts of lutes, two keyboards, percussion, and two bassoons. There are never too many bassoons! Listen to them! They have some delicious passages in this score, and the Baroque bassoon was inherently a more expressive instrument than its modern heir. Bill Christie is also a personal "hero" of mine, an opponent of the Vietnam War who took his initial leap to Europe in 1971 to escape the American draft. He is now a French citizen. The 1986 production of "Atys" brought him his first major acclaim, and this reincarnation of that production should consolidate his his stature. –Giordano Bruno, amazon.com
download: uploaded yandex anonfiles 4shared mediafire solidfiles mega filecloudio nornar
Zmieniony (Środa, 05 Luty 2014 00:27)