Mendelssohn - Piano Trios (2010)
Mendelssohn - Piano Trios (2010)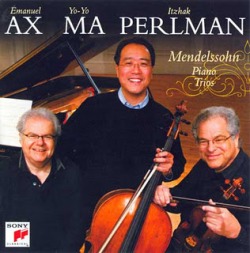 1. Piano Trio No. 1 in D Minor, Op. 49; I. Molto allegro e agitato 
2. Piano Trio No. 1 in D Minor, Op. 49; II. Andante con moto tranquillo 	
3. Piano Trio No. 1 in D Minor, Op. 49; III. Scherzo: Leggiero e vivace 	
4. Piano Trio No. 1 in D Minor, Op. 49; IV. Finale: Allegro assai appassionato 	
5. Piano Trio No. 2 in C Minor Op. 66; I. Allegro energico e con fuoco 
6. Piano Trio No. 2 in C Minor Op. 66; II. Andante espressivo 	
7. Piano Trio No. 2 in C Minor Op. 66; III. Scherzo: Molto allegro quasi presto 
8. Piano Trio No. 2 in C Minor Op. 66; IV. Finale: Allegro appassionato

Emmanuel Ax – piano
Itzhak Perlman – violin
Yo-Yo Ma – cello

When old friends get together to make music, you can usually expect to hear something special; when those old friends are musicians of this standing then the result is truly exceptional. Their special bond simply amplifies all the warmth to be found in Mendelssohn's trios in D minor and C minor to make them readings of particular democratic distinction. Yo-Yo Ma says that their purpose was "to celebrate Mendelssohn as a model of excellence, generosity and virtuosity", a purpose emphatically achieved. --- Stephen Pritchard, guardian.co.uk/music/
This disc is my eighth Fanfare review of these Mendelssohn trios, starting back at 31:3 and continuing from 33:3 to the present issue. The first six reviews, favorable or not, were of "standard" ensembles. This ensemble is non-standard in the sense that it is composed of three independent artists—all famed soloists of the highest caliber—rather than a group dedicated to piano trio performances. This "pick-up" group is reminiscent of the Heifetz-Feuermann-Rubinstein and Cortot-Thibaud-Casals Trios of yore. The Istomin-Stern-Rose Trio of the recent past splits the difference of eras.
In a previous review, I wrote, referring to two performances, "[These discs] provide the proverbial truth and beauty of these Mendelssohn trios, at least for now. Something new and better is always possible in the future." Well, the future has arrived, and sooner than I imagined. Ax, Perlman, and Ma provide ensemble balance, clarity of inner part-writing, drama, lyricism, and phrase shaping of the highest order, almost unimaginably so. These performances have now become my present benchmarks, supplanting my D-Minor (No. 1) Istomin-Stern-Rose Trio benchmark. Even more important is the observation that these artists have said something new, interesting, and relevant in terms of phrasing and dynamics of these trios.
Ax, Perlman, and Ma first performed these trios as a group at Carnegie Hall in March 2009, and then during a Live from Lincoln Center telecast in February 2010. The present studio recording is the result of the success of these previous accounts. Ax and Ma have collaborated in the past (e.g., the Beethoven piano and cello sonatas), but this is the first time Perlman has joined them in a recording.
This disc will make my Want List for 2010. The disc has even suggested a Dream List: Ax/Perlman/Ma Beethoven trios, Schubert trios, and Brahms trios. To go further, Ax/Perlman/Ma/violist (perhaps Zukerman, or Kashkashian, or Laredo) Mozart piano quartets and Brahms Piano Quartets. The Brahms, however, might produce a conflict with a previous Sony issue.
After writing all this, I let my enthusiasm cool for a couple of weeks, and then I listened again. These trios sounded even better. I find these performances not just outstanding; I find them astounding. --- Burton Rothleder , arkivmusic.com/classical/
Feliks Mendelssohn całe życie uczestniczył w wykonaniach muzyki kameralnej, ponieważ był znakomitym pianistą, a wówczas panowała powszechna moda, że po domach i salonach muzykę grywano wspólnie. Była to bowiem jedna z najpopularniejszych form spędzania czasu - nie istniało przecież ani radio, ani telewizja.
Także Mendelssohn chętnie komponował utwory kameralne z udziałem fortepianu. Jeden z nich - Kwartet c-moll op. 1 dedykował księciu Antoniemu Radziwiłłowi, temu samemu, u którego w Antoninie gościł Fryderyk Chopin. Obecnie wykonuje się przede wszystkim jego dwa tria fortepianowe. O jednym z nich, Trio d-moll op. 49., Schumann powiedział, że jest arcydziełem muzyki współczesnej, a jego twórca "Mozartem XIX wieku".
Utwór jest wyjątkowo śpiewny, w odróżnieniu od dramatycznego Trio c-moll op. 66., jednak mimo dramatycznych, prawie Brahmsowskich akcentów, trudno nie znaleźć w nim elementów tanecznych, a nawet - śpiewnych. Wielka w tym zasługa wykonawców. Każdy z nich to przecież wielka indywidualność i sława. Emanuel Ax ze Lwowa, uczeń warszawskiej szkoły muzycznej, Itzhak Perlman z Tel Awiwu, jeden z najwybitniejszych skrzypków ostatnich dekad i najmłodszy z nich Yo-Yo Ma, wiolonczelista chińskiego pochodzenia, który grał wszystko - od muzyki klasycznej, po jazz i blue grass - w dodatku ze wszystkimi. --- Barbara Tenderenda, Sony Classic, 2010.
download: uploaded yandex 4shared mediafire solidfiles mega filecloudio nornar
Zmieniony (Środa, 19 Luty 2014 20:23)