Felix Mendelssohn – Elijah Op.70 (2004)
Felix Mendelssohn – Elijah Op.70 (2004)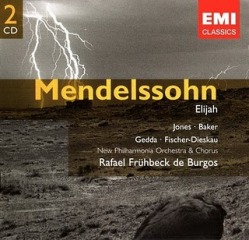 CD1
1. Introduction: As God the Lord of Israel liveth (Elijah)	1:15
2. Overture	3:34						play
3. No. 1 - Help, Lord! Wilt thou quite destroy us?	4:21
4. No. 2 - Lord! Bow Thine ear to our prayer!	2:08
5. No. 3 - Ye people, rend your hearts (Obadiah)	0:54
6. No. 4 - If with all your hearts (Obadiah)		2:35
7. No. 5 - Yet doth the Lord see it not (chorus)	4:13
8. No. 6 - Elijah! Get thee hence (Angel I)		0:52
9. No. 7 - For He shall give His angels charge over thee (semi-chorus)	2:08
10. Recit. Now Cherith's brook is dried up (Angel I)	1:12
11. No. 8 - What have I to do with thee? (Widow, Elijah)	6:37
12. No. 9 - Blessed are the men who fear Him (chorus)	3:48
13. No. 10 - As God the Lord of Sabaoth liveth (Elijah, Ahab, chorus)	4:27
14. No. 11 - Baal, we cry to thee; hear and answer us! (chorus)	3:23
15. No. 12 - Call him louder, for he is a god! (Elijah, chorus)	1:08
16. No. 13 - Call him louder! He heareth not! (Elijah, chorus)	2:11
17. No. 14 - Lord God of Abraham, Isaac and Israel! (Elijah)	3:39
18. No. 15 - Cast thy burden upon the Lord (chorus)	2:22
19. No. 16 - O Thou, who makest Thine angels spirits (Elijah, chorus)	3:10
20. No. 17 - Is not his word like a fire? (Elijah)	2:04
21. No. 18 - Woe unto them who forsake Him! (alto)	3:12
22. No. 19 - O man of God, help thy people! (Obadiah, Elijah, chorus, Youth)	6:38
23. No. 20 - Thanks be to God! (chorus)	3:42

CD2
1. No. 21 - Hear ye, Israel; hear what the Lord speaketh (soprano)	6:03
2. No. 22 - Be not afraid, saith God the Lord (chorus)	4:12
3. No. 23 - The Lord hath exalted thee (Elijah, Queen, chorus)	4:03
4. No. 24 - Woe to him, he shall perish (chorus)	1:32
5. No. 25 - Man of God, now let my words be precious (Obadiah, Elijah)		2:38
6. No. 26 - It is enough; O Lord take my life (Elijah)	6:15
7. No. 27 - See, now he sleepeth (tenor)	0:40
8. No. 28 - Lift thine eyes to the mountains (chorus)	1:48
9. No. 29 - He, watching over Israel, slumbers not (chorus)	3:53
10. No. 30 - Arise, Elijah, for thou hast a long journey (Angel I, Elijah)	2:13
11. No. 31 - O rest in the Lord (Angel I)	3:37				play
12. No. 32 - He that shall endure to the end, shall be saved (chorus)	2:50
13. No. 33 - Night falleth round me, O Lord! (Elijah, Angel II)	1:48
14. No. 34 - Behold! God the Lord passed by! (chorus)	3:38
15. No. 35 - Above Him stood the Seraphim (alto, chorus)		3:51
16. No. 36 - Go, return upon thy way! (chorus, Elijah)	1:35
17. No. 37 - For the mountains shall depart (Elijah)		2:44
18. No. 38 - Then did Elijah the prophet break forth (chorus)	2:15
19. No. 39 - Then shall the righteous shine forth (chorus)	2:40
20. No. 40 - Behold, God hath sent Elijah (soprano)	1:18
21. No. 41 - But the Lord from the north hath raised one (chorus)	3:31
22. No. 41a - O come everyone that thirsteth (soprano, alto, tenor, bass)	3:21
23. No. 42 - And then shall your light break forth (chorus)		3:15

Gwyneth Jones - The Widow; An Angel
Janet Baker - The Angel; The Queen
Nicolai Gedda - Obadiah; Ahab
Dietrich Fischer-Dieskau - Elijah
Simon Woolf - The Youth

Wandsworth School Boy's Choir
New Philharmonia Chorus
New Philharmonia Orchestra
Rafael Frübeck de Burgos - conductor, 1968

This is an original sound recording made by EMI in 1968 and is still the standard by which one should enjoy Mendelssohn's Elijah. With Gwyneth Jones, Nicolai Gedda, Janet Baker and Dietrich Fisher-Dieskau what more could you ask for in a performance of one of the great masterpieces of music. The libretto, originally in German, was translated into English by William Bartholomew who Mendelssohm called a translator 'par excellence.' ---David A. Hill
Elijah, in German: Elias, is an oratorio written by Felix Mendelssohn in 1846 for the Birmingham Festival. It depicts various events in the life of the Biblical prophet Elijah, taken from the books 1 Kings and 2 Kings in the Old Testament.
This piece was composed in the spirit of Mendelssohn's Baroque predecessors Bach and Handel, whose music he loved. In 1829, Mendelssohn had organized the first performance of Bach's St Matthew Passion since the composer's death, and was instrumental in bringing this and other of Bach's works to widespread popularity. In contrast, Handel's oratorios never went out of fashion (in England at any rate). Mendelssohn prepared a scholarly edition of some of Handel's oratorios for publication in London. Elijah is modeled on the oratorios of these two Baroque masters; however, the style clearly reflects, in its lyricism and use of orchestral and choral colour, Mendelssohn's own genius as an early Romantic composer.
The work is scored for four vocal soloists (bass/baritone, tenor, alto, soprano), full symphony orchestra (including trombones, ophicleide, organ), and a large chorus singing usually in four, but occasionally eight or three (women only) parts. The part of Elijah is sung by the bass/baritone and is a major role.
Mendelssohn originally composed the work to a German text by his friend Karl Klingemann, who earlier had provided him with the libretto for his comic operetta Die Heimkehr aus der Fremde. Upon being commissioned by the Birmingham Festival to write an oratorio, however, Mendelssohn had the libretto translated into English, and the oratorio was premiered in the English version.
download: uploaded yandex 4shared mediafire solidfiles mega nornar
Zmieniony (Czwartek, 20 Luty 2014 12:06)