Giacomo Meyerbeer – Semiramide (2007)
Giacomo Meyerbeer – Semiramide (2007)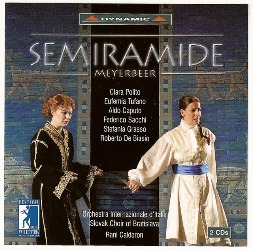 1. Sinfonia & Act I

1. Semiramide riconsciuto, opera: Sinfonia 	
2. Semiramide riconsciuto, opera: Act 1. Dall'Olimo a noi scende 	
3. Semiramide riconsciuto, opera: Act 1. March 	
4. Semiramide riconsciuto, opera: Act 1. Dalla Sarmazia 	
5. Semiramide riconsciuto, opera: Act 1. Deh, sospendi la scelta 	
6. Semiramide riconsciuto, opera: Act 1. Sogno o son desto? 	
7. Semiramide riconsciuto, opera: Act 1. Sperai su questa sponda 	
8. Semiramide riconsciuto, opera: Act 1. Amico, in rivederti 	
9. Semiramide riconsciuto, opera: Act 1. Siam soli, or parterà 	
10. Semiramide riconsciuto, opera: Act 1. Ella è la fiamma mia 
11. Semiramide riconsciuto, opera: Act 1. La scaltrezza che va! 	
12. Semiramide riconsciuto, opera: Act 1. Che farò! 
13. Semiramide riconsciuto, opera: Act 1. Udrai di strage orribile 
14. Semiramide riconsciuto, opera: Act 1. Egli morrà 
15. Semiramide riconsciuto, opera: Act 1. Più non si tardi 	
16. Semiramide riconsciuto, opera: Act 1. Il piacer, la gioja scenda 	
17. Semiramide riconsciuto, opera: Act 1. In lucido cristallo 
18. Semiramide riconsciuto, opera: Act 1. Qual sorpresa 	
19. Semiramide riconsciuto, opera: Act 1. Di gioja, di pace

2. Act II

1. Semiramide riconsciuto, opera: Act 1. Mora l'Indo audace 	
2. Semiramide riconsciuto, opera: Act 1. Ah, balena, minaccia sdegnato 	
3. Semiramide riconsciuto, opera: Act 2. Mirteo non lusingarti 	
4. Semiramide riconsciuto, opera: Act 2. D'un genio che m'accende 
5. Semiramide riconsciuto, opera: Act 2. Vieni Sibari / E dove? 	
6. Semiramide riconsciuto, opera: Act 2. Barbaro non dolerti 
7. Semiramide riconsciuto, opera: Act 2. Crudele! Morir mi vedi 	
8. Semiramide riconsciuto, opera: Act 2. Cedi il ferro 	
9. Semiramide riconsciuto, opera: Act 2. Io prigionier! 	
10. Semiramide riconsciuto, opera: Act 2. Quando ti deggio, amico 	
11. Semiramide riconsciuto, opera: Act 2. Ah, più soffrir non voglio 	
12. Semiramide riconsciuto, opera: Act 2. Nol voglio udir 	
13. Semiramide riconsciuto, opera: Act 2. Io partir? Chi l'impone? 	
14. Semiramide riconsciuto, opera: Act 2. Parti; de' cenni miei 	
15. Semiramide riconsciuto, opera: Act 2. Ove s'asconde? 
16. Semiramide riconsciuto, opera: Act 2. Mirteo, per quanto io tardi 	
17. Semiramide riconsciuto, opera: Act 2. Non temere 	
18. Semiramide riconsciuto, opera: Act 2. A forza io passerò 
19. Semiramide riconsciuto, opera: Act 2. Se non nacqui 
20. Semiramide riconsciuto, opera: Act 2. Alma grande

Performer:
Clara Polito, Eufemia Tufano, Aldo Caputo, Federico Sacchi, 
Stefania Grasso, Roberto De Biasio, 
Orchestra Internazionale d'Italia
Slovak Choir of Bratislava
Rani Calderon – director

Giacomo Meyerbeer (5 September 1791 – 2 May 1864) was a noted German opera composer, and the first great exponent of "grand opera." At his peak in the 1830s and 1840s, he was the most famous and successful composer of opera in Europe, yet he is rarely performed today.
The vitriolic campaign of Richard Wagner against Meyerbeer was to a great extent responsible for the decline of Meyerbeer's popularity after his death in 1864. This campaign was as much a matter of personal spite as of racism - Wagner had learnt a great deal from Meyerbeer and indeed Wagner's early opera Rienzi (1842) has, facetiously, been called 'Meyerbeer's most successful work'. Meyerbeer supported the young Wagner, both financially and in obtaining a production of Rienzi at Dresden.
However, Wagner resented Meyerbeer's continuing success at a time when his own vision of German opera had little chance of prospering. After the May Uprising in Dresden of 1849, Wagner was for some years a political refugee facing a prison sentence or worse in Saxony. During this period when he was gestating his Ring cycle, he had few sources of income apart from journalism and benefactors, and little opportunity of getting his own works performed. The success of Le prophète sent Wagner over the edge, and he was also deeply envious of Meyerbeer's wealth. After Meyerbeer's death Wagner reissued his 1850 essay Das Judenthum in der Musik (Judaism in Music), in 1868, in an extended form, with a far more explicit attack on Meyerbeer. This version was under Wagner's own name - for the first version he had sheltered behind a pseudonym - and as Wagner had by now a far greater reputation, his views obtained far wider publicity.
These attacks on Meyerbeer (which also included a swipe at Felix Mendelssohn) are regarded by Paul Lawrence Rose as a significant milestone in the growth of German anti-Semitism.
Meyerbeer's costly operas, requiring grand casts of leading singers, were gradually dropped from the repertoire in the early 20th century. They were banned by the Nazi regime because the composer was Jewish, and this was a major factor in their further disappearance from the repertory. However, the operas are now beginning to be regularly revived and recorded, although (despite the efforts of such champions as Dame Joan Sutherland, who took part in performances of, and recorded, Les Huguenots) they have yet to achieve anything like the huge popular following they attracted during their creator's lifetime.
Amongst reasons often adduced for the dearth of modern productions are the scale of Meyerbeer's more ambitious works and the cost of mounting them, as well as the alleged lack of virtuoso singers capable of doing justice to Meyerbeer's demanding music. However, recent successful productions of some of the major operas at relatively small centres such as Strasbourg (L'Africaine, 2004) and Metz (Les Huguenots, 2004) show that this conventional wisdom is not unchallengeable.
download:  uploaded yandex 4shared mediafire solidfiles mega filecloudio
Zmieniony (Niedziela, 23 Luty 2014 12:58)