Mozart: Serenade No.13 - Divertimento No.15 [Karajan] (1965/2015)
Mozart: Serenade No.13 - Divertimento No.15 [Karajan] (1965/2015)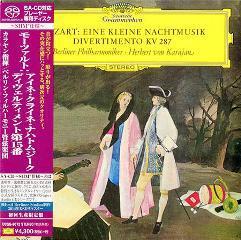 Serenade No.13 In G Major, K.525 "Eine Kleine Nachtmusik"
01. 1. Allegro
02. 2. Romance (Andante)
03. 3. Menuetto (Allegretto)
04. 4. Rondo (Allegro)
Divertimento No.15 In B Flat Major, K.287
05. 1. Allegro
06. 2. Tema con variazioni: Andante grazioso
07. 3. Menuetto
08. 4. Adagio
09. 5. Menuetto
10. 6. Andante – Allegro molto

Berlin Philharmonic Orchestra
Herbert Von Karajan – conductor

Eine kleine Nachtmusik (Serenade #13 for strings in G major), K. 525, is a 1787 composition for a chamber ensemble by Wolfgang Amadeus Mozart. The German title means "a little serenade," though it is often rendered more literally but less accurately as "a little night music." The work is written for an ensemble of 2 violins, viola, & cello with optional double bass, but is often performed by string orchestras. On this release, Herbert von Karajan conducts the Berlin Philharmonic for a performance of Mozart's Eine Kleine Nachtmusik & Divertimento KV 287. ---hdmusic.pw
K 287, lamely known as the Divertimento in B Flat, is one of Mozart's greatest creations. In some ways, it should not be here: it's too sidereal to be soiled by immanence. Indeed, it doesn't quite belong in this world per se on the testimony of its wonderment, grace and weaponized beauty. In it, one almost sees the bonfire and not the sparks alone.
These performances of K 287 and K 525 were recorded in the second year that Karajan and the Berlin Phil holidayed in Switzerland (August of 1965). I've always been drawn to them. There's something more to them than refined contributions from the strings of the Berliners of Sixties vintage. Signs envelop us. Not in vain, does one peer at the cover; the stillness of the Andante Grazioso would stop a bull elephant; the Adagio is promissory: that which was lost will one day be restored as meridian. Whatever they signify in the scheme of things, they're played with éclat by a slimmed down Berlin Philharmonic at the zenith of its fame. In doing so, K 525 is imbued with a symphonic strength - so be it!
The latest remastering has de-souped these performances further. Horns ring out as they should in the Divertimento.
Quite obviously, if your palette is attuned to clipped phrasing, scrawny strings of vinegar and nominal bass-line, there are plenty of alternatives in the land of Nod. Otherwise, entreat something that is greater than yourself and immeasurably so! ---Bernard Michael O'Hanlon, amazon.com
download (mp3 @320 kbs):
yandex mediafire uloz.to mega 4shared cloudmailru gett