Giovanni Paisiello – Don Chisciotte della Mancia (1990)
Giovanni Paisiello – Don Chisciotte della Mancia (1990)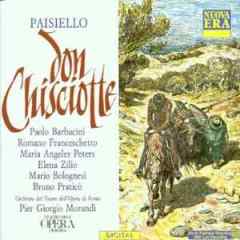 CD1
1. Sinfonia { Don Chisciotte Della Mancia, Naples 1769 }
2. Act I - Mi Perdoni, Padron Mio (calafrone_platone_contessa_duchessa_carmonisa)
3. Act I - Che D'è Sto Lamento (don Platone)
4. Act I - Begli Occhietti Vivacetti (duchessa)
5. Act I - Alto Alto Canaglia. (sancio_don Chisciotte)
6. Act I - Qui Riman L'elmo. (sancio_don Chisciotte)
7. Act I - Empia Fera; Bestia Immonda. (don Chisciotte)
8. Act I - Si Vuo' Farete (carmosina_cardoletta_sancio_chisciotte_contessa_duchessa_platone_calafrone)
9. Act Ii - Cavalier, Che Cos'è ? (duchessa)
10. Act Ii - Dille Che Qui L'attendo. (don Chisciotte)
11. Act Ii - Sinfonia (orchestra Del Teatro Del'opera Di Roma)
12. Act Ii - Vaghe Aurette Lusinghiere (contessa_carmosina)

CD2
1. Act Ii - Questa è Collei (contessa)
2. Act Ii - Pietoso Mio Campione (don Platone)
3. Act Ii - Sancio Caro, Fermo In Groppa (don Chisciotte_sancio_contessa_carmosina_calafrone_platone)
4. Act Ii - Venga Pur Ma Zitto, Zitto (sancio)
5. Act Ii - Se è Ver Che Voi Mi Amate (contessa)
6. Act Ii - Son Viva? Che Pene! (cont._duch._carmosina_cardoletta_chiscotte_sancio_calafrone_platone)
7. Act Iii - Sentite! Se Del Pazzo (carmosina)
8. Act Iii - Vorrei Sdegnarmi, Oh Dio (duchessa)
9. Act Iii - Vieni Pure In Campo Armato (don Calafrone)
10. Act Iii - Non Mi Credea D'avere (don Platone)
11. Act Iii - Finale Terzo ~ Empio Destino Ingrato (don Chisciotte_tutti)

Cardolella: Francesca Arnone
Carmosina: Bernadette Lucarini
Contessa: Maria Angeles Peters
Don Calafrone: Mario Bolognesi
Don Chisciotte: Paolo Barbacini
Don Platone: Bruno Praticò
Duchessa: Elena Zilio
Ricciardetta: Annabella Rossi
Sancio Panza: Romano Franceschetto

Chor & Orchester des Teatro dell'Opera Roma
Pier Giorgio Morandi – conductor

Among the most important composers of Italian opera in the later 18th century, Paisiello was trained principally in Naples, where he first established his reputation as a composer. In 1776 he was invited to move to St Petersburg, where he worked as a composer of opera and director of the court orchestra, winning the favour of the Empress Catherine II. In 1784 he was able to accept an invitation to return to Naples, where he enjoyed royal favour, only temporarily withdrawn after his acquiescence in the republican régime of 1799. He spent two years in Paris, from 1802 to 1804, as director of music for Napoleon. His employment in Naples continued under Ferdinand IV and then under the usurper Joseph Buonaparte and his successor Joachim Murat. The final defeat of Napoleon in 1815 and the return of King Ferdinand removed Paisiello from his official positions.
Operas
Paisiello's chief fame was as a composer of operas, of which he wrote some eighty. L'idolo cinese (The Chinese Idol) was a favourite of Lady Hamilton, later the mistress of Nelson. His Il barbiere di Siviglia (The Barber of Seville), first performed in St Petersburg in 1782, proved a dangerous rival to Rossini's later opera on the same subject. He set a number of libretti by the Vienna court poet Metastasio and turned to Cervantes in his Don Chisciotte della Mancia (Don Quixote de la Mancha). His style, which seems to have had some influence on Mozart, who heard his Il re Teodoro in Venezia (King Teodoro in Venice) in Vienna in 1784, is concise and melodious, with the necessary sparkle in his comedies, although his heroic and tragic operas seem sometimes to be matched with music that is too light-hearted.
Vocal and Choral Music
Paisiello composed a number of cantatas, designed for entertainment or in formal celebration of some royal occasion. Sacred works include oratorios on the subject of Susanna and of The Conception of the Virgin Mary, with a setting of Metastasio's La passione di Gesù Cristo (The Passion of Jesus Christ). He made a number of settings of the Mass, including, in 1814, a Mass for the chapel of Louis XVIII, which followed earlier Masses for Napoleon. There are other liturgical compositions, some again designed for official occasions of celebration.
Instrumental Music
Paisiello's instrumental music includes divertimenti, keyboard concertos, string and flute quartets and sonatas for harpsichord and violin. --- naxos.com
download:  uploaded ziddu 4shared gett mediafire hostuje