Prokofiev - Romeo & Juliet, op.64 (Ozawa) [1999]
Prokofiev - Romeo & Juliet, op.64 (Ozawa) [1999]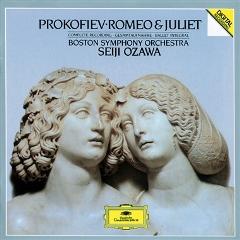 Disc 1
01	1. Introduction	02:49
02	2. Romeo	01:31
03	3. The street awakens	02:21
04	4. Morning dance	02:08
05	5. The quarrel	01:48
06	6. The fight	03:52
07	7. The duke's command	01:15
08	8. Interlude	02:16
09	9. At the Capulets' (Preparations for the ball)	02:17
10	10. The young Juliet	03:26
11	11. Arrival of the guests	04:00
12	12. Masks	02:43
13	13. Dance of the knights	05:24
14	14. Juliet's variation	02:52
15	15. Mercutio	02:18
16	16. Madrigal	03:43
17	17. Tybalt recognizes Romeo	02:11
18	18. Gavotte	03:40
19	19. Balcony scene	03:24
20	20. Romeo's variation	01:37
21	21. Love dance	06:03
22	22. Folk dance	03:52
23	23. Romeo and Mercutio	02:18
24	24. Dance of the five couples	03:54
25	25. Dance with mandolins	01:50

Disc 2
01	26. Nurse	02:04
02	27. The nurse and Romeo	54
03	28. Romeo at friar Laurence's	02:57
04	29. Juliet at friar Laurence's	03:22
05	30. Public merrymaking	03:17
06	31. Further public festivities	02:36
07	32. Meeting of Tybalt and Mercutio	02:00
08	33. The duel	01:27
09	34. Death of Mercutio	02:30
10	35. Romeo decides to avenge Mercutio	02:05
11	36. Finale	01:50
12	37. Introduction	01:14
13	38. Romeo and Juliet	01:20
14	39. Romeo bids Juliet farewell	05:22
15	40. Nurse	02:01
16	41. Juliet refuses to marry Paris	02:26
17	42. Juliet alone	01:24
18	43. Interlude	01:26
19	44. At friar Laurence's cell	04:52
20	45. Interlude	01:37
21	46. Juliet's room	02:40
22	47. Juliet alone	04:16
23	48. Aubade	02:34
24	49. Dance of the girls with lilies	02:11
25	50. At Juliet's bedside	02:04
26	51. Juliet's funeral	05:29
27	52. Juliet's death	04:27

Boston Symphony Orchestra
Seiji Ozawa – conductor

Romeo and Juliet, ballet in 4 acts, Op. 64 In the early- and mid-twentieth century, the three major Tchaikovsky ballets -- Swan Lake, The Sleeping Beauty, and The Nutcracker -- were viewed as the three greatest full-length ballets. Not surprisingly, they were also more popular by wide margins than all other works in the genre. By the latter quarter of the century, however, Prokofiev's Romeo and Juliet had entered the trio's select company and remains exceedingly popular today. Some have even asserted it is the greatest of full-length ballets. Certainly, it is one of Prokofiev's supreme masterpieces and, via the three suites extracted from it, among his most often-played music.
His previous ballets had been shorter and more pungent, like Chout, Op. 21 (1915-1920), and Le Pas d'Acier, Op. 41 (1925), which created a bit of a stir in Paris when it premiered. Both, along with The Prodigal Son (1929), were composed for Sergei Diaghilev's Ballets Russes. Romeo and Juliet was thus his first attempt at writing a full-length ballet, and while he would have further successes in the genre, most notably with Cinderella, no other stage work of his would quite approach it in popularity.
Prokofiev's Romeo and Juliet, based on Shakespeare's play, consists of four acts and ten scenes, within which are 52 separate dance numbers. The work opens with a six-note motif that appears throughout the ballet. This same theme, cut to four notes, opens the composer's Symphony-Concerto for Cello and Orchestra (1950-1952) and appears elsewhere in its first movement. There are many famous melodies in Romeo and Juliet, foremost among which is probably the march-like theme that appears in No. 13, "Dance of the Knights." This music symbolizes the strife between the opposing families. A variant of it is played in the next number, "Juliet's Variation," where its character changes from the austere malevolence in No. 13 to innocence and playfulness.
Another important and immensely popular melody is the love theme of Romeo and Juliet. It is a soaring melody in an arch-like pattern that exudes warmth and yearning, passion and grace. But there are many other memorable themes, including the joyous, rhythmic one in No. 12, "Masks," as well as the two in No. 22, "Folk Dance." Perhaps the most profound creation in the ballet, however, is the dark and tragic theme appearing in No. 51, "Juliet's Funeral," whose arch-like pattern is similar to that of the love theme.
Prokofiev also quotes from his own Classical Symphony here (No. 18 "Gavotte"), using music from the third movement Gavotte. It is not for want of thematic material that he resorts to this reference, but to show irony: this post-Renaissance French dance is as much miscast here as the two teenage lovers who are caught up in an unforgiving adult world. Romeo and Juliet lasts about two-and-one half hours in a typical performance. It was premiered in Brno, Czechoslovakia, on December 30, 1938. ---Robert Cummings, Rovi
download: uploaded yandex 4shared mediafire solidfiles mega filecloudio nornar
Zmieniony (Niedziela, 23 Marzec 2014 12:18)