Shostakovich: Hamlet – Kirchner: Toccata (Jorge Mester) [2014]
Shostakovich: Hamlet – Kirchner: Toccata (Jorge Mester) [2014]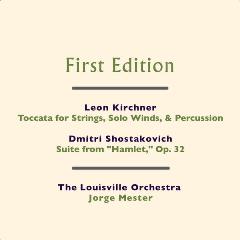 1.Leon Kirchner - Toccata for Strings, Solo Winds, and Percussion 	11:45
2.Dmitri Shostakovitch - Suite from Hamlet, Op. 32 - I. Introduction and Night Watch 2:44
3.Shostakovitch - Suite from Hamlet, Op. 32 - II. Flourish and Dancing Music 	2:11
4.Shostakovitch - Suite from Hamlet, Op. 32 - III. Tournament	 1:03
5.Shostakovitch - Suite from Hamlet, Op. 32 - IV. Funeral March 	2:17
6.Shostakovitch - Suite from Hamlet, Op. 32 - V. Actor's Pantomime 	1:13
7.Shostakovitch - Suite from Hamlet, Op. 32 - VI. Procession 	0:39
8.Shostakovitch - Suite from Hamlet, Op. 32 - VII. Musical Pantomime	1:06
9.Shostakovitch - Suite from Hamlet, Op. 32 - VIII. Ophelia's Song 	1:31
10.Shostakovitch - Suite from Hamlet, Op. 32 - IX. March of Fortinbras 	2:07
11.Shostakovitch - Suite from Hamlet, Op. 32 - X. Lullaby 	1:19
12.Shostakovitch - Suite from Hamlet, Op. 32 - XI. Requiem 	2:13
13.Shostakovitch - Suite from Hamlet, Op. 32 - XII. Feast 	1:17
14.Shostakovitch - Suite from Hamlet, Op. 32 - XIII. Hunting	1:52

The Louisville Orchestra 
Jorge Mester – conductor

This was certainly no ordinary production of 'Hamlet'. The avant-garde director and designer, Nikolai Akimov, wanted a scandalously modern production, not a tragedy but a darkly absurd satire. Everything in the show was back to front: Hamlet was fat and horrible, Ophelia was a tart and Claudius was weak and likeable.
To reflect this improbable vision Shostakovich wrote one of his very finest sequences of incidental music, a long, rich and mercurial score that flickers between laughter and outrageous pomposity, with echoes of Offenbach and cabaret music, and moments of surprising and genuine pathos. At the time when he was working on this piece, Shostakovich was also writing his opera 'Lady Macbeth of the Mtsensk District' and he used 'Hamlet' to try out many of the new dramatic ideas and devices that were going to be so important in his opera.
This is a fascinating and compelling piece that may either be performed complete, with voices singing and speaking Shakespeare's lines, or as a brilliant orchestral suite, op.32a. --- Gerard McBurney, boosey.com
The word toccata traditionally refers to a keyboard composition in so-called 'free' idiomatic keyboard style. Chords, scale-like passages, contrasting tempi in quickly changing scenes characterize this form. An early precedent was established (circa 1600) in which the structural elements of the keyboard toccata were utilized in pieces for brass. The orchestral medium also offers ample opportunity for the presentation of these characteristics, and composers have often availed themselves of it.
The Toccata for Strings, Solo Winds, and Percussion is a comparatively short, one-movement work divided into four sections. The first section is like an exposition and the second like a development; then comes a kind of diversionary slow movement based on the theme stated by the wind instruments at the outset of the entire work. The fourth section provides a recapitulation and coda. --- Leon Kirchner, musicsalesclassical.com
download (mp3 @320 kbs):
uploaded yandex 4shared mega mediafire zalivalka cloudmailru oboom uplea