Dmitri Shostakovich - Moskva, Cheremushki (1997)
Dmitri Shostakovich - Moskva, Cheremushki (1997)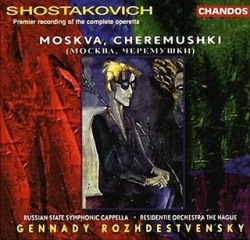 DISC ONE 	
  	  	  		
  	  	  	Overture - Prologue 
1 		Allegretto 	5:18
2 		Drebednyov - 'That's right! Music' 	0:33
3 		Baburov - 'Well I've lived for fifty years on Tyoplui Lane.' 	1:40
  	  	  		
  	  	  	Act I 	
  	  	  	Scene 1 - Don't touch 	
4 	1 	Bubentsov and the Chorus of Visitors 	2:33
5 		Bubentsov - 'Now please step into the next hall, comrades!' 	1:00
6 	2 	Duet Masha and Bubentsov 	3:49

 	Zino Vinnikov violin
 	Gregor Horsch cello
    
7 	3 	Pantomime 	2:37
8 		Sergey - 'What time is it?' 	0:13
9 	4 	Boris's Aria 	1:55
10 		Boris - 'I've come back from Moscow' 	0:30
11 	5 	Boris's Song-serenade 	2:16
12 		Lidochka - 'Have you only just got here?' 	0:52
13 	6 	Lidochka's Song 	2:35
14 		Baburov - 'Lidochka, Lidochka…' 	1:24
15 	7 	Excursion around Moscow 	4:04
  	  	  		
  	  	  	Intermezzo 	
16 		Drebednyov - 'Where's the car?' 	0:54
17 	8 	Duet: Vava and Drebednyov 	4:39
18 	9 	End of Excursion around Moscow 	0:40
  	  	  		
  	  	  	Scene 2 - Write down the address 	
19 		First woman - 'Semyon Semyonovich' 	0:36
20 	10 	Ensemble of Residents 	5:04
21 	11 	Sergey's Song about Mar'ina Roscha 	2:01
22 	12 	Baburov's Song about Tyoplyi Lane 	3:24
23 		Lyusya - 'So it's Tyoplyi Lane then?' 	0:13
24 	13 	Song about Cheremushki 	2:50
25 	14 	Scene: Barabashkin with the Residents 	0:54
26 		Barabashkin - 'What are you thinking of, citizens?' 	0:53
27 	115 	Boris's Song 	1:55
28 		Boris - 'Valka!' 	3:54
29 	16 	Scene: Barabashkin and Drebednyov with the Residents 	0:48
30 	17 	Finale of Act I 	1:02
  	  	  		
  	  	  	Act II 	
  	  	  	Intermezzo 	
31 	18 	Barabashkin's Couplets 	2:31
  	  	  		
  	  	  	Scene 3 - Airborne Landing 	
32 		Boris - 'That's it Lidochka, that's it!' 	0:54
33 	19 	Duet: Lidochka and Boris 	6:22
  	  	  		
  	  	  		70:53
                
  	  	  	DISC TWO 	
  	  	  		
1 		Lidochka - 'You are not angry, my valiant sir?' 	2:45
2 	20 	Duet: Lyusya and Sergey 	4:59
3 		Lyusya - 'Oh, what was that?' 	2:11
4 	21 	Barabashkin's and Drebednyov's Couplets 	3:59
5 		Vava - 'Fedya!' 	0:36
6 	22 	Duet: Lidochka and Boris 	2:46
7 		Baburov - 'So where is the young man?' 	1:04
8 	23 	Scene (Lidochka, Baburov, Barabashkin, Drebednyov) 	0:41
  	  	  		
  	  	  	Intermezzo 	
  	  	  		
9 		Sergey - 'And where are you off to?' 	0:46
10 	24 	Song: Lyusya and the Construction workers 	0:59
  	  	  		
  	  	  	Scene 4 - An alarming 'knock at the door' 	
11 		Masha - 'Let's have some tea' 	1:07
12 	25 	Duet: Masha and Bubentsov 	3:09
13 		Bubentsov - 'Masha, it's someone ringing for us!' 	2:53
14 	26 	Polka 	4:21
15 		The others - 'Guests!' 	2:57
16 	27 	Song about Sheremushki 	0:23
  	  	  		
  	  	  	Intermezzo 	
  	  	  		
17 		Lidochka - 'Where can we go now?' 	0:27
18 	28 	Ballet 	6:33
19 	29 	Apotheosis 	1:13
20 		Boris - 'That was the move to the new flat' 	0:34
21 	30 	Finale of Act II 	0:33
  	  	  		
  	  	  	Act III 	
22 	31 	Entr'acte 	2:33
23 	32 	Scene 	0:54
24 		Baburov - 'Play something, comrade conductor…' 	0:37
  	  	  		
  	  	  	Scene 5 - The Magic Clock 	
25 	33 	Lidochka's Song 	1:44
26 		Bubentsov - 'Taking things easy?!' 	0:50
27 	34 	Waltz of the flowers 	1:07
28 		Lidochka - 'Am I dreaming?' 	1:14
29 	35 	Barabashkin's Song 	0:40
30 		Lyusya - 'Are you afraid?' 	3:44
31 	36 	Duet: Lidochka and Boris 	1:54
32 		Boris - 'Nevertheless, the parade ground has been cleared!' 	4:23
33 	37 	Sergey's Song 	0:49
34 		Barabashkin - 'Not bad that bench.' 	2:43
35 	38 	Scene: Barabashkin 	1:03
36 	39 	Finale 	1:45
  	  	  		70:57
  	  	  		
 	Andrei Baturkin baritone - Alexander Petrovich Bubentsov
 	Irina Gelakhova mezzo-soprano - Masha
 	Mikhail Goujov bass - Semyon Semyonovich Baburov
 	Elena Prokina soprano - Lidochka
 	Anatoly Lochak baritone - Boris Koretsky
 	Herman Apaikin tenor - Sergey Glushkov
 	Lydia Chernykh soprano - Lyusya
  	Chorus: Visitors, Residents, New tenants and Construction workers 	
 	Russian State Symphonic Cappella
 	Valeri Polyansky - conductor
 	Residentie Orchestra The Hague
 	Gennady Rozhdestvensky – conductor

Although best known for his 15 symphonies and 15 string quartets, Shostakovich actually began his compositional career as a composer for the theater. Before he was 30, he had composed two full-length operas, three full-length ballets, incidental music for seven plays, and eight film scores. All this ended in 1936 when his opera Lady Macbeth of the Mtsensk District and his ballet The Limpid Stream were denounced on the front page of Pravda. From that time onward, Shostakovich completed an opera for a student who died in the War, wrote the first act of an opera he never completed, and allowed several ballets to be compiled and arranged from his pre-existing music but he never again wrote a work for the theater.
Except, that is, for Moskva, Cheremushki -- a relentlessly cheerful three-act musical comedy with a satirical edge, set in a real apartment complex south of Moscow. A mixture of song, dance, and spectacle, Moskva, Cheremushki included pop songs, folk songs, massed songs, social realism, social satire, and romance; in form it resembled the operettas of Offenbach, Lehár, and Kalman, the Hollywood film musicals of the 1930s and 1940s, and Broadway musicals of all time, and in Shostakovich's hands it holds together astonishingly well as a piece of popular art.
The plot, such as it is, concerns the inhabitants of the Cheremushki apartment complex and their successful attempt to thwart a plan by the complex's general manager to evict them. But the plot is merely a frame upon which Shostakovich hung his delightful music. Number after number features attractive and instantly memorable melodies set to exhilarating orchestrations. Shostakovich's music balances the sentimental requirements of the form with the satirical requirements of his own conscious. The result is a work which reveals that, had he wanted to, Shostakovich could have written some of the best Broadway musicals of the time.
Some sections of Moskva, Cheremushki are scattered among the "Ballet Suites" prepared from various Shostakovich scores by Lev Avtomian. In addition, British composer Andrew Cornall made a different suite, drawing only on the musical, with the approval of Shostakovich's widow. ---James Leonard, Rovi
download: uploaded yandex 4shared mediafire solidfiles mega zalivalka filecloudio anonfiles oboom
Zmieniony (Środa, 07 Maj 2014 11:11)