Shostakovich - Cello Concertos 1 & 2 (Mork) [1995]
Shostakovich - Cello Concertos 1 & 2 (Mork) [1995]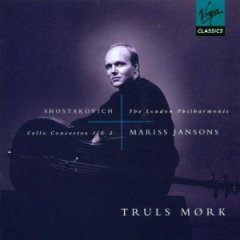 Cello Concerto No.1 op.107
1. Op. 107: I. Allegretto Cello Concerto No. 1 in E flat major
2. Op. 107: II. Moderato Cello Concerto No. 1 in E flat major
3. Op. 107: III. Cadenza Cello Concerto No. 1 in E flat major
4. Op. 107: IV. Finale: Allegro con moto Cello Concerto No. 1 in E flat major 	play
Cello Concerto No.2 op.126
5. Op. 126: I. Largo Cello Concerto No. 2 in G major
6. Op. 126: II. Scherzo: Allegretto Cello Concerto No. 2 in G major
7. Op. 126: III. Finale: Allegretto Cello Concerto No. 2 in G major

Truls Mørk - cello
The London Philharmonic
Mariss Jansons - director

The Cello Concerto No. 1 in E Flat Major, Opus 107, was composed in 1959 by Dmitri Shostakovich. He wrote the work for his friend Mstislav Rostropovich, who committed it to memory in four days and gave the premiere on October 4, 1959, with Yevgeny Mravinsky conducting the Leningrad Philharmonic Orchestra in the Large Hall of the Leningrad Conservatory. The first recording was made in November of that year by Rostropovich and the Philadelphia Orchestra, under the baton of Eugene Ormandy.
The first concerto is widely considered to be one the most difficult concerted works for cello, along with the Sinfonia Concertante of Sergei Prokofiev, with which it shares certain features (such as the prominent role of isolated timpani strokes). Shostakovich said that "an impulse" for the piece was provided by his admiration for that earlier work.
The Cello Concerto No. 2, Opus 126, was written by Dmitri Shostakovich in the spring of 1966 in the Crimea. Like the first concerto, it was written for Mstislav Rostropovich, who gave the premiere in Moscow under Yevgeny Svetlanov on 25 September 1966 at the composer's 60th birthday concert. Sometimes the concerto is listed as being in the key of G, but the score gives no such indication.
Like the Fourth Symphony and Ninth String Quartet before it and the Fifteenth Symphony after it, the Second Cello Concerto gave Shostakovich some problems in the compositional stages. The opening Largo, for example, was originally conceived to be the start of a new symphony. Shostakovich later abandoned this idea, however, and reworked this movement into its present form. The finale also gave the composer considerable trouble. He confessed to Mstislav Rostropovich, the concerto's dedicatee, that he had a finale completely written out but decided to scrap that version and supplant it with the one we know today because he felt that his original finale was weak. Shostakovich also allowed Rostropovich to make a few changes to the concerto's cadenzas.
download: uploaded yandex 4shared mediafire solidfiles zalivalka filecloudio anonfiles oboom
Zmieniony (Poniedziałek, 05 Maj 2014 19:58)