Louis Spohr – Faust (1995)
Louis Spohr – Faust (1995)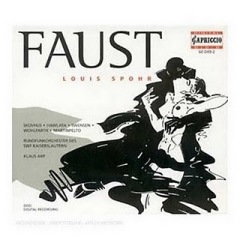 CD1
1. Faust, opera, WoO 51, WoO 51a: Ouvertüre 
2. Faust, opera, WoO 51, WoO 51a: Act 1. No. 1. Introduction. In Sinnenlust so sinnlos leben 
3. Faust, opera, WoO 51, WoO 51a: Act 1. No. 1. Duet. Ha! du wähntset, armer Tor 
4. Faust, opera, WoO 51, WoO 51a: Act 1. No. 1a. Recitative. Der Hölle selbst will ich Segen entringen 
5. Faust, opera, WoO 51, WoO 51a: Act 1. No. 1a. Aria. Liebe ist die zarte Blüte 	                   play
6. Faust, opera, WoO 51, WoO 51a: Act 1. No. 2. Aria & Chorus. Der Wein erfreut des Menschen Herz 
7. Faust, opera, WoO 51, WoO 51a: Act 1. No. 3. Duet. Folg dem Freunde mit Vertrauen 
8. Faust, opera, WoO 51, WoO 51a: Act 1. No. 4. Duet & Chorus. Nur der ist frei, der nichts zu lieben hat 	
9. Faust, opera, WoO 51, WoO 51a: Act 1. No. 5. Scene. Die stille Nacht entweicht 
10. Faust, opera, WoO 51, WoO 51a: Act 1. No. 5. Aria. Ja ich fühl' es, treue Liebe 
11. Faust, opera, WoO 51, WoO 51a: Act 1. No. 6. Scene. Beflügle den Lauf, zögernde Sonne! 
12. Faust, opera, WoO 51, WoO 51a: Act 1. No. 6. Aria & Chorus. Ja, hoffe Kunigunde! 
13. Faust, opera, WoO 51, WoO 51a: Act 1. No. 7. Trio. Ich kann nicht ruh'n, ich kann nicht rasten 
14. Faust, opera, WoO 51, WoO 51a: Act 1. No. 8. Finale. Nun wohlan! Ich halte Wort
Faust - Bo Skovhus

CD2
1. Faust, opera, WoO 51, WoO 51a: Act 2. No. 9. Introduction 
2. Faust, opera, WoO 51, WoO 51a: Act 2. No. 9. Scene (Blocksbergszene). Brenne Laterne! Nahe und ferne dämmere auf! 
3. Faust, opera, WoO 51, WoO 51a: Act 2. No. 10. Chorus. Sende Himmel Segens Fülle 
4. Faust, opera, WoO 51, WoO 51a: Act 2. No. 11. Cavatina. Dürft ich mich nennen sein eigen 	
5. Faust, opera, WoO 51, WoO 51a: Act 2. No. 12. Adagio 	
6. Faust, opera, WoO 51, WoO 51a: Act 2. No. 13. Scene. Wie ist mir! Welch ein Zwist erhebt sich 
7. Faust, opera, WoO 51, WoO 51a: Act 2. No. 13. Aria. Blöder Tor! Ich kann hier fragen! 
8. Faust, opera, WoO 51, WoO 51a: Act 2. No. 13a. Scene. Ich bin allein, des Abend Nähe regt die Tätigkeit 
9. Faust, opera, WoO 51, WoO 51a: Act 2. No. 13a. Aria. Wie dich nennen, seltsam neues Sehnen 
10. Faust, opera, WoO 51, WoO 51a: Act 2. No. 14. Duet & Chorus. Lang mögen die Teueren leben 	
11. Faust, opera, WoO 51, WoO 51a: Act 2. No. 14. Sextet & Chorus. Ich freue mich des Anteils 
12. Faust, opera, WoO 51, WoO 51a: Act 2. No. 15. Aria. Stille noch dies Wutverlangen 
13. Faust, opera, WoO 51, WoO 51a: Act 2. No. 15. Scene. In nächtlicher Stille, beim Zirpen der Grille 
14. Faust, opera, WoO 51, WoO 51a: Act 2. No. 16. Aria. Welch ein Wahn hat mich verblendet                   	play
15. Faust, opera, WoO 51, WoO 51a: Act 2. No. 16. Scene. Er naht, bald ist erreicht mein Ziel 
16. Faust, opera, WoO 51, WoO 51a: Act 2. No. 16. Finale. Verlassen! allein! Weh mir!
					
Mephistopheles - Franz Hawlata
Graf Hugo - Robert Swensen
Kunigunde - Hillevi Martinpelto
Gulf - Alfred Reiter
Röschen - Brigitte Wohlfarth
Franz - Christoph Späh
Sycorax - Martina Borst
Kaylinger - Alfred Reiter
Wohlhaldt - Rodrigo Porrego
Wagner - Ulrich Wand

SWR Radio Orchestra Kaiserslautern
Klaus Arp - director, 1993

Looking to fill out a triad of operas on the Faust theme, I was seeking for one to complement Gounod's Faust and Boito's Mefistofele. Deciding that Berlioz' Damnation de Faust is more notable for its orchestral music than for voices, I jumped at the chance to purchase Spohr's 1816 opera for several reasons. I liked the idea of complementing Gounod's French and Boito's Italian works with a German opera in Goethe's language. Another factor is that Spohr is one of those 19th century composers like Anton Rubenstein and Joachim Raff neglected in the 20th century for no very good reasons. A third consideration is that 1816 is the same year that author-composer E. T. A. Hoffmann premiered his Undine. Together Undine and Faust establish a trend toward setting works of the Romantic period such as Donizetti's Lucia di Lammermoor based on a novel by Scott. As it turns out, Spohr's work has been called the first Romantic German opera, a distinction that is also given to Weber's Der Freischutz in 1821. As for "first Romantic operas" in general, the same claim has been made for Meyerbeer's Robert L'Diable in 1831. So we can take our pick of 1816, 1821 or 1831.
The overture of Spohr's opera is a bright, vigorous work that immediately turns memorable because of its development of a persistent five-note phrase. The first scene between Faust and Mephisto begins with a lightly orchestrated waltz intended to represent a party. This feature recalls the party scene in Mozart's Don Giovanni, evidently a Spohr favorite. A particularly striking performance is Robert Swenson's as Count Hugo in a recitative-aria sequence where the man hopes to rescue his beloved Kunigunde by besieging the castle of her captor Gulf. In the traditional ensemble in the finale of Act I, Hugo, Faust and Mephisto wail away in heroic fashion as Hugo sings that Gulf should be introduced to the tortures of hell. Gulf belongs in a fiery gulf.
As though that were not enough, Spohr brings on the preternatural in Act II in anticipation of Der Freischutz and Robert L'Diable. Romanticism comes alive in the presence of diabolical evil in an implicit attempt to counteract the epicureanism of Franklin and Jefferson. Spohr's second act opens in a pensive, ominous minor key but without the unforgettably bizarre effects of Weber's Wolf's Glen. Spohr's chorus of witches sounds rather jolly as they celebrate the light of a lamp at night. Or is the lamp supposed to be metaphor for the moon? These German Romantic operas all seem full of moonlight. Faust and Mephisto arrive on the scene like Weber's Max and Kaspar at Wolf's Glen to draw on the offices of the iron-voiced demon Samiel. There is no question that Weber's atmospherics are more developed than Spohr's; but 1816 was a beginning. As Hoffmann has one of his characters sing, "Nachts im Walde wohnen Spuk"-- "At night in the forest dwell spooks." The Romantic operas pay them a visit. --- John D. Pilkey "Puluga II", amazon.com
Faust is an opera by the German composer Louis Spohr. The libretto, by Josef Karl Bernard, is based on the legend of Faust; it is not influenced by Goethe's Faust, though Faust: The First Part of the Tragedy had been published in 1808. Instead, Carl Bernard's libretto draws mainly on Faust plays and poems by Maximilian Klinger and Heinrich von Kleist. Spohr's Faust is an important work in the history of German Romantic opera.
Spohr had left his court appointment at Gotha and taken up a post in Vienna at the Theater An der Wien, which had recently been purchased by Count Ferdinand Palffy von Erdöd. He composed the opera in less than four months, May to September 1813 but had difficulties with count Palffy that interfered with getting it staged in Vienna. Though he took the manuscript score privately to Giacomo Meyerbeer, who played it, with Spohr singing— supplementing his vocal range by whistling— it was not until Carl Maria von Weber took an interest in the score that it received its premiere. Weber conducted the first performance of Faust at the Ständetheater, Prague on 1 September 1816. Meyerbeer introduced it at Berlin.
In its original form, the opera was a Singspiel in two acts. In 1851, Spohr turned the piece into a grand opera in three acts, replacing the spoken dialogue with recitative. This "version (in an Italian translation) received its premiere at the Royal Italian Opera, Covent Garden, London on 15 July 1852. The Bielefeld Opera rediscovered Faust in 1993 in the first staged production world-wide since 1931. Conducted by Geoffrey Moull and directed by Matthias Oldag, the opera was given 8 performances and subsequently recorded for CPO.
Synopsis Faust is torn between his love for the young Röschen and his desire for Kunigunde, the fiancée of Count Hugo. He makes a pact with the devil Mefistofeles which allows him to rescue Kunigunde from the clutches of the evil knight Gulf. Faust obtains a love potion from the witch Sycorax which he gives to Kunigunde during her wedding celebrations. Outraged at the sudden passion his bride shows for Faust, Count Hugo challenges him to a duel. Faust kills Hugo and flees. Meanwhile, Faust's first love, Röschen, drowns herself in despair. Mefistofeles seizes Faust and drags him down to Hell.
download: uploaded yandex 4shared mediafire solidfiles mega zalivalka filecloudio anonfiles oboom
Zmieniony (Wtorek, 13 Maj 2014 11:17)