Giuseppe Verdi – La Forza Del Destino (Levine) [1998]
Giuseppe Verdi – La Forza Del Destino (Levine) [1998]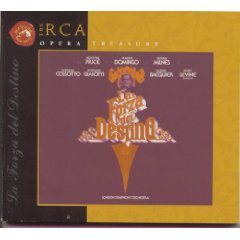 CD1
1. La Forza del Destino/Act I/Overture	James Levine	7:14	
2. La Forza del Destino/Act I/Buona notte	James Levine	2:32
3. La Forza del Destino/Act I/Temea restasse	James Levine	1:43
4. La Forza del Destino/Act I/Me pellegrina	James Levine	3:40
5. La Forza del Destino/Act I/M'aiuti, signorina	James Levine	0:26	
6. La Forza del Destino/Act I/Ah, per sempre	James Levine	2:43
7. La Forza del Destino/Act I/Dimani si partirà	James Levine	4:12	
8. La Forza del Destino/Act I/E tardi	James Levine	2:15	
9. La Forza del Destino/Act II/Scene 1/Holà, holà, holà!	James Levine	1:27
10. La Forza del Destino/Act II/Scene 1/La cena è pronto	James Levine	2:11	
11. La Forza del Destino/Act II/Scene 1/Al suon del tamburo	James Levine	3:13	
12. La Forza del Destino/Act II/Scene 1/Padre Eterno Signor	James Levine	4:01	
13. La Forza del Destino/Act II/Scene 1/Viva la buona compagnia!	James Levine	1:59
14. La Forza del Destino/Act II/Scene 1/Poich'imberbe	James Levine	3:12
15. La Forza del Destino/Act II/Scene 1/Sta bene	James Levine	2:46
16. La Forza del Destino/Act II/Scene 2/Son giunta! ... Grazie, o Dio!	James Levine	1:40
17. La Forza del Destino/Act II/Scene 2/Madre, madre, pietosa Vergine	James Levine	5:00
18. La Forza del Destino/Act II/Scene 2/Chi siete?	James Levine	2:20	
19. La Forza del Destino/Act II/Scene 2/Chi mi cerca?	James Levine	6:10
20. La Forza del Destino/Act II/Scene 2/Se voi scacciate	James Levine	6:42

CD2
1. La Forza del Destino/Act II/Scene 3/Il santo nome	James Levine	7:36
2. La Forza del Destino/Act II/Scene 3/La vergine degli Angeli	James Levine	3:23
3. La Forza del Destino/Act III/Scene 1/Attenti al gioco, attenti	James Levine	4:35
4. La Forza del Destino/Act III/Scene 1/La vita è inferno	James Levine	2:55	
5. La Forza del Destino/Act III/Scene 1/Oh, tu che in seno agli Angeli	James Levine	3:16	
6. La Forza del Destino/Act III/Scene 1/Al tradimento	James Levine	4:27	
7. La Forza del Destino/Act III/Scene 1/Piano ...qui posi	James Levine	1:37	
8. La Forza del Destino/Act III/Scene 1/Solenne in quest'ora	Placido Domingo;Sherrill Milnes;James Levine	4:03
9. La Forza del Destino/Act III/Scene 1/Morir! ...Tremenda cosa!	James Levine	2:10
10. La Forza del Destino/Act III/Scene 1/Urna fatale del mio destino	James Levine	5:56	
11. La Forza del Destino/Act III/Scene 2/Compagni, sostiamo	James Levine	2:50	
12. La Forza del Destino/Act III/Scene 2/Nè gustare m'è dato	James Levine	1:54
13. La Forza del Destino/Act III/Scene 2/Sleale! Il segreto	James Levine	6:15
14. La Forza del Destino/Act III/Scene 2/Fermi, arrestate!	James Levine	1:07	
15. La Forza del Destino/Act III/Scene 2/Lorche è pifferi e tamburi	James Levine	2:37	
16. La Forza del Destino/Act III/Scene 2/Qua vivandiere, un sorso	James Levine	0:50
17. La Forza del Destino/Act III/Scene 2/A buon mercato chi vuol comprare	James Levine	2:19
18. La Forza del Destino/Act III/Scene 2/Pane, pan, per carità	James Levine	2:45	
19. La Forza del Destino/Act III/Scene 2/Nella guerra è la follia	James Levine	2:10
20. La Forza del Destino/Act III/Scene 2/Toh, toh! ...Poffare il mondo!	James Levine	3:34	
21. La Forza del Destino/Act III/Scene 2/Lasciatelo ch'ei vada	James Levine	3:25

CD3
1. La Forza del Destino/Act IV/Scene 1/Fate la carità	James Levine	7:04
2. La Forza del Destino/Act IV/Scene 1/Auf! ...Pazienza non v'ha	James Levine	4:19	
3. La Forza del Destino/Act IV/Scene 1/Giunge qualcun...aprite	James Levine	1:15
4. La Forza del Destino/Act IV/Scene 1/Invano Alvaro	James Levine	3:33	
5. La Forza del Destino/Act IV/Scene 1/Le minacce, i fieri accenti	James Levine	1:14	
6. La Forza del Destino/Act IV/Scene 1/Ah, una suora mi lasciati	James Levine	4:07
7. La Forza del Destino/Act IV/Scene 2/Pace, pace, mio Dio	James Levine	5:37	
8. La Forza del Destino/Act IV/Scene 2/Io muoio!	James Levine	3:17
9. La Forza del Destino/Act IV/Scene 2/Non imprecare, umiliati	James Levine	5:37

Leontyne Price (Soprano)
Plácido Domingo (Tenor)
Sherrill Milnes (Baritone)
Fiorenza Cossotto (Mezzo-soprano)
Bonaldo Giaiotti (Bass)
Gabriel Bacquier (Baritone)
Michel Sénéchal  (Tenor)
Kurt Moll (Bass)

John Alldis Choir 
London Symphony Orchestra
James Levine – conductor

This is the best all-around Forza recording available. Other sets have finer individual performances--Callas is unmatchable under Serafin, even though her singing is occasionally rough, and Price, years earlier under Thomas Schippers, is in more even voice than she is here. Still, this set is the best overall presentation of this complex work. Much credit must go to conductor James Levine, who manages to keep the jumbly drama together. Even the rowdy military scenes seem to matter here, and having the iron-lunged Fiorenza Cossotto as Preziosilla is a plus. Domingo is at his most passionate, and his duets with Sherrill Milnes are golden experiences. And if you can overlook some of Price's occasionally bad habits--singing with a hollow lower register, scooping for effect--you're in for a treat. Bonaldo Giaiotti is not quite authoritative enough for Guardiano, but he'll do. This is a big, extroverted reading of this work, and it'll grab you and hold you. ---Robert Levine, amazon.com
For nearly two years after the premiere of Un ballo in maschera, Verdi seemed uninterested in composing. No doubt his mind was occupied with other duties, both domestic (he married Giuseppina Strepponi) and political (he was nominated, in 1861, as a deputy in the new Italian parliament). In late 1860, a commission from the Imperial Theater of St. Petersburg prompted Verdi to break his silence as an artist.
Francesco Maria Piave based his four-act libretto on the 1835 Spanish play, Don Alvaro, o La fuerza del sino, by Angel di Saavedra (1791-1865), who was influenced by Victor Hugo. Into this, Verdi inserted a scene from Friedrich Schiller's (1759-1805) Wallenstein's Camp, as translated by Andrea Maffei, which the composer had long wished to set. By November 1861, La forza del destino was complete except for the orchestration, which Verdi usually finished after experiencing the acoustics of the proposed theater. The final product is Verdi's most sprawling, dramatically intricate opera.
The premiere of La forza del destino (The Force of Destiny) was planned for the first part of the 1861-1862 season, but the prima donna became ill and the production was postponed. The premiere, on November 10, 1862, was not as successful as Verdi had wished, and the next year he began altering the score. On February 27, 1869, a revised version with additions by Antonio Ghislanzoni, was first performed at the Teatro alla Scala in Milan.
Verdi and Piave create a tangled tale in which the characters come together through coincidence. Melitone and Preziosilla provide asides and comic elements as the three main characters, Donna Leonora, Don Carlo, and Don Alvaro play out their tragic parts. The chorus, appearing in nearly every scene, is of greater importance than in any other of Verdi's operas and has some of the most famous numbers in the opera, including, "Compagni, sostiamo" (new for 1869) and "Rataplan, rataplan," both in Act Three.
One of the major differences between the 1862 and 1869 versions is the overture. In the first version, we find a concise prelude. Verdi expanded this in 1869 to a lengthy assemblage of melodies from the opera, stressing a three-note motive that is often called the "fate" motive, and a rising, four-note scale associated with Leonora. Verdi was not concerned with overall structure in this potpourri of tunes. The finale of the last act underwent the greatest changes between versions. In the first, Alvaro kills Carlo in a duel, Leonora enters to be reunited with Alvaro only to be stabbed by the dying Carlo, and Alvaro throws himself from a mountaintop (this was not the lighthearted Italian opera the St. Petersburg audience expected). In the revised version (more likely to be staged today), the duel occurs offstage, as does Carlos' stabbing of Leonora, who returns to the stage for the trio, "Non imprecare, umiliati." As the mode shifts from minor to major, Alvaro exclaims that he is redeemed. ---John Palmer, Rovi
download: uploaded yandex 4shared mediafire solidfiles mega zalivalka filecloudio anonfiles oboom
Zmieniony (Niedziela, 15 Czerwiec 2014 21:44)