Antonio Vivaldi - Dresden Concertos Vol. 4 (1999)
Antonio Vivaldi - Dresden Concertos Vol. 4 (1999)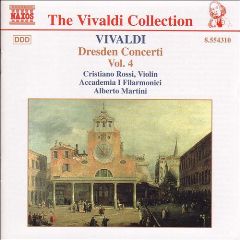 Violin Concerto in D Minor, RV 240
1.   		I. Allegro 00:04:19
2.   		II. Largo 00:02:10
3.   		III. Allegro 00:03:54
Violin Concerto in B Minor, RV 388
4.   		I. Allegro 00:03:22
5.   		II. Largo 00:01:58
6.   		III. Allegro 00:02:50
Violin Concerto in E-Flat Major, RV 260
7.   		I. Allegro 00:03:35
8.   		II. Adagio 00:02:38
9.   		III. Allegro 00:03:27
Violin Concerto in A Major, RV 344
10.   		I. Allegro 00:04:13
11.   		II. Largo 00:01:36
12.   		III. Allegro 00:04:23
Violin Concerto in D Major, RV 224
13.   		I. (Allegro) 00:03:58
14.   		II. Largo 00:02:19
15.   		III. Allegro 00:03:21
Violin Concerto in D Major, RV 219
16.   		I. Allegro 00:03:53
17.   		II. Largo 00:02:24
18.   		III. Allegro 00:03:00
Violin Concerto in D Major, RV 213
19.   		I. Allegro 00:02:55
20.   		II. Largo 00:02:21
21.   		III. Allegro 00:04:24

Cristiano Rossi - Violin
Accademia I Filarmonici
Alberto Martini – Conductor

The Dresden link was forged by Vivaldi's friend and one-time pupil Johann Georg Pisendel. Pisendel visited Venice in 1716 when he appears to have struck up a warm friendship with Vivaldi, who dedicated several sonatas and concertos to him. The seven violin concertos on this disc have survived in manuscripts preserved in the Dresden Sächsische Landesbibliothek. Much of this music will be entirely new to most collectors.
By and large these are pieces which do not wear their hearts on their sleeves. There are few extravagant flourishes and perhaps less than we might expect in the way of extrovert gesture. But there's no lack of brilliance in the solo violin writing – Pisendel's reputation as a virtuoso was hardly less than Vivaldi's –and, as ever, the music contains a profusion of effective rhythmic ideas. The solo violin parts are entrusted to Cristiano Rossi, who often, though not always, discovers the fantasy in Vivaldi's solo writing.
The bowing is graceful and relaxed even if intonation is occasionally awry. The A major Concerto, RV344 affords a good instance of soloist and orchestra at their most persuasive. But the lyrically expressive violin melody against a dotted rhythm continuo of the Largo of RV224 is unquestionably the most alluring.
The more you hear this music, the more you're likely to be captivated by it. The recorded sound seems a little boxy and confined, but textures come through clearly all the same. --- prestoclassical.co.uk
download (mp3 @320 kbs):
uploaded yandex 4shared mega solidfiles zalivalka cloudmailru filecloudio oboom clicknupload
Zmieniony (Niedziela, 11 Styczeń 2015 16:56)