Antonio Vivaldi - Arsilda, Regina di Ponto (2004)
Antonio Vivaldi - Arsilda, Regina di Ponto (2004)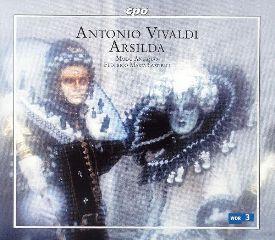 CD1 (Atto primo)

1.- Sinfonia (allegro)
2.- Sinfonia (andante)
3.- Sinfonia (presto)
4.- Recitativo "Questo, o popoli" (Cisardo)
5.- Coro "Tutto il regno in lieta gara"
6.- Recitativo "Questa, o fidi, e mia sposa" (Lisea, Nicandro, Mirinda, Cisardo, Coro, Arsilda)
7.- Aria "L´esperto nocchiero" (Cisardo)
8.- Recitativo "Sposa..." (Lisea, Arsilda, Nicandro, Mirinda)
9.- Aria "Io sento in questo seno" (Arsilda)
10.- Recitativo "Sol di Bittina il Prence" (Lisea, Nicandro)
11.- Aria "Col piacer della mia fedele" (Nicandro)
12.- Recitativo "Partano i servi: odi, Mirinda" (Lisea, Mirinda)
13.- Aria "Fingi d´avere un cor " (Lisea)
14.- Recitativo "Dunque, questo ch´amor" (Mirinda)
15.- Aria "Non m´e caro amar penando" (Mirinda)
16.- Recitativo "Dell sotterraneo loco discoperto" (Barzane)
17.- Aria "Sempre piace goder il suo bene" (Barzane)
18.- Recitativo "D´Ama la Regio č questa" (Tamese)
19.- Aria "La tiranna avversa sorte" (Tamese)
20.- Arioso "So ben´io qual pena sia" (Arsilda)
21.- Recitativo e Arioso "Povera in mezzo a l´oro" (Arsilda)
22.- Recitativo "Ecco l´ingrata al fianco" (Barzane, Arsilda, Tamese)
23.- Recitativo "Scoperto il tradimento" (Cisardo, Barzane, Arsilda)
24.- Recitativo "Tutto al tuo braccio io deggio" (Arsilda, Tamese)
25.- Aria "Perche vaggo nel tuo volto" (Arsilda)
26.- Recitativo "Dunque il cultor degli Orti prima" (Lisea, Cisardo)
27.- Coro "Amoretti vezzosetti"
28.- Recitativo "O del´adusta" (Lisea)
29.- Recitativo "Cisardo, or gia che il sacro rito" (Lisea, Cisardo)
30.- Recitativo "Io se tu´l voi" (Nicandro, Lisea)
31.- Recitativo "Tu, Mirinda, quai voti" (Lisea, Mirinda)
32.- Aria "Porta Amore una tal face" (Lisea)
33.- Recitativo "Benche d´amor le stravaganze intesi" (Mirinda)
34.- Finale "Io son quel Gelsomino" (Mirinda)

      CD2 (Atto secondo)

1.- Recitativo "Il pastorel che raffrenň" (Mirinda, Lisea)
2.- Aria "Un certo non so che" (Mirinda)
3.- Recitativo "Ah, traditore" (Lisea, Barzane)
4.- Aria "Ben conosco a poco" (Barzane)
5.- Recitativo "Arsilda ecco ne vien"  (Lisea, Arsilda, Tamese)
6.- Aria "Se un cor soffrir sapra" (Lisea)
7.- Recitativo "Sě che un tiranno sposo del mio" (Arsilda)
8.- Aria "Precipizio č del mio petto" (Arsilda)
9.- Coro "Su a la Caccia si gridi"
10.- Ritornello "D´una cervetta" (Lisea)
11.- Aria "Gia il prato ameno" (Nicandro, Mirinda)
12.- Recitativo "Ma per tua mano" (Lisea, Nicandro)
13.- Aria "Su svegliatevi augelletti" (Arsilda)
14.- Quintetto "Di questo boschi venite" (Cisardo, Mirinda, Tamese, Arsilda, Lisea)
15.- Recitativo "Al geloso amor mio" (Barzane)
16.- Recitativo "Si tenti il mio destin" (Lisea, Barzane)
17.- Aria "Fra cieche tenebre" (Lisea)
18.- Recitativo "Vive Lisea!" (Barzane)
19.- Aria "Quel´usignuolo" (Barzane)
20.- Recitativo "Non ti sia di spiacer Vergine" (Tamese, Mirinda)
21.- Aria "Ancor la tortorella" (Mirinda)
22.- Recitativo "Ma qual sciocca dimor" (Tamese, Arsilda)
23.- Aria "Siano gli astri a me tiranni" (Tamese)
24.- Recitativo "Qual non piu inteso inganno" (Arsilda)
25.- Aria "Son come farfalletta" (Arsilda)
26.- Recitativo "Che intesi mai?" (Cisardo, Nicandro)
27.- Aria "Qual e all´onte" (Cisardo)
28.- Recitativo "Se scoprir la sua pena non vuol" (Nicandro)
29.- Aria "Quando sorge in ciel l´aurora" (Nicandro)

      CD3 (Atto terzo)

1.- Recitativo "Da quel che gia non era" (Lisea)
2.- Recitativo "Eccolo" (Lisea, Barzane)
3.- Aria "Pupille del mio ben" (Barzane)
4.- Recitativo "O del cieco amor mio" (Lisea)
5.- Aria "Di Cariddi li vortici androsi" (Lisea)
6.- Recitativo "Al tuo braccio" (Nicandro, Tamese)
7.- Aria "Ride il fior, canta l´augello" (Nicandro)
8.- Recitativo "Finch´a l´amata"  (Tamese, Mirinda)
9.- Aria "Chi vuol goder d´amore" (Mirinda)
10.- Recitativo "Gia che scoperto" (Tamese, Cisardo)
11.- Aria "La mia gloria ed io mio amore" (Tamese)
12.- Recitativo "Cisardo..." (Lisea, Cisardo)
13.- Aria "Mille frodi e mille inganni" (Cisardo)
14.- Recitativo "Suol talor un gran rischio" (Lisea, Barzane)
15.- Aria "Tornar voglio al primo ardore" (Barzane)
16.- Recitativo "Regina, il bel momento" (Lisea, Arsilda)
17.- Aria "Al nocchiero" (Arsilda)
18.- Recitativo "Popoli, anchor non tutto sapete" (Cisardo)
19.- Recitativo "German, su´l tron ch´e tuo" (tutti)
20.- Finale "D´Imeneo la bella face" (Coro)

Simonetta Cavalli (Arsilda)
Lucia Sciannimanico (Lisea)
Elena Cecchi Fedi (Mirinda)
Nicky Kennedy (Barzane)
Joseph Cornwell (Tamese)
Sergio foresti (Cisardo)
Alessandra Rossi (Nicandro)

Modo Antiquo and the Coro da Camera Italiano
Federico Maria Sardelli (conductor)

Antonio Vivaldi composed Arsilda, Regina di Ponto for the Venetian theater of Sant'Angelo in the fall of 1716. While Vivaldi had, by its debut, been an important member of Venetian musical culture for over a decade as a violinist and composer, he had begun composing only three years earlier. Domenico Lalli, his librettist, who settled in Venice in 1710 after fleeing his native Naples upon being charged with embezzlement, was one of the most important librettists of the first decades of the eighteenth century.
This recording features the Baroque orchestra of Modo Antiquo, an ensemble with particular expertise in the music of Vivaldi and his contemporaries. Founded in 1984 under the direction of Sardelli, the group has made several recordings with Amadeus, cpo and Tactus, including the first complete recording of Vivaldi's cantatas. They have also performed at many European early music festivals, including the Italian festival Opera Barga, for which this production of Arsilda was prepared in 2001. Sardelli is working on a critical edition of Arsilda for Istituto Antonio Vivaldi; in his authored excerpt in the liner notes, he points out his intention to implement both a musical and a musicological approach towards Vivaldi's operas. The music in this recording is based on the autograph of the work and is described as a "reconstruction of the original version" that emphasizes the first arias written rather than the composer's later changes and additions for the 1716 performances.
Arsilda is a typical early eighteenth-century plot in its use of love intrigues, mistaken identities, and musical features such as simile arias. As such, it perfectly encapsulates the contemporary Pier Jacopo Martello's tongue-in-cheek satire of opera of the day, which argued that opera, in order to be entertaining, should avoid following Aristotelian rules of drama and instead feature favored scenic conventions, such as prison and sleep scenes. Arsilda employs several such scenarios, including a hunt that takes place in a verdant forest and a dungeon scene. Moreover, its story hinges on concealed identities. Reliant on a pair of twins for its main intrigue--one male and one female--the story opens with Lisea, disguised as her brother Tamese and posing as King, and Arsilda, engaged to be married to "Tamese." We learn that Tamese has been lost at sea and is presumed dead, and in order to preserve the throne, Lisea has adopted his identity. Arsilda is puzzled and disappointed by "Tamese's" lack of interest, while Lisea/Tamese, for her part, is angry when she learns that her true fiancé, Barzane, has betrayed her and instead pursues Arsilda. The true Tamese, meanwhile, is disguised as the palace gardener, and both Arsilda and Lisea have an unexplained attraction to him.
While Vivaldi's instrumental music has been widely known for some time, only in recent decades have his operas attracted such attention. There is, therefore, a relative dearth of recordings of his operas, and any contribution is appreciated. Modo Antiquo's contibution is a quality recording, done on period instruments with highly competent singers. While at times the sound quality of the recording could be more focused, with low frequencies at times overwhelming the vocal lines and occasionally making comprehension of the text difficult, the recording overall gives wonderful insight into Vivaldi's characterizations and skill at both instrumental and vocal writing. Thanks to the efforts of Sardelli and Modo Antiquo, scholars, Vivaldi fans, and opera lovers in general now have an additional example of Vivaldi's early operatic style.
Many of the arias employ striking instrumentation to help convey the sense of the text. Fipple-flutes are used for pastoral settings, for example, while horns are used for the hunting scenes. Simile arias appear in abundance, such as Arsilda's Act 2, sc. 12 aria "Son come farfalletta" where muted violins and fast arpeggios imitate the fluttering of wings, and Mirinda's "Io son quel Gelsomino" in Act 1, Sc. 15, which imitates the blowing of wind through leafy branches with imitation between voice and strings. All of the singers on this recording convey the individual characterizations with knowledgeable awareness of performance practice and attention to phrasing, dynamics, and ornamentation. Particularly charming are the arias for Mirinda, the naïaut;ve maid, sung by Elena Cecchi Fedi who has a flexible voice perfectly suited to the virtuosic arias often given to this character. Equally pleasing is Lucia Sciannimanico as Lisea and Sergio Foresti as Cisardo. ---Dr. Mary Macklem, University of Central Florida, operatoday.com
download (mp3 @320 kbs):
yandex 4shared mega mediafire cloudmailru uplea