Deep Purple (2)
Deep Purple
1.Live at Montreux 2006

1. Pictures Of Home
2. Things I Never Said
3. Strange Kind Of Woman
4. Rapture Of The Deep
5. Wrong Man
6. The Well-Dressed Guitar
7. Kiss Tomorrow Goodbye
8. When A Blind Man Cries
9. Lazy
10. Keyboard Solo
11. Space Truckin'
12. Highway Star
13. Smoke On The Water
14. Hush
15. Too Much Fun
16. Black Night

Line Up:
* Ian Gillan - vocals, harmonica
* Steve Morse - guitar
* Roger Glover - bass
* Don Airey - keyboards
* Ian Paice – drums

Almost 40 years after the band's original formation, Deep Purple is in fine form in They All Came Down to Montreux. The band's history is intimately connected with the legendary Montreux Jazz Festival (which also includes rock music), so it was only fitting that DP was invited to headline the closing night of the festival's 40th anniversary on July 15, 2006. On disc 1 of this two-disc set, DP's 100-minute Montreux gig is included in its entirety, and even those who prefer the band's earlier "Mark II" lineup (which included previous keyboardist John Lord and guitarist Ritchie Blackmore) will agree that this band can still rock your socks off. By the time keyboardist Don Airey launches a playfully jazzy prologue to the band's biggest hit "Smoke on the Water" (a song inspired by a spectacular fire that occurred while the band was preparing to record Machine Head in Montreux in 1971), DP has the packed Montreux in an arm-waving state of hard-rock bliss.
While it's obvious that lead singer Ian Gillan's voice is not what it used to be (he's obviously struggling with the high notes in "Highway Star"), he still makes it through the set with his vocal cords intact, and he's got stellar support from Airey, bassist Roger Glover, drummer Ian Paice, and guitarist Steve Morse (the latter joined DP in 1994), all delivering the kind of ace musicianship that can only come from years of diligent touring. Morse is especially strong in this concert, while Glover and Paice achieve a flawless symmetry of rhythm. And while this is essentially a "greatest hits" gig, the performance of tracks from DP's 2005 release Rapture of the Deep suggests that this band could be going strong for years to come, if fans don't mind the occasional misstep and a stage full of aging rockers with expanding waistlines. As a bonus feature, 25 minutes of band interviews are also included. Disc 2 features an hour-long gig from London's Hard Rock Café, recorded earlier in 2006. With the exception of two tracks ("I Got Your Number" and "Fireball"), it's a shorter version of the Montreux set-list, more intimate in its club setting, but equally indicative of Deep Purple's impressive longevity. --Jeff Shannon
download (mp4 @1180 MB):
2. Paris 1985 (Mp4)
360 MB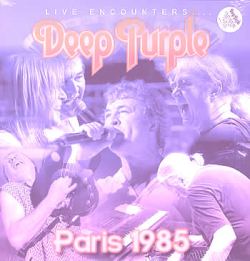 1. Highway Star
    2. Nobodys Home
    3. Strange Kind Of Woman
    4. Gypsys Kiss
    5. Perfect Strangers
    6. Under The Gun
    7. Knocking At Your Back Door
    8. Lazy
    9. Child In Time
    10. Difficult To Cure
    11. Space Truckin
Encore
    1. Woman From Tokyo
    2. Black Night
    3. Smoke On The Water

Musicians:
Ian Gillan - voc
Ritchie Blackmore - guit
Roger Glover - bass
Jon Lord - keyb
Ian Paice - drums

Recorded Live during "The Perfect Strangers Tour" At Palais Omnisports, Paris, on July 9th, 1985.. Television Broadcast
Perfect Strangers is the eleventh studio album by Deep Purple, released in October 1984. It represents the first album recorded by the reformed, the most successful and popular, 'Mark II' line-up. The album reached #5 in the UK (staying for four weeks in the top-40) and #17 in the US (staying for 28 weeks in the Billboard 200).
The tour was so successful that the band had to add many additional dates to the U.S. arena tour, as tickets sold out very quickly. Their U.S. tour in 1985 out-grossed every artist that year except Bruce Springsteen.
download (mp4 @237 MB ):
yandex mediafire uloz.to cloudmailru
Zmieniony (Czwartek, 18 Styczeń 2018 09:46)