Eliane Elias (1)
Eliane Elias
1. Munich Summer Piano Festival 1991 (Avi)
930MB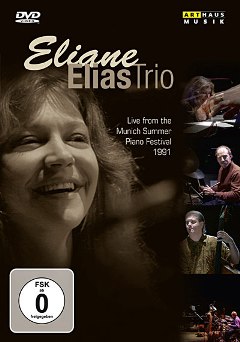 Setlist:
Campari & Soda (E. Elias)
The Way You Look Tonight (J. Kern)
Medley: Waters of March / Agua de Beber (A.C. Jobim)
Cross Currents (E. Elias)
Impulsive! (E. Elias)
Choro (A. Godoy)
Desafinado (A.C. Jobim / N.Mendonça)

Line-Up:
Eliane Elias, piano 
Jay Randall Anderson, bass
Adam Nussbaum, drums

Recorded live at Philharmonic Hall Gasteig, Munich during the Munich Summer Piano Festival, 1991

Eliane Elias (born March 19, 1960 in São Paulo, Brazil) learned the piano at age 7, and was transcribing solo portions of her parents' jazz records by the age of 12.
After studying for 6 years (and teaching by age 15) at Brazil's prestigious Free Center of Music Apprenticeship, she continued her classical education with Amilton Godoy and Amaral Vieria. She was also the protégé of Vinicius de Moraes, lyricist and songwriting partner of Antonio Carlos Jobim, a huge influence on Eliane's work, and master of the Brazilian bossa nova movement. By age 17, she was touring with the best bossa nova composers and interpreters the world had to offer, composing her own pieces and performing at jazz clubs regularly.
Eliane then moved to New York and studied privately with Olegna Fuschi at the Julliard School of Music, eventually joining jazz supergroup Steps Ahead (whose members included Eddie Gomez, Michael Brecker, Peter Erskine and Mike Mainieri).
Eliane's first live instrumental recording "Eliane Elias Plays Live" was digitally released in the USA on October 1st 2010 and it was recorded in amsterdam on May 31st 2002. ---last.fm
Zmieniony (Niedziela, 28 Kwiecień 2013 13:35)