Linkin Park - Live Earth Tokyo 2007
Linkin Park- Live Earth Tokyo 2007 (Mp4)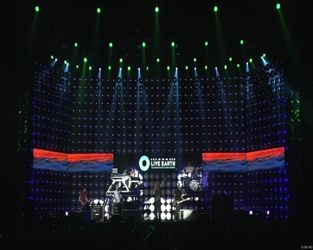 0:00:00 . One Step Closer [Gunshot Intro #1]
0:03:29 . Lying From You
0:11:12 . Somewhere I Belong
0:15:14 . No More Sorrow [Brad Tease Intro]
0:19:26 . Papercut [Long Intro]
0:23:13 . From The Inside
0:26:48 . Numb
0:30:39 . Keyboard Transition Outro
0:31:07 . Pushing Me Away [Piano Version]
0:34:21 . Breaking The Habit [Piano Intro]
0:39:10 . Crawling
0:42:40 . Mike's Speech
0:45:15 . In The End
0:49:55 . Bleed It Out [Ext. Bridge w/ Sing-along]
------------------------------------
0:53:35 . The Little Things Give You Away
1:00:13 . What I've Done [Album Transition Intro]
1:04:53 . Faint [Ext. Outro]

Line-Up:
    Chester Bennington 
    Rob Bourdon 
    Brad Delson 
    Dave "Phoenix" Farrell 
    Joe Hahn 
    Mike Shinoda 

Recorded Live At Makuhari Messe,
Tokyo, Japan, 7 July 2007

Show Notes:
'Points Of Authority', 'Given Up', 'Don't Stay', and 'Leave Out All The Rest' were not played. It is unknown whether the barricade incident caused them to be dropped from the setlist or if they weren't on the setlist to begin with.
After 'Lying From You', rowdy fans broke through the barricade at the front of the stage causing a 20 minute delay in the show. During the break, the band messed around and danced to music and Mr. Hahn scratched over a few beats.
After 'Crawling', Mike took a minute to speak to the crowd in both Japanese and English. He gave a short speech about Live Earth, Projekt Revolution, and announced to the crowd the band's upcoming November tour in Japan.
download (mp4 @1,5 Gb):
Zmieniony (Sobota, 22 Lipiec 2017 14:55)