Stevie Ray Vaughan (4)
Stevie Ray Vaughan
1. Boogie With Stevie – Daytona Beach 1987 (AVI)
730 MB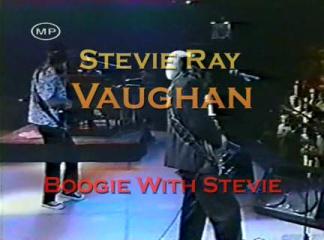 1. Say What
2. Lookin' Out The Window
3. Look Out Little Sister
4. Ain't Gone And Give Up
5. Superstition
6. Willie The Wimp
7. Cold Shot
8. Couldn't Stand The Weather
9. Life Without You
10. Love Struck Baby
11. Rude Mood

Stevie Ray Vaughan & Double Trouble
Recorded live at The Ocean Center, Daytona Beach, Florida, USA 1987.

download: 4shared yandex depositfiles
2. Live at El Mocambo (Mp4)
300 MB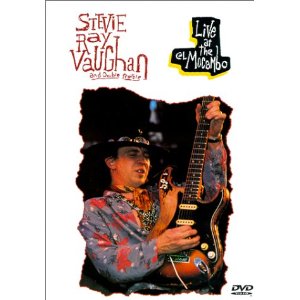 "Testify" (Isley Brothers)
"So Excited" 3:29
"Voodoo Chile (Slight Return)" (Jimi Hendrix) 7:34
"Pride and Joy" 14:18
"Tell Me" (Howlin' Wolf) 18:50
"Mary Had a Little Lamb" (Buddy Guy) 21:55
"Texas Flood" (Larry Davis, Joseph Wade Scott) 25:10
"Love Struck Baby" 34:58
"Hug You, Squeeze You" (John Lee Hooker) 37:43
"Third Stone from the Sun" (Jimi Hendrix) 41:32
"Lenny" 48:30
"Wham" (Lonnie Mack) 57:24

Musicians:
Bass – Tommy Shannon
Drums – Chris Layton
Guitar, Vocals – Stevie Ray Vaughan

In 1990, Texas bluesman Stevie Ray Vaughan was just emerging from a long period in which drugs had taken their toll: the previous year's In Step album was the first he had made drug free, and the results were a marvel. But then, after sharing a stage with Buddy Guy, Robert Cray, and Eric Clapton, he boarded a helicopter to Chicago. It crashed, and the career of one of the great blues guitarists was ended.
Rewind to 1983 and here is Stevie Ray at the beginning of his fame, his first album with his backing band Double Trouble, Texas Flood, having just been released to critical and popular acclaim. The venue is the El Mocambo club in Toronto, a dark, smoky joint with a laid-back but appreciative clientele. Vaughan, drummer Chris Layton, and bassist Tommy Shannon share the tiny stage. The guitarist, bedecked in trademark hat and alligator-skin boots, is pale of complexion, sweating from the heat and physical exertion, and physically much smaller than Shannon, who towers over him. But Vaughan dominates, as much by the magnetism of his flamboyant personality as his guitar playing. And what playing: by turns fiery, funky, then limpid and surprisingly graceful. Here is an authentic blues artist captured in the throes of living through his music. At this early stage in his career he was still very much in thrall to Jimi Hendrix (the flower-power shirt gives it away), as covers of "Voodoo Chile" and "Third Stone from the Sun" (the latter a Hendrix-inspired guitar-abuse session) indicate. The highlight of the show, however, is his rendition of "Texas Flood," which turns out to be an amazing essay on the art of blues guitar. This is a raw, intimate, and spontaneous record of a one-time event. All fans of the blues will be grateful to those who had the foresight to capture it on film. ---Mark Walker
download: mega yandex depositfiles
3. Des Moines, Iowa 1987 (Flv)
800 MB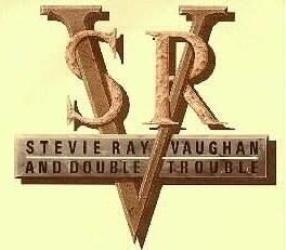 1. Scuttle Buttin'
2. Say What
3. Lookin' Out The Window
4. Look At Little Sister
5. Mary Had A Little Lamb
6. Honey Bee
7. The Sky Is Crying
8. Superstition
9. Willie The Wimp
10. Cold Shot
11. Couldn't Stand The Weather
12. Life Without You
13. Come On (Part III)
14. Voodoo Chile (Slight Return)

Lineup:
Stevie Ray Vaughan – guitar, vocals
Tommy Shannon – bass
Chris "Whipper" Layton - drums

Des Moines, Iowa
Iowa State Fair
August 30, 1987.

download: 4shared yandex gett mega
4. St. Louis 1990 (Flv)
570 MB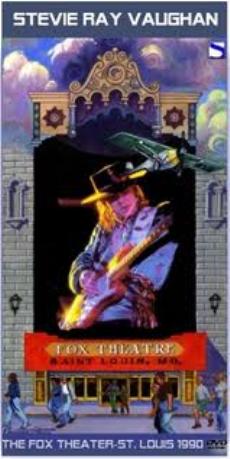 1. Tightrope
2. The Things (That) I Used To Do
3. Mary Had A Little Lamb
4. Let Me Love You Baby
5. Leave My Girl Alone
6. Wall Of Denial
7. Riviera Paradise
8. Superstition
9. Cold Shot
10. Couldn't Stand The Weather
11. Goin' Down
12. Crossfire
13. Voodoo Chile

Stevie Ray Vaughan at The Fox Theater
St. Louis,MO 
7/15/90

Vaughan died in a helicopter crash on August 27, 1990. Vaughan was a very important figure in Texas blues, a loud, swing-driven fusion of blues and rock. He became the leading musician of the blues rock sound, with multiple network television appearances and charting albums. He encompassed multiple styles, including jazz and ballads. Vaughan won many achievements including six Grammy Awards and five W. C. Handy Awards; he was posthumously inducted into the Blues Hall of Fame in 2000. He has sold over 15 million albums in the U.S.
download: 4shared yandex gett mega
Zmieniony (Wtorek, 07 Maj 2013 15:55)