Reyli - Bien Acompanado (2011)
Reyli - Bien Acompanado (2011)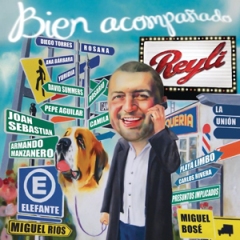 01. Así Es La Vida – Con Joan Sebastian 
02. Amor del Bueno – Con Miguel Bosé 
03. Alma Gemela – Con Camila 
04. La Descarada – Con Diego Torres 
05. Al Fin Me Armé De Valor – Con Pepe Aguilar 
06. ¿Que Nos Pasó? – Con Yuridia 
07. Que Vueltas Da La Vida – Con Elefante 	play
08. De La Noche A La Mañana – Con Miguel Ríos 
09. El Aguacero – Con Rosana 
10. La Que Se Fué – Con Carlos Rivera 
11. Desde Que Llegaste – Con Rosario 		play
12. El Abandonao – Con David Sumers 
13. Elena – Con La Unión 
14. Perdóname En Silencio – Con Playa Limbo 
15. Todos Caben – Con Presuntos Implicados 
16. Ahora Tengo – con Ana Bárbara 
17. Saltaré Al Vacío – Con Armando Manzanero

Reyli Barba (born April 12, 1972 in Juárez, Chiapas), most commonly known as Reyli, is a well-known Mexican singer-songwriter who has reached staggering[citation needed] success in the past few years all over Latin America and the Latin U.S.. He is also a successful composer and has written songs for the likes of Alejandro Fernández and Beyoncé Knowles.
Reyli is a former member of Elefante, a band which he led until 2003, when he set out to release his debut solo album. This album, titled En la Luna (In the Moon), sold well, and "Amor Del Bueno" reached the top of the Mexican charts, charted in the U.S. Hot Latin Tracks and became a global Latin hit.
In 2007, the singer released his second album, Fe (Faith), which failed to sell as well as his prior album. Both singles from this album also failed to make the impact others of his singles have made.
Released digitally on May 12, 2009, Que Vueltas da la vida was available to the general public on June 9, 2009. Of his third studio effort, the singer-songwriter said, "This album will make history in my career and in my life."
Con 21 años de carrera artística, el compositor y cantante mexicano decide celebrar su amistad y admiración por otros grandes, logrando así colaboraciones memorables en su nuevo álbum.
Más de cuatro años le tomó a Reyli concretar este material que presenta temas en compañía de Joan Sebastian, Camila, La Unión, Pepe Aguilar, Diego Torres, entre tantos más, que como bien dicta el título del álbum, acompañaron al cantautor en un viaje sonoro tan emotivo como versátil y sobre todo, bien logrado. Sin duda 'Amor del Bueno' (a dueto con Bosé) y 'Saltaré al Vacío' (con el maestro Armando Manzanero), son los temas que mejor reflejan la maduréz de Reyli como artista. Sin duda un disco para disfrutarse de principio a fin, cuantas veces sea necesario.
download (mp3 @256 kbs):
yandex 4shared mega mediafire zalivalka cloudmailru oboom uplea
Zmieniony (Sobota, 23 Styczeń 2016 20:45)