Serge Gainsbourg ‎– De Serge Gainsbourg À Gainsbarre (1996)
Serge Gainsbourg ‎– De Serge Gainsbourg À Gainsbarre (1996)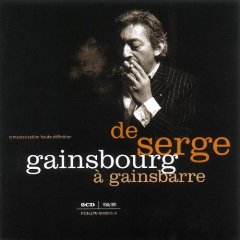 Compact .1 1958-1964 	0:55:53
1.01 	Le Poinçonneur Des Lilas 	2:45
1.02 	Du Jazz Dans Le Ravin 	2:11
1.03 	Ce Mortel Ennui 	2:56
1.04 	L'Alcool 	3:59
1.05 	Ronsard 58 	1:54
1.06 	Le Claqueur De Doigts 	3:08
1.07 	L'eau À La Bouche 	2:31
1.08 	La Chanson De Prévert 	3:02
1.09 	Les Amours Perdus 	2:58
1.10 	Baudelaire 	2:28
1.11 	Intoxicated Man 	2:39
1.12 	Black Trombone 	2:36
1.13 	La Javanaise 	2:33
1.14 	Chez Les Yé-Yé 	2:31
1.15 	Le Talkie-Walkie 	2:03
1.16 	Scenic Railway 	2:33
1.17 	Elaeudanla Téïteïa 	1:37
1.18 	Pauvre Lola 	2:28
1.19 	Ces Petits Riens 	2:03
1.20 	New York USA 	2:18
1.21 	Là-Bas C'est Naturel 	2:30
1.22 	Couleur Café 	2:10		play

Compact .2 1966-1977 	1:10:46
2.01 	Requiem Pour Un C… 	2:54
2.02 	Bonnie And Clyde    Featuring – Brigitte Bardot	4:16
2.03 	Comic Strip    Featuring – Brigitte Bardot	2:13
2.04 	Docteur Jekyll Et Monsieur Hyde 	2:00
2.05 	Initials B.B. 	3:34
2.06 	Ford Mustang 	2:41
2.07 	Torrey Canyon 	2:44
2.08 	L'Anamour 	2:23
2.09 	Sous Le Soleil Exactement 	2:54
2.10 	Elisa 	2:28
2.11 	Les Sucettes 	2:38
2.12 	69 Année Érotique    Featuring – Jane Birkin	3:19
2.13 	La Chanson De Slogan    Featuring – Jane Birkin	2:52
2.14 	Je T'aime... Moi Non Plus    Featuring – Jane Birkin	4:30
2.15 	Manon 	2:43
2.16 	Ballade De Melody Nelson    Featuring – Jane Birkin	2:00
2.17 	Valse De Melody 	1:34
2.18 	Je Suis Venu Te Dire Que Je M'En Vais 	3:23
2.19 	Par Hasard Et Pas Rasé 	2:28
2.20 	Sensuelle Et Sans Suite 	3:04
2.21 	Pamela Popo 	2:23
2.22 	S.S. In Uruguay 	2:18
2.23 	Nazi Rock 	3:08
2.24 	My Lady Héroïne 	3:12
2.25 	L'ami Caouette 	3:07

Compact .3 1976-1987 	1:08:43
3.01 	Sea Sex And Sun 	3:46
3.02 	Mister Iceberg 	3:34
3.03 	Good Bye Emmanuelle 	3:22
3.04 	Marilou Sous La Neige 	2:25		play
3.05 	Marilou Reggae 	2:12
3.06 	Des Laids Des Laids 	2:39
3.07 	Aux Armes Et Caetra 	3:08
3.08 	Lola Rastaquouère 	3:44
3.09 	Vieille Canaille 	3:03
3.10 	Ecce Homo 	3:20
3.11 	Negusa Nagast 	3:06
3.12 	La Nostalgie Camarade 	3:25
3.13 	Love On The Beat (Version Single) 	3:59
3.14 	Sorry Angel 	3:59
3.08 	Lemon Incest    Featuring – Charlotte Gainsbourg	5:15
3.16 	You're Under Arrest 	4:16
3.17 	Aux Enfants De La Chance 	4:09
3.18 	Gloomy Sunday 	3:45
3.19 	Mon Légionnaire 	5:36

Serge Gainsbourg, singer-songwriter, composer, actor, and film director, was an institution in French music and entertainment. He was equally famous for his deep, seductive drawl on songs like "Je t'aime…Moi Non Plus", his acting roles, his often provocative but beautiful songs, and his public image as a lovable, anti-authoritarian rogue. He also directed films and wrote award winning film scores.
Gainsbourg, a Frenchman of Russian-Jewish ancestry, was raised in Paris. He was deeply affected by the Nazi policies during the Second World War that required him to wear an ostracising yellow star. After the war, he worked as a jazz pianist and singer in nightclubs, and experimented with painting. He soon discovered a knack for writing pop songs and began selling songs to French pop singers such as Juliette Gréco and France Gall. In 1965, a song he wrote, "Poupée de cire, poupée de son", was chosen as Luxembourg's entry into the Eurovision Song Contest. Performed by teenage chanteuse Gall, it won the competition, and earned Gainsbourg national notoriety for helping a country other than his homeland win the contest. His next hit for Gall, "Les Sucettes", caused a bigger scandal: 18 year old Gall believed it was an innocent song about a girl who enjoyed lollipops, whereas it was actually full of innuendo for oral sex. Gall was appalled when she found out, and although they continued to work together, she never forgave him for not telling her.
In 1969 Gainsbourg released his signature song "Je t'aime… Moi Non Plus". A duet with girlfriend Jane Birkin, it featured explicitly sexual lyrics and Birkin faking an orgasm towards the end. The song was denounced by the Vatican and banned in several countries; nevertheless, where it wasn't banned, the controversy helped it achieve huge success, including a No.1 peak in the UK. It remains an iconic tune of the 1960s. Gainsbourg's Histoire de Melody Nelson (1971) also featured Birkin, this time playing the part of a teenage girl seduced by the middle-aged narrator Gainsbourg. …Melody Nelson is usually considered Gainsbourg's finest album, and has had an influential effect on artists such as Air, Beck and Portishead.
In the late 70s Gainsbourg recorded two reggae albums, and in the 80s moved into electronic funk. But his personal life was unstable and Gainsbourg took to drink, frequently appearing drunk in public. In 1990 his song for France's Eurovision Song Contest entry, "White and Black Blues", came joint second. The following year, Gainsbourg died of a heart attack. He was 62.
download (mp3 @128 kbs):
yandex 4shared mega mediafire zalivalka cloudmailru uplea
Zmieniony (Czwartek, 11 Luty 2016 20:36)